Bangkok: 5 Reasons to Go French at The Allium
June 02, 2023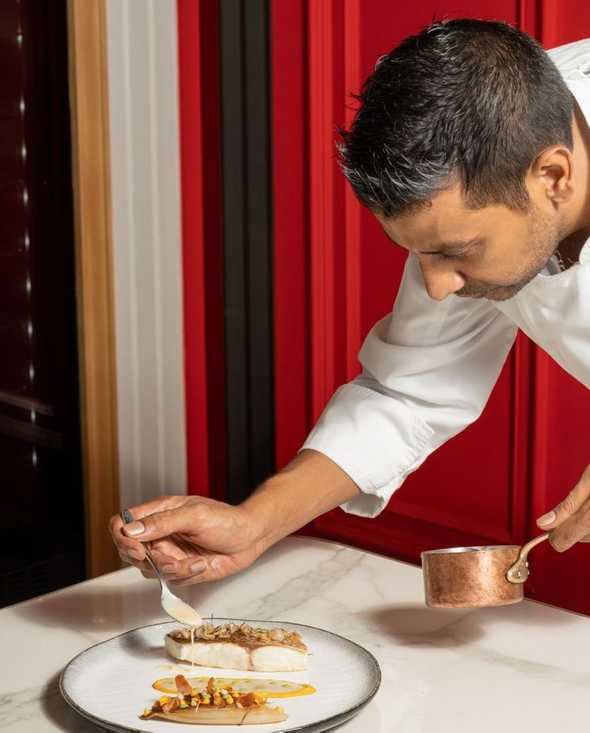 French chef Remi Verrier brings a renewed vitality to The Allium at The Athenee Hotel, Bangkok, which has shed its 'European cuisine' cloak to emerge as full-on contemporary French
French chef Remi Verrier brings a renewed vitality to The Allium at The Athenee Hotel, a Luxury Collection Hotel, Bangkok. Of Sri Lankan ancestry, Remi's ability to infuse creativity into classic dishes is magical. Each dish, while grounded in traditional cooking techniques, is given a contemporary twist, and the result is enough to make a reservation at this restaurant which has shed its 'European cuisine' cloak to emerge as unashamedly classical but very contemporary French. Remi riffs off classic recipes to create something unique and delightful. His understanding of traditional cooking techniques forms the foundation, but he doesn't merely replicate time-tested recipes; he breathes new life into them. These contemporary twists surprise and delight, merging familiarity with innovation in each bite. The plating is as French as it can get – there's simplicity and elegance, a colour balance, and attention to the visual composition. And no annoying, unnecessary flourishes and foams. (Note to chefs: foams DO NOT make the dish. Stop hiding behind them.)
If you need reasons to eat at The Allium, here are FIVE.
REASON NUMBER 1:Garden Vegetables with Glazed Carrot and Olive Oil
A testament to the art of treating vegetables right, Remi's "Garden Vegetables with Glazed Carrot and Olive Oil" is an intricate orchestration of produce, each delicately prepared to highlight its unique flavours. A medley of barbecued baby corn, sautéed mushrooms, pickled cauliflower, steamed asparagus, crunchy radish and glazed carrots, the dish is an exquisite interplay of textures and tastes helped along with drizzles of olive oil. Each veggie is a character in a story, each with its own voice and personality; it's a narrative spun by Remi, one that eloquently articulates his learned respect for ingredients and a deep understanding of the transformative power of cooking. This dish echoes his culinary journey with Alain Ducasse, a journey that began in the heart of Paris and London and continued to unfold in the Ducasse kitchens of Voyages in Macao.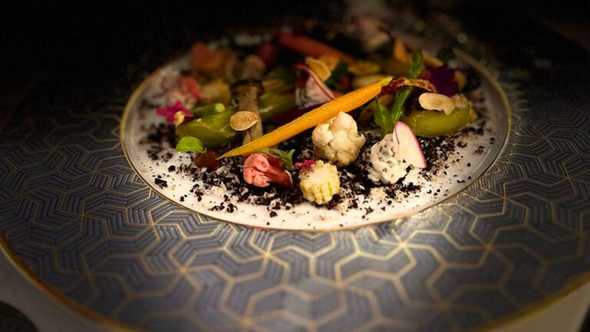 REASON NUMBER 2: French Onion Soup with Comté Cheese
Traditional yet innovative, this soup is a masterclass in balance, offering a delicately rich, fragrant broth brimming with the flavours of slow-cooked onions, their natural sweetness coaxed out. With Comté cheese bringing a nutty complexity to every spoonful, it is an eloquent expression of the culinary philosophy: 'simplicity is the ultimate sophistication'.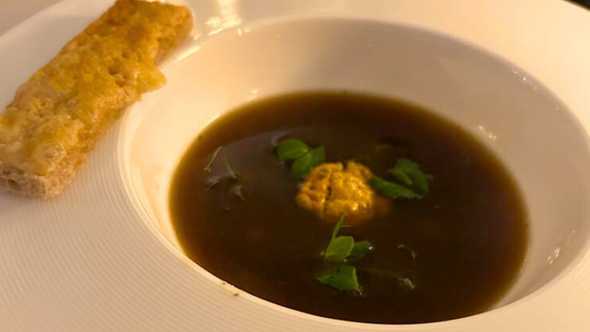 REASON NUMBER 3: Beetroot salad with Strawberry and Yellow Tomato
A vivid tableau of summer's bounty – the earthy sweetness of the beetroot harmonises brilliantly with the tartness of fresh strawberries. However, the true genius of this dish is the yellow tomato compote (slow-cooked, for sure). Its inherent sweetness and brightness provide a delightful counterpoint to the earthy beets and tart strawberries. The side offering of tomato water, imbued with a hint of garlic, is an impressive flourish that invigorates the palate. This is no mere salad.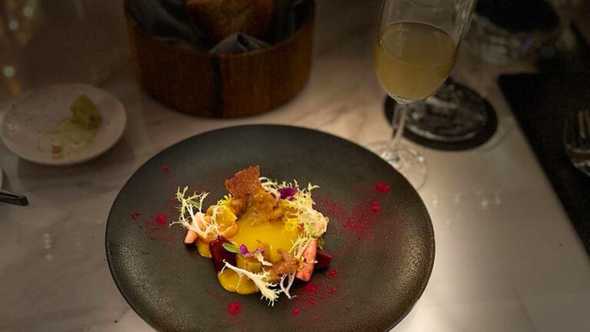 REASON NUMBER 4: French Duck Breast with Duck Jus, Spring Onions and Potato Gratin
This exquisite entrée exudes sophistication. The succulent and perfectly seared duck breast is served with a duck jus bursting with flavours. The jus highlights the natural gaminess of the duck. Served with a block of potato gratin that's multi-layered and creamy and a vibrant tomato confit, this is the best duck to be had in Bangkok! Perfectly seared outside providing an irresistible counterpoint to the tender moist, meat that's evenly pink and juicy.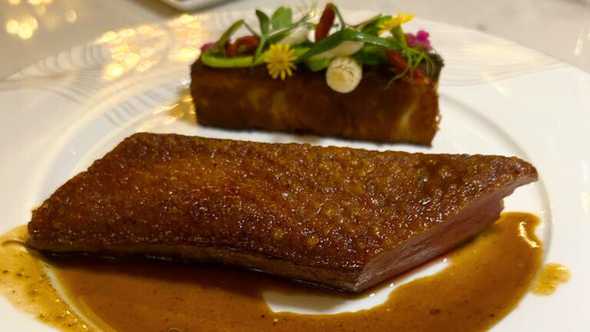 REASON NUMBER 5: French Black Pudding, inspired by Chef Christian Parra, with Potato Gratin, Confit Apples and Potato Chips
My absolute favourite and the reason why I'd visit The Allium over and over again. Perhaps even write a paean to it. A gastronomic tribute to the renowned two-star chef Christian Parra, former owner of "La Galupe" inn in Urt (France), this 'boudin noir' marries traditional rustic flavours with a sophisticated modern approach. The black pudding, a homage to classic French cuisine, is made with succulent braised pork shoulder and blood, creating a delicately spiced, intensely flavoured main that is full-bodied and robust. The braising process infuses the pork with a depth of flavour that sets the stage for the richness of the black pudding. The overall effect is a wonderfully indulgent texture that melts in your mouth. Accompanying the roundel of Boudin Noir is a portion of gratin potato offering a comforting familiarity, its creaminess serving as a perfect foil to the robustness of the spiced black pudding. Adding a dash of tanginess to the ensemble are confit apples that cut through the richness of the dish with their fruity notes. The potato chips bring a delightful textural contrast.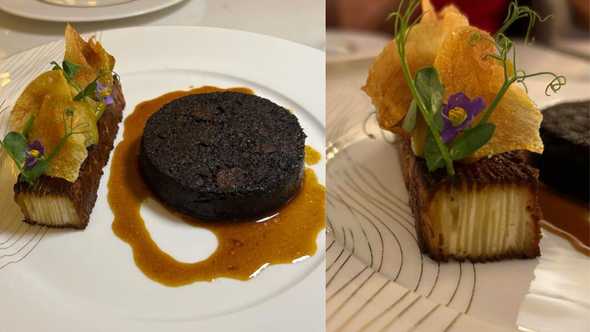 The dessert – 'Pavlova, French meringue, seasonal fruit' – would be reason number six. But then, there's something Pavlovian about the entire affair!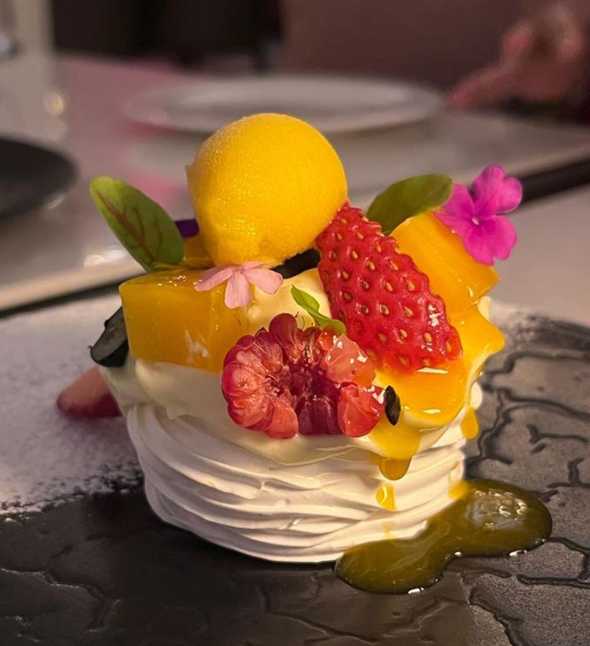 ---