Rediscovering the Joy of Wine: The Sukhothai Bangkok's Intimate Wine & Dine Series
June 15, 2023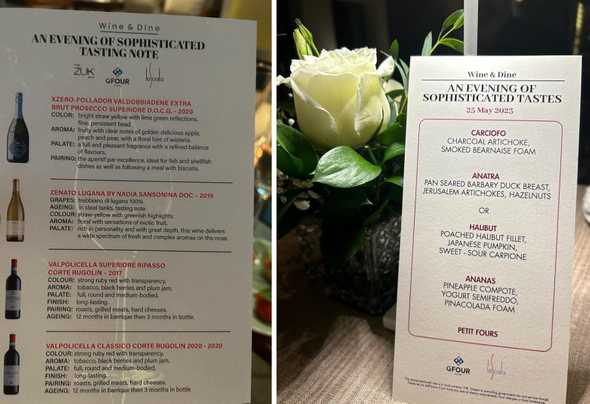 Wine tastings are no longer unusual. They have become quite the norm, even slightly boring, with bottles upon bottles arrayed on tables with enthusiasts swirling about brandishing glasses, exchanging notes, mouthing opinions. While wine dinners have gone from indulgent experiences to extravagant affairs with price tags to match, positioning them as special occasion indulgences.
Personally speaking, wine tastings are all about discovering that one bottle of wine I enjoy and sharing it with the company I love. I vote to bring back the focus on the sheer enjoyment of the wine from an adrenaline-fueled display of expertise.
The Sukhothai Bangkok has stepped in with an intimate Wine & Dine Series for like-minded enthusiasts focused on making that 'discovery' coupled with good food. It's a simple format: taste four wines, choose the bottle you like and enjoy it over the course of dinner (one bottle for two paying guests) – at a very affordable Bt 2,500++ per person.
The inaugural event in May kicked off at the Zuk Bar with four meticulously chosen wines sourced from the GFour collection: Xzero-Follador Valdobbiadene Extra Brut Prosecco Superiore DOCG– 2020; Zenato Lugana by Nadia Sansonina Doc – 2019; Valpolicella Superior Ripasso Corte Rugolin – 2017 and Valpolicella Classico Corte Rugolin 2020. Printed tasting notes and details acted as guides, with the sommelier and La Scala restaurant manager Marco Polato stepping into expand on the notes. And then they left you to discuss and enjoy the wines and arrive at your own conclusions.
An hour later, we were at La Scala, ready to embark on a gastronomic journey curated by Chef Eugenio Cannoni, each dish thoughtfully crafted to showcase his culinary expertise.
Our epicurean adventure commenced with a tantalising first course centred around grilled artichoke, setting the tone for the remarkable flavours to follow. For the main course, I opted for the Pan-Seared Barbary Duck Breast, accompanied by Jerusalem Artichokes and Hazelnuts. The tender duck breast, expertly cooked to perfection, riffed perfectly off the accompanying elements. The Poached Halibut Fillet, accompanied by Japanese Pumpkin and Sweet-Sour Carpione, offered a seafood option. Dessert was focused on thepineapple ­– Pineapple Compote, served alongside Yogurt Semifreddo and Piña Colada Foam. A delightful blend of sweet and tangy flavours. The meal rounded off with a delightful selection of Pettit Fours, a perfect finale to our culinary journey. Eugenio left no doubt that he is an absolute master of his craft. With each course expertly crafted and thoughtfully presented, his culinary creations tantalised the taste buds. A delightful meal over which we enjoyed our chosen bottle of the evening: Zenato Sansonina Lugana Doc (2019).
The Sansonina Estate is located in the wine-producing region of Lombard-Veneto, famous for its Lugana white wine. A beautiful straw-yellow with greenish highlights, its floral notes filled the air, accompanied by hints of exotic fruit. On the palate, it was fresh, complex and rich. This bottle was my 'discovery' – I know what I'll be stocking up on.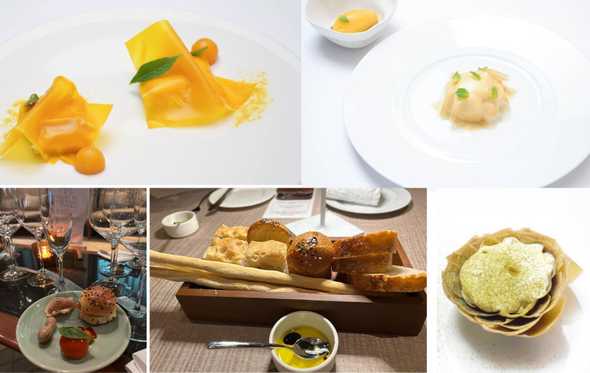 Sign Up for Wine & Dine Volume 2 on June 29, 2023 - It starts at 6 pm at the Zuk Bar with four wines from Puglia with canapes, followed by a four-course dinner at La Scala. The menu is enticing: Uovo (slow cook soft egg with fontina cheese fondue and Jerusalem artichokes), Mushroom Risotto with black lemon and parmigiana Reggiano), Guanciotto (braised pork cheek with potato velouté and Barolo wine reduction), and to end, Tiramisu. The wines are from Vinum Lector Thailand. I am tempted! Check out the details below and reserve your spot HERE.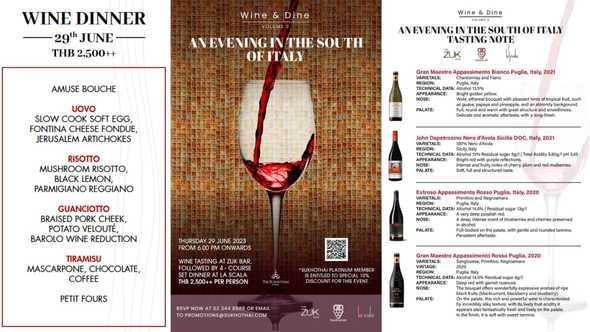 ---