Bangkok: Sra Bua gets ready for Summer Fine Dining
June 09, 2022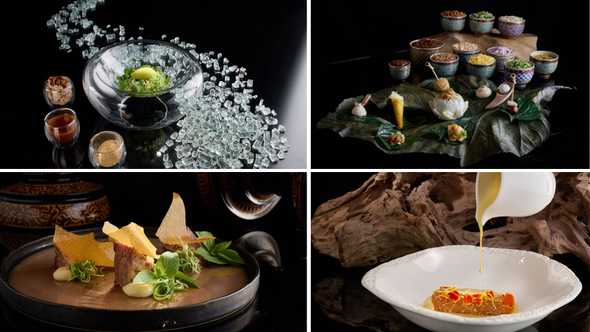 It's a playful opening served at the speed of a tuk-tuk careening through the streets of Bangkok, screeching momentarily to stop for a treat and then accelerating on.
These are bites, several of them. First is a roasted coconut marshmallow that you inject with tamarind sauce before popping it in your mouth. Accompanying it is a cashew nut topped soya-macaroon with yoghurt wasabi. In two bites, we have hit the sweet, salt and sour notes. Next is a tiny Sai Ua sausage with fermented cabbage followed by beef massaman croquette and tom kha ice-cream cone. Somewhere along the ride is a bit of fried chicken reposing on a lotus and a betel leaf roll-up – mieng kham is the only one you recognise at sight. The others reveal themselves once you bite into them.
"It's all a bit of fun," laughs Chef Henrik Yde-Andersen in Bangkok to launch his summer menu, Summer Journey, at Sra Bua by Kiin Kiin (Siam Kempinski Hotel Bangkok). Inspired by Henrik's travels through Thailand, Kiin Kiin in Copenhagen features the same menu. Developed along with senior head chef Chayawee Suthcharitchan at Sra Bua, the eight-course menu opens with a rousing ode to Thai street food that frankly delights.
"Instead of calling it fine dining, we should call it fun dining. Because when people relax, they enjoy. We are very serious about our food here, but we don't take ourselves seriously. So we can have some fun." The fun includes a magic trick too. And Henrik is right; the playfulness would put anyone at ease.Fine dining should not intimidate, he says, "Fun like this puts everyone at ease, especially the young people."
Henrik is not done yet as the fun continues with his signature 'Tom Yum Kung'. He re-ups an old trick with it: DIY instant tofu noodles made using a syringe. After all, if something works, why change it and I have yet to see anyone squirt the noodles into the bowl of hot tom yum and not be childishly gleeful about it. And that's the whole point. The 'Tom Yum' is perfection itself with the seafood served on the side: a housemade prawn cracker with dots of lobster mayo, a fried prawn Dim Sum and a marinated prawn taco. That little theatre-in-a bowl is old but gold.
The second course is a very recognisable 'larb' - chopped, stir-fried duck with foie gras foam (more mousse than foam), white cabbage, mint, coriander and Japanese cucumber sorbet. The dressing is the usual spicy tamarind sauce and roasted rice mix. Puffed rice berry brings additional crunch. Close your eyes, and it's a regular larb, only more luscious with the buttery notes of the goose liver.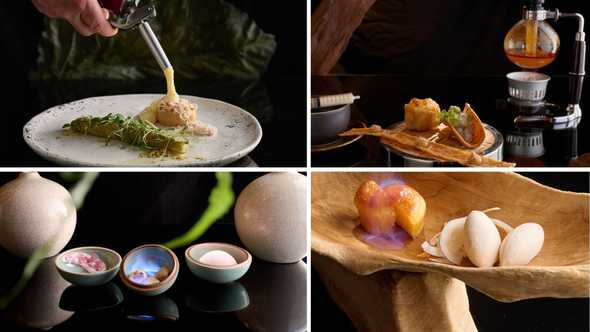 Course number three takes inspiration from Ranong, Chef Chayawee's home town. The famous Ranong yellow curry with crab meat transformed into a crunchy peanut tube stuffed with blue crab meat and surrounded by a yellow curry foam (sauce) that is seriously insane. You want to ask for more. They call it foam, but the flavours are bold and punchy.
The next dish has you in Europe for pan-seared Hokkaido scallop with lemongrass beurre blanc and grilled German white asparagus dusted with crunchy cashews and kaffir lime leaves. The tangy butter sauce ties the sweetness of the asparagus to the aloof scallop drawing it all into a crazy flavour explosion. The lemon grass and kaffir lime are the Thai notes that tie this dish to the menu. But I'm in love with this Thai ode to a French classic.
Henrik then decides to tackle a straightforward but hard to replicate star of Thai street food, 'Khao Mun Kai' (chicken rice). His version is a poached chicken ball filled with ginger-chilli and fermented soy bean sauce, a bowl of baked rice and green winter melon on a stick. The soup is a green sphere— all the elements in place. Cut through the chicken, and the sauce oozes out. Everyone knows, get the sauce wrong, and this dish is roadkill. Henrik nails the sauce.
The braised Australian Wagyu beef ribs with fried oysters bring their housemade oyster sauce into focus. This Chinese import into Thailand is unlike any neua pad nam man hoi you have had. If the sauce tastes different, it's because this oyster sauce actually uses oysters. The bottled ones barely acknowledge the mollusc. The end is delightful: Coconut Earl Grey IceCream and Coconut Foam with Thai Orange Baba Au Rhum.
The 'Summer Journey' set menus can be enjoyed as 4-course (THB 1,850++), 6-course (THB 2,800++), or 8-course (THB 3,400++) meals. Juice and wine pairings are also available. Visit Sra Bua by Kiin Kiin.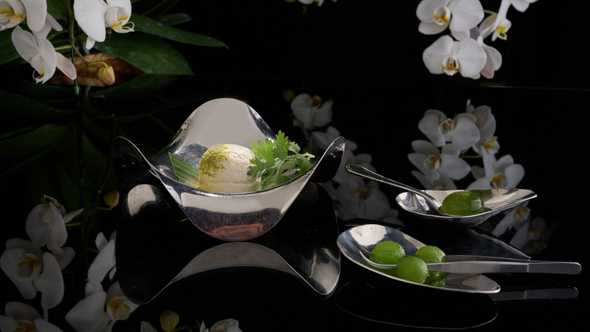 ---