Bangkok: Two Afternoon Teas to Indulge In
May 28, 2022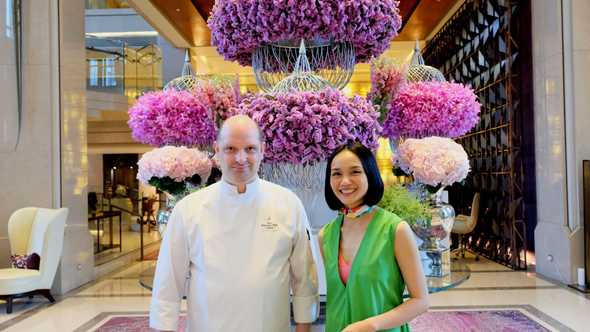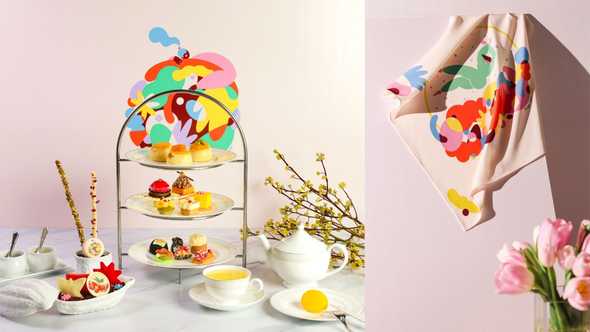 I always find time to pause for afternoon tea, a tradition I find hard to say no to. Anna, the seventh Duchess of Bedford, did us all a favour when in 1840, she found the perfect way to fill the slow, late afternoon hours. Not that she would even recognise what passes for afternoon tea these days. Her's comprised dainty cucumber sandwiches, scones served with clotted cream and preserves, cakes and pastries and tea from India or Ceylon.
Mine at Siam Kempinski Bangkok is black truffle choux, Norwegian smoked salmon, lobster and prawn canapé, rosemary shortbread with pumpkin, caramelised onion and bacon tart, lemon basil and strawberry cube, orange almond soft cake, matcha green tea financier and more. Tea is Ronnefeldt.
The only thing on Chef Franck Istel's tiered tea stand that the Duchess of Bedford would be familiar with are the scones served with clotted cream.
Franck Istel, the Executive Pastry Chef at Siam Kempinski Bangkok, is riffing off the art of Thai artist and illustrator Jirayu Koo Armornpatana. Every bite is designed to feed Glom-Glom, Jira's pony-tailed signature character detailed in summery pastels in her artwork.
The artwork is a roundel of summer colours and shapes – an abstract garden that Glom Glom holds close. The artwork features on a pearlescent pink pocket kerchief that is yours to take home. It sits by your setting in a satin bag. I tie mine around my wrist; the husband uses it as a pocket square in his jacket pocket.
As we wait for the tea to arrive, we paint – a square of white chocolate overlaid with screen printed rice paper - in edible colours. It's the prancing Glom Glom I attempt to colour in - a very calming ritual.
The 'Summery Dream Afternoon Tea – Limited Edition' tea stand arrives with 16 sweet and savoury bites. It's as if Franck has taken each colour in the artwork and transformed it into a treat reflecting the fun, excitement and confidence of Glom Glom.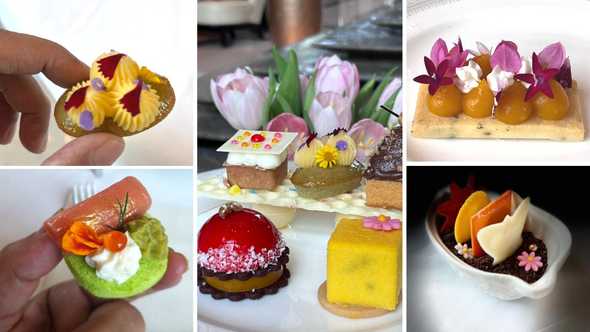 There's the delightful bright yellow lemon basil and strawberry cube, orange almond soft cake with a delicious hazelnut pyramid on top, a red mango-raspberry dome on chocolate shortbread, a matcha green tea financier with yuzu curd and the classic scones – vanilla, pistachio and apricot scones served with housemade vanilla strawberry jam, lemon curd, and Devonshire clotted cream.
The savoury tier has the chef deep-diving into molecular gastronomy for bites that are surprisingly substantial in taste. The gold-flecked black truffle choux is moreish. Norwegian smoked salmon with wasabi and ikura sits on a green shortbread, a squid ink sago 'coral' wafer is the base for the lobster and prawn canapé, a rosemary shortbread is topped with pumpkin, orange and cream cheese, and then there's the caramelised onion and bacon tart with a cloud of shaved manchego cheese. On the side is a macaroon screen printed with Glom Glom and sweet grissini: white chocolate with strawberry crisps and milk chocolate with pistachio. Plus, bright chocolate thins. Each delicious bite incites you to pick the next. There's no holding back.
The tea Master Ging Nipaporn Hanwichai suggests Siam Harmony – Green Chinese tea with notes of strawberry, kiwi and Sencha and Schoko & Crème – black tea with chocolate-y and vanilla notes. I'd do this all over again, quite easily. Go reserve your spot now.
The 'Summery Dream Afternoon Tea – Limited Edition' is served daily until 31 August 2022 from 2 pm to 5 pm at the Lobby Lounge and Hanuman Bar; Siam Kempinski Hotel Bangkok. At THB 1,290++ per set, paired with a choice of Ronnefeldt tea or coffee. For reservations: +662 162 9000; https://bit.ly/SiamKempinski-SummeryDreams.
Legacy of Pearls Afternoon Tea Set
The Sukhothai Bangkok has decided to celebrate June with pearls and an afternoon tea devoted to the lustrous gem from the sea. Served at its Lobby Salons, the exclusive 'The Sukhothai Bangkok x Matara 'Legacy of Pearls' Afternoon Tea Set' has Executive Pastry Chef Antonio Yang interpreting the precious pearl in a series of savoury and sweet bites. Plus, the opportunity to win Matara's pearl jewellery, valued at up to THB 8,850.
This has to be the most balanced tea stand, with savoury bites getting equal weightage as the sweet ones. The aforementioned Duchess of Bedford would be all at sea here, though.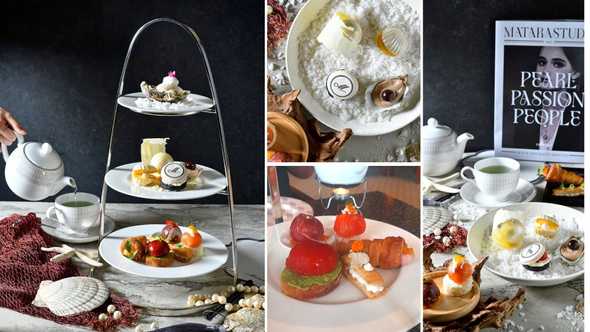 I start with the warm savoury. Lording it over the entire tea stand is a warm poached oyster topped with balsamic pearls and delicate milk foam. The bottom level has the savouries: ricotta truffle mousse in a light puff pastry sandwich, Japanese pearl melon covered with shaved Iberico ham with orange pearls for a citrusy finish, Atlantic smoked salmon is fashioned into a pearl shape with horseradish mayo and ikura, a puff pastry cream horn filled with chicken liver mousse (standing in for the traditional chicken sandwich) and a toasted baguette topped with mashed avocado and grilled red sweet pepper.
The sweet component has shell-shaped lemon madeleines coated in pearlescent white chocolate leading the charge. Next to it is a delightful chocolate mousse served in an oyster shell (the old-fashioned goodness of this left me asking for more). I try the delicious cream cheese macaroon with the right bit of desired chewiness next. The last is a dome of white chocolate. Finally, in my cup is green tea – a special blend for The Sukhothai by SARO. The tea puts you in the mood to explore Matara's collection. Founded in 2014, this luxury jewellery brand specialises in natural and cultured pearls offering creative interpretations.
Indulge in this elegant afternoon tea from Monday to Friday until 31 August 2022; 1.30pm – 4.30pm; THB 1,450++ Per Person; For reservations: +6622 344 8888 |promotions@sukhothai.com
---