When Cognac and Chocolate collide
April 04, 2022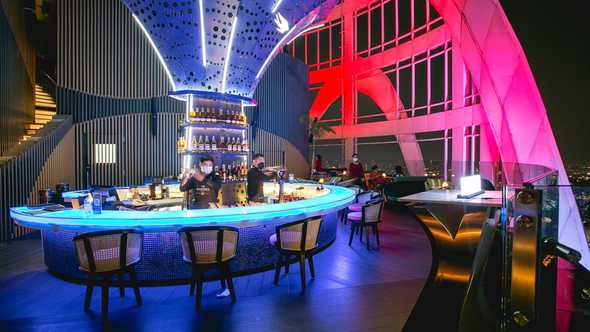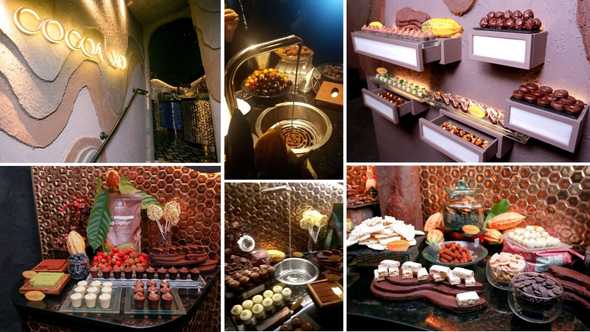 Cocoa XO is the latest addition to Centara Grand at CentralWorld's edgy portfolio of restaurants and bars. Located on the 57th floor, this alfresco bar and lounge experience centres around premium chocolate and cognac. Tempered glass and metal staircases from the 55th Red Sky level give access to this very heady experience - the stairway to a complete cognac and chocolate high.
As you step on to level 57, the first into view is the illuminated cognac cocktail bar lit up in Martell blue. The Martell bird, the golden swiftlet in flight, finds itself on coasters. Look beyond the bar for the lounge-y arrangement of sofas and chairs backed by spectacular city views.
The first cocktail I order is a masterclass in translating a hot chocolate experience for the tropics with an added cognac kick - Cocoa Alexander (Martell VSOP, crème de cacao dark, heavy cream ). In place of the garnish is the Martell swiftlet imprinted on the foam.
As I sip it, I wait my turn to enter the walk-in cocoa pod. Accessible through a chocolate grotto, the pod is chocolate fantasy in technicolour. More a cave than a pod, inside is a motherlode of chocolate pralines, ganache chocolate cake, soft-serve ice cream and chocolate literary on tap for 'cognac fondue experience'. The Maître Chocolatier has been hard at work.
A cognac soft-serve and several chocolates later, including cognac filled ones, I'm back at the bar. Examining my choices, I see a line-up of classics, innovative signatures, a fine selection of cognacs and other rarities from Martell and Cacao Barry.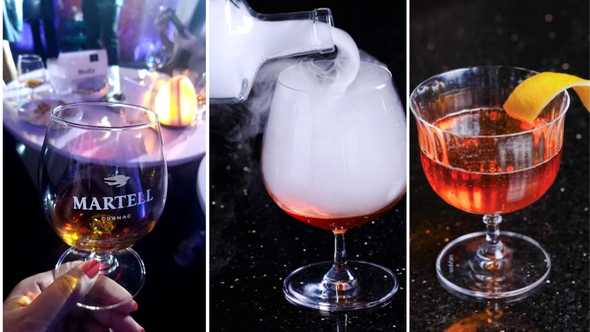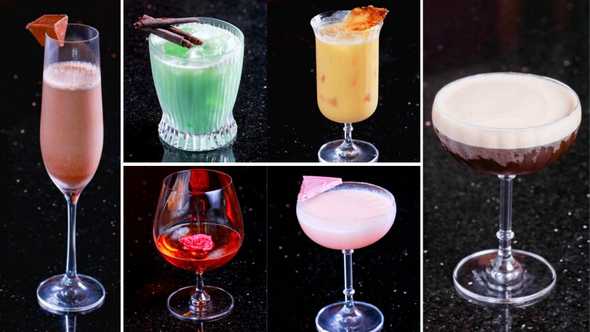 I make my next choice a refreshing Je T'aime (Martell VSOP, Malibu, pineapple juice, vanilla syrup, white egg). Campari fans might want to go with A Plus Tard (Martell VSOP, Chambord, Campari). The list is long, and you might have to return several times to try them all.
Apart from Cognac cocktails, the list includes several chocolate-based ones: More Than A Tea (Absolut Vodka, orange liquor, vanilla syrup, white chocolate, and mango), or Cocoa XO (Absolut Vodka, Kahlua, Heysel Nut liquor, smooth liquor cream, and chocolate) as well as mocktails like Take Off (passion fruit, raspberry syrup, quinine soda) and See You Tomorrow (rose water, lemonade, and quinine soda).
Bar snacks take the form of Crackling Pork Belly with three sauces, Snow Fish Rolls, Sweet Potato Fries, Hitachiwagyu Beef Skewer, Chesapeake Bay Blue Crab Cake, Cantonese Salt and Pepper Squid, Duck Sprink rolls, Tsukune Chicken Balls and more.
Cocoa XO is open daily from 5pm – midnight; +662100 6255; centarahotelsresorts.com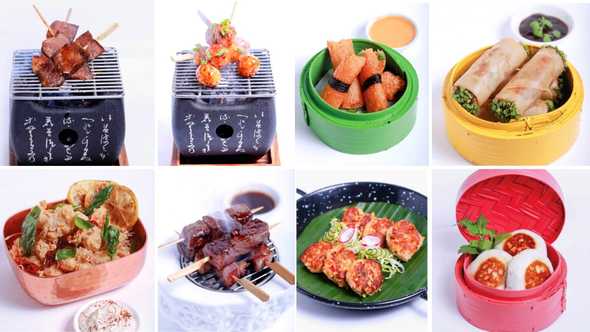 ---