Ticking the boxes in Pattaya
April 03, 2022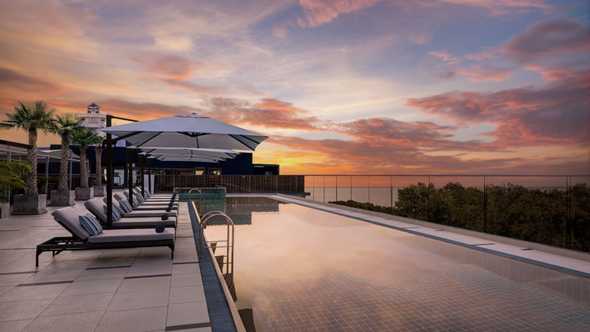 Pattaya has made a concerted effort to reinvent itself, breaking with its past. There is no clearer signal of its success than the seaside town finding itself on the radar of domestic tourists. The city is undoubtedly adapting, morphing its tourism product; the pandemic years have helped reinvent it. The development of the Eastern Economic Corridor too is speeding up the metamorphosis; ideally positioned between the Rayong industrial hub and Laem Chabang, Pattaya is ready to leverage the advantage. The change is evident with the destination refining its product to appeal to business travellers and domestic tourists. The international leisure traveller looking for a party is no longer the sole focus.
It is in this increasingly widening space that the brand-new Courtyard North Pattaya by Marriott finds itself. Just minutes from North Pattaya beach and Terminal 21,the hotel offers a spanking new space that takes the Courtyard business traveller ethos into the urban resort space. Courtyard by Marriott is the largest global footprint of hotels within Marriott Bonvoy's portfolio of 30 brands. Jakob Helgen, Area Vice President – Thailand, Vietnam, Cambodia & Myanmar, Marriott International, says, "Our Select Services portfolio is driving momentum for growth in the region with an exciting pipeline. With international borders opening, we look forward to welcoming international travellers with expanded travel choices and diversified experiences." Located away from Wongamat Beach in Naklua, North Pattaya, the new hotel is only a two-hour drive from Bangkok and an hour and a half from Suvarnabhumi Airport. The 233-key contemporary hotel offers 28-square metre Superior Rooms, Premier Rooms, larger 37-square metre Deluxe Rooms, 41-square metre Deluxe Suites and premium 44-square metre Courtyard Suites, all equipped with Marriott signatures: comfortable bedding, ergonomic workspaces, LCD TVs, complimentary Wi-Fi and spacious marble bathrooms with rain showers. In addition, the Grand Ballroom, with its 230-square metre, pillar-free function room space, gives it mice cred for mid-sized meetings or social occasions.
Design wise, it is in the modern space with sand and beach-inspired patterns and colour scheme underlining the seaside location. The chandeliers in the lobby and the ballroom go a step further and mimic the sea waves. The rooms are designed with an intuitive eye for comfort and practicality.
Other facilities include Cafe 22, the all-day-dining restaurant. Bright and modern with an open kitchen, it is geared towards buffets but with a comprehensive a-la-carte menu. The equally modern lobby with its pops of yellow morphs into the Spart's Bar, perfect for everything from 'crafted cocktails to cold-brew coffee'. The long communal table at one end has board games as the centrepiece: sit down for a game of chess or pull out the laptop to get some work in. The rooftop is reserved for the pool, the fitness centre, the Surf Bar (open for lunch and dinner) and very thoughtfully the Kid's Club.
"All the elements of a Courtyard property," underlines General Manager Shashank Sinha, a hotelier with two decades in the bag with Marriott in Indonesia, India, and Thailand. He is somewhat of a Courtyard specialist now after two Courtyards stints on Bali: Courtyard Nusa Dua and Courtyard Seminyak. Both branded as urban resorts within the Courtyard framework. "Both these were leisure driven though we did have corporate guests within the corporate groups' space. But, this one in Pattaya mixes leisure and corporate offerings – quite a unique balance."
Technically those are positions on either end of the hospitality scale and the divide can prove hard to bridge. Says Shashank, "Yes, corporates have very specific requirements, while the leisure traveller is very laid back and relaxed. Yet both are similar in their expectations – they want good value for the money. Leisure travellers spend more time in the hotel, and we have all the facilities they need, including a Kids' Club. The corporate traveller needs a comfortable bed, a good shower in the morning, fast internet, and a good breakfast to start the day. Courtyard guests know they are guaranteed this worldwide. In theevening, they want a place to relax, a quick dinner and a drink, plus a 24-hourfitness centre they can use any time. We have all of that."
Shashank has plans for the Spats Bar to mean many things to many people, from afternoon tea to wine bar and perhaps a meeting lounge in between. He adds, "I don't have a speciality restaurant to offer, but I want to offer special moments at the rooftop bar with themes and private cabanas." Shashank foresees the domestic to stay strong this year, "I would say 70 to 80 per cent. Long-haul international travel should start with the gradual opening of Thailand with the 'travel bubbles'. It also depends on the re-entry requirements in the country of origin. Right now, Thailand's domestic market has a considerable capacity. Thai government's Rao Tiew Duay Gun (We Travel Together)x programme is helping by encouraging people to travel."
The mostly leisure domestic market is what Courtyard North Pattaya is hoping to attract for now. Though business travel is registering around 30 per cent, adds Shashank. He is making sure Courtyard North Pattaya remains in the focus of the corporates. An important point to note: this spanking new hotel is not a conversion but has been built from the foundations up to Marriott specifications and standards. Tour the property, and this becomes more than obvious. For developer and owner Rony Fineman of the Nova Group, Courtyard North Pattaya brings his hotel portfolio into the double digits. For more information on the property click here.
From the left: General Manager Shashank Sinha, Rony Fineman of the Nova Group and Jakob Helgen, Area Vice President, Marriott International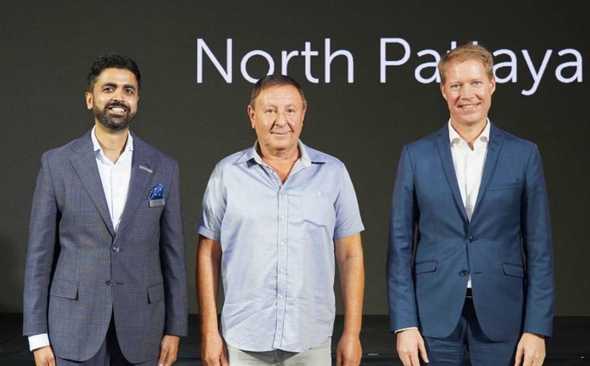 ---