Louis Pommery England: English Sparkling
December 21, 2021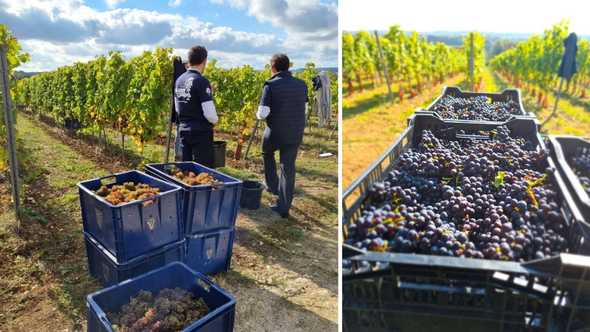 (Main photo) Louis Pommery England Delivery for the festive season; (Above) Louis Pommery England's collaboration is with Pinglestone Estate in Alresford, Hampshire
That English Sparkling wines exist is an accident of continental drift. Britain originally split from Europe half a million years ago, severing its narrow connection: a chalk bridge. While the slim umbilical cord disintegrated, that seam of chalk ran deep and still connects England to France. English Sparkling wines produced in the South of England Wines owe their existence to this seam of chalk running along the South Downs through Hampshire, West Sussex and Kent. The seam then goes under the channel re-emerging in the hills of Champagne, giving English vineyards virtually identical soil conditions to those in Champagne.
Not only do they enjoy similar soil, but they also have a semi-continental climate similar to Champagne on a latitude that runs just 88 miles from north to the south and has cool nights, which make it ideal for growing Chardonnay and Pinot Noir and Pinot Meunier grapes. In addition, the cooler climate enables the grapes to retain high levels of natural acidity when fully ripe, which is essential to producing sparkling wines with a delicate flavour. No wonder that English sparkling wine producers have repeatedly beaten Champagne in International Wine Competitions.
Not enjoying being beaten on the International Wine Stage, in 2014, Clément Pierlot, Vranken-Pommery's former Director of vineyards, took charge of oenological development and was appointed Pommery's new chef de cave. He created a joint-venture partnership with Hampshire producers Hattingley Valley resulting in the birth of Louis Pommery England through Pinglestone Estate, a 40-hectare site in Alresford, Hampshire. They are also founder members of the Sustainable WineGB initiative.
It would be 6-8 years before Pinglestone Estate would produce fruit for Clément to make an English Sparkling wine. He wanted to create a wine that would define the Vranken Pommery style of English Sparkling wine. For that, he bought grapes from Hampshire, Essex and Sussex to create Louis Pommery England, the first English Sparkling wine made by a Champagne house. Made using the facilities at Hattingley, released in early 2018, with 2016 grapes, it was on the lean side, a classic blend, 55 per cent Chardonnay, with 37 per cent Pinot Noir and 8 per cent Pinot Meunier, with a dosage of 8 g/l. It sees no oak.
Winemaker Pierre-Hubert Crozat, who partners Clément on the project, talks us through the Louis Pommery England Brut. He explains, "The fruit was predominantly sourced in Hampshire with a blend representing the estate's planting. The current 2017 base vintage incorporates 10 per cent reserve wine into the blend and mirrors the estate's Chardonnay preference," Basically, 50 per cent Chardonnay was blended with 30 per cent Pinot Noir and 20 per cent Pinot Meunier. Pierre-Hubert describes the aroma as, "distinctive" The Hampshire fruit he adds has "an English sweetness".
The 2017 is a better representation of the style expected from Pinglestone Estate when they are making wine with their own grapes. Clément set out how he makes wine, "Step by step, we have achieved the blend that we wanted to achieve." He has been building up his collection of reserve wines that resulted in the richness in the latest 2017 release: the nose is full of peach, pears, citrus fruit and some pastry notes. In the mouth, there is citrus mixed with some flinty minerality. Its pale, yellow straw colour and the fine, continuous bubbles add to an intensely fresh tasting experience.
(Below) Man of the hour: Clément Pierlot, Vranken-Pommery's former Director of vineyards (All Images: Louis Pommery England)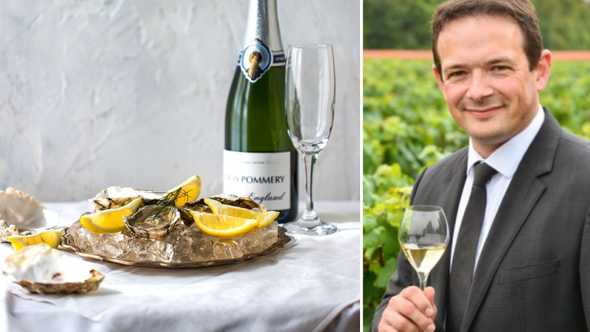 ---