Mikimoto: Pearls of Joy
July 27, 2021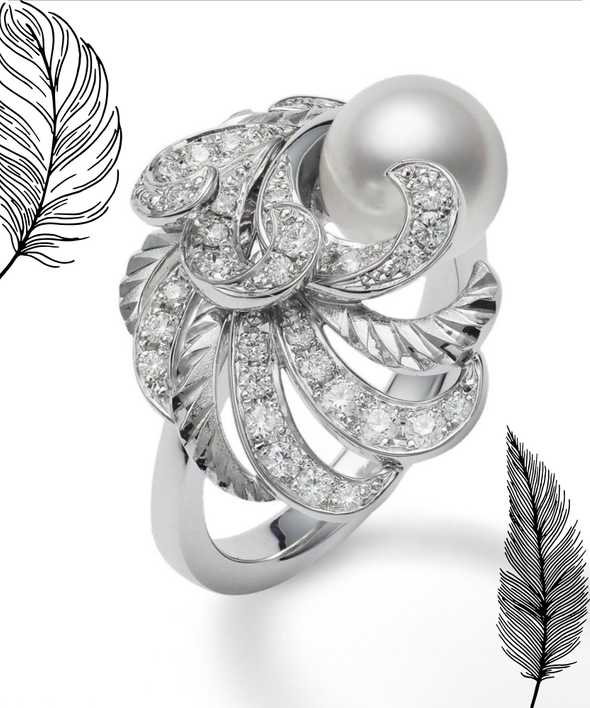 Above: Akoya Pearl Ring with diamonds (Feather Collection). (Main image) Circle and Feather Collections – Akoya pearl pendants, earrings and ring with diamonds; Kofuku no ki, or 'tree of happiness' brooch in the shape of a coral branch.
"My dream is to adorn the neck of all women around the world with pearls," said Kokichi Mikimoto, the man who invented cultured pearls over a hundred years ago. His dream and that of thousands of women came true after he successfully created the world's first cultured pearls.
It's a rare woman who doesn't want to own a pearl. Remember, you can never go wrong with pearls. Jackie Kennedy thought so too, for her pearls were always appropriate. And Coco Chanel wore pearls with everything, using them to complement her trademark suits and little black dresses.
Mikimoto knows all this and understands why women are drawn to a pearl. No wonder it has remained the number one pearl brand from Japan for more than a century.
For Mother's Day, whenever you celebrate it, Mikimoto has two remarkable collections. The Circle Collection – Akoya Pearl Pendant earrings with diamonds – is designed to accent the perfect roundness of Akoya pearls. While the Feather Collection reflects a timeless aesthetic again with Akoya pearls – earrings, pendant, and ring with diamonds, Akoya Pearl Pendant with Diamond and Akoya Pearl Ring with Diamond.
The Kofuku no ki brooch (tree of happiness in Japanese) is a white gold coral branch studded with lustrous Akoya pearls.
Check the collection at: https://www.mikimoto.co.th
"Why she is a pearl, whose price hath launched a thousand ships, and turned crowned kings to merchants." – Shakespeare
---