Lotus Arts de Vivre - The Colours of Splendour
May 31, 2021
Lotus Arts De Vivre's 'The Colours of Splendour' collection of jewellery and objets d'arts is inspired by the peacock; the glorious bird worked into the entirety of the collection. Rolf von Buren, the brand founder and Head of Design, unveiled the collection at a Facebook Live event. Among the celebrities who connected with the collection were Siriyos Devahasdin na Ayudhya ,Morakot Aimee Sangtaweep and Jareyadee Ple Thammawit Spencer.
Two peacocks that roam freely in Rolf von Bueren's spacious garden became the muse. Struck by their beauty, intelligence and elegance, Rolf, much like poets and artists through the ages, captured the dramatic bird in exquisitely handcrafted jewellery that is modern, dramatic, and ultra-luxe. The peacock-inspired pieces include earrings, rings, necklaces and a brooch. Also part of the collection are exquisite handbags and Japanese Obis: silk woven with peacock feathers and gold by Kyoto's obi master Kondaya Genbei.
Highly regarded in both Eastern and Western traditions, the peacock has sparked entire practices. In China, it became the symbol of the Ming Dynasty, representing divinity, rank, power, and beauty. The peacock is also associated with the benevolent and protective Bodhisattva Guan Yin, who transforms evil into goodness. In India, peacock feathers adorn the Hindu god Krishna's crown – the feathers symbolising purity and divinity. In Europe, the bird found reflection in Christian and Byzantine art both as a symbol of rebirth and the resurrection of Christ. The iridescent tail feathers fanning out like a halo came to symbolise the divinity of saints.
Discover the collection at Lotus Arts de Vivre's Flagship Boutique, Anantara Siam Bangkok Hotel http://www.lotusartsdevivre.com/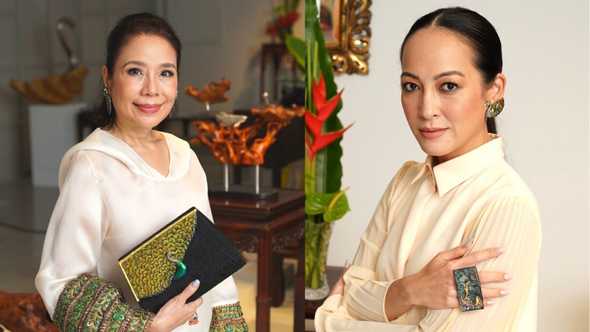 aaa
---