Bangkok's best Khao Chae
April 05, 2021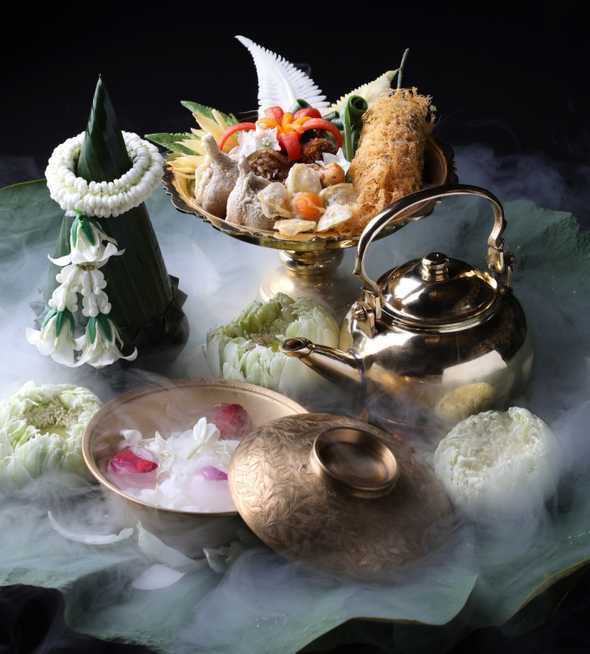 It's April and the food experience for this month of Songkran in Thailand has to be the rice focused Khao Chae. Bangkok's Royal Osha has executive chef Vichit Mukura serving up his version of this involved and storied food tradition based on an old family recipe.
The dish built around boiled rice, and served cold, traces its origins to the royal kitchens of old Siam. The Osha version has the rice soaking in cold water infused with chomanad, ylang-ylang, rose and jasmine flowers. Only the best jasmine rice will do for this treat. The water used to soak the cooked rice has a PH level of 8.8; its alkaline nature helping bring out the scent of the flowers. Accompanying the rice are seven dishes: Loog Kapi Tod (fried shrimp and grilled catfish paste balls), Prik Yuak Sod Sai (Asian peppers stuffed with ground pork and shrimp), Moo Foy (shredded sweet pork), Hom Dang Sod Sai (stuffed red onions), Hua Chai Po Pad (sweet sliced daikon), and carved fresh vegetables that include kachai, mango, and cucumber. The gingery 'kachai' is meant to be eaten with the kapi balls while mango and cucumber pair easily with everything else. Each component is labour intensive, so save yourself the trouble and make a reservation at Royal Osha. Priced at Bt 880++ per person or order the take away set at Bt2,250 (good for 3-4 people).
For a grander feast order the Premium Khao Chae set priced at Bt3000 ++ per person. The five-course tasting set opens with Yum Mayong Chid Gub Khai Tempura (Marian plum salad with egg yolk tempura). Next is Khao Chae, followed by a soup – Tom Yum Goong Maenam (grilled blue river prawns tom yum). For the mains, there are two options: pan-fried salmon in a yellow curry sauce or grilled wagyu striploin with Thai jaew sauce (spicy chilli sauce) and finally dessert: Ice Cream Krati (coconut ice cream).
Note: Do try Khao Yum (tossed rice salad with a slew of herbs and vegetables from Southern Thailand) as well. It is the best we have ever had; the nutty red rice elevates the dish to whole another level.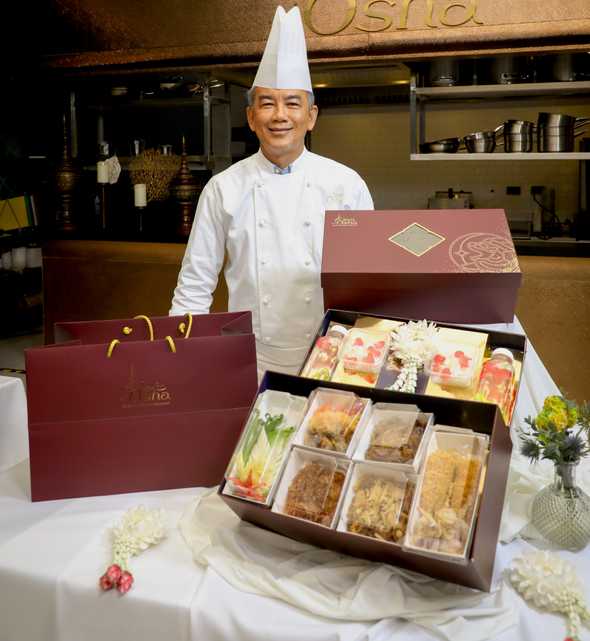 ---