Standing Tall
March 12, 2021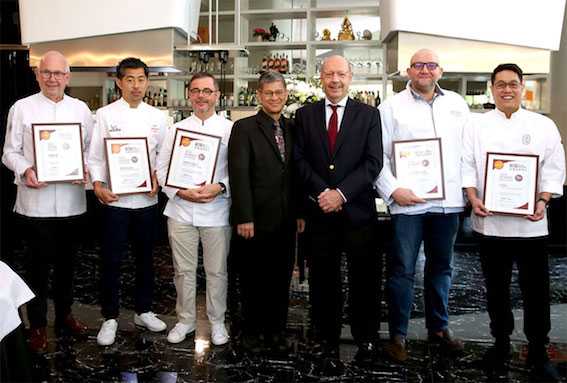 From left: Chef Henk Savelberg of Savelberg; Chef Ryuki Kawasaki of Mezzaluna; Chef Vincent Thierry of Chef's Table; Chattan Kunjara Na Ayudhya, Deputy-Governor of Tourism Authority of Thailand; Bernard Metzger Founder of Travelindex Group and Top25Restaurants Guide series; Chef Arnaud Dunand Sauthier of Le Normandie and Chef Supaksorn Jongsiri of Sorn
Bangkok's dining scene is maturing faster than anyone would have expected. Underlining this growth were the Top25Restaurants.com and Travelindex award certificates presented recently to the top five chefs in Bangkok at Restaurant Savelberg. Bangkok was selected for the first Top 25 Restaurants Awards Certificate presentation because of its very diverse and dynamic dining scene. On an aside, Mastercard's annual travel index has Bangkok as a top tourism destination in the world several years running.
Deputy-Governor of the Tourism Authority of Thailand Chattan Kunjara Na Ayudhya presented the certificates to chefs Arnaud Dunand Sauthier of Le Normandie, Ryuki Kawasaki of Mezzaluna, Vincent Thierry of Chef's Table, Henk Savelberg of Savelberg and Supaksorn Jongsiri of Sorn.
Top25Restaurants.com, published by the Travelindex Group, is the world's only restaurant guide based on AI. Celebrating fine dining in five cities across Asia, the website highlights new trends and chefs supporting local community products. The Top 25 Restaurants Guide is based on Travelindex owned and patented, 'Restaurant Rating Index'. The three-tier rating combines the power of crowd wisdom (social media and review sites) with artificial intelligence (behavioural algorithms) and views of culinary experts.
Explains Bernard Metzger, founder of Travelindex Group and Top25Restaurants Guide series, "We believe our restaurant guide and awards will contribute to foster the image of Bangkok and Thailand as a prime regional gastronomy destination, once the pandemic is under control. Due to the pandemic, experts were not able to visit and evaluate restaurants as in previous years. Out of respect for the chefs and owners whose primary concern this year has been survival rather than winning awards or improving ratings, we added more context data to our algorithm and feedback from local foodies".
---