Perfectly Luxurious, Perfectly Exclusive
March 12, 2021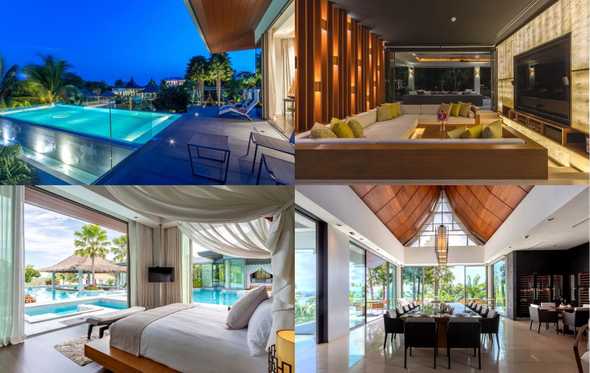 A peek inside a villa
Spread over 14,000 square metres The Resort Villa Rayong, is a luxurious, all-inclusive, eco-friendly, eight-villa private haven. Hidden away on the eastern coast of the Gulf of Thailand, this exclusive escape is a 5-minute walk from the beach. Benjamin Tellenbach, the resort's general manager describes it as 'one of the most luxurious and private properties you can find in Thailand. But what truly sets it apart is the resort staff's passion, and the collective principles in being environmentally aware and preserving the natural environment that surrounds it.' All eight, individual villas, interconnected by 1,000 square-metres of salt water infinity pools, are only available to a single group of up to 18 guests. It does not get more exclusive or more private than this.Facilities include the Serenity Spa and fine-dining experiences reflecting Thai, Japanese, French and Moroccan cuisines
How do you see the luxury lifestyle market in general morph in response to the pandemic?
It's clear that the global luxury travel market will become even more selective seeking destinations that provide even more privacy and security than ever before which is what we have always strived to be at the forefront of. There is clearly a huge amount of pent-up demand seeking resorts like ours.
How closely are you looking at the Thai market?
We have always strived to encourage the Thai community to embrace and enjoy the world class destination we have created which doesn't even require them to leave the country! Of course, this has become even more relevant over the last year with domestic travel really becoming the focus.
What makes The Resort Villa perfect for the Thai domestic market?
Location and community. You can experience award winning hospitality with the down to earth spirit of Thailand while supporting the local economy. We have always believed that to deliver the best we have to stay true to our Thai culture which is the backbone of The Resort Villa.
You just won the World Luxury Award for the third time in a row. What's the secret?
Our team's unwavering focus on service and attention to detail coupled with our relentless ambition to continually develop and offer unique events and experiences.
What specific challenges are you facing right now?
The realities of the impact of COVID across our global clients given the various regional travel restrictions across Europe, USA and Asia that change on an almost weekly basis making short to midterm bookings incredibly challenging to navigate and facilitate.
How difficult is it to assuage your staff's fear/ worries regarding the pandemic? They are on the front lines, dealing with guests directly and therefore vulnerable. Guests, after all, can be careless.
The Resort Villa has always been disease free, and the latest pandemic hasn't changed that. One of our top priorities is always our guests and team's safety which has been our mission since day one. We have updated our protocols in line with WHO and local government advice to ensure we operate in a completely COVID-Secure manner.
Guests these days are very conscious of their carbon footprint. How eco-friendly are you?We have made significant investments into growing and preserving our coastline along with the incredible nature we are surrounded by with the creation of a local community that actively seeks to preserve our environment. We also donate a portion of our revenue to offset the impact of climate change. Our efforts have led to us being recognised as a forward-thinking, eco-friendly destination.

---