Life is an Expedition
March 04, 2021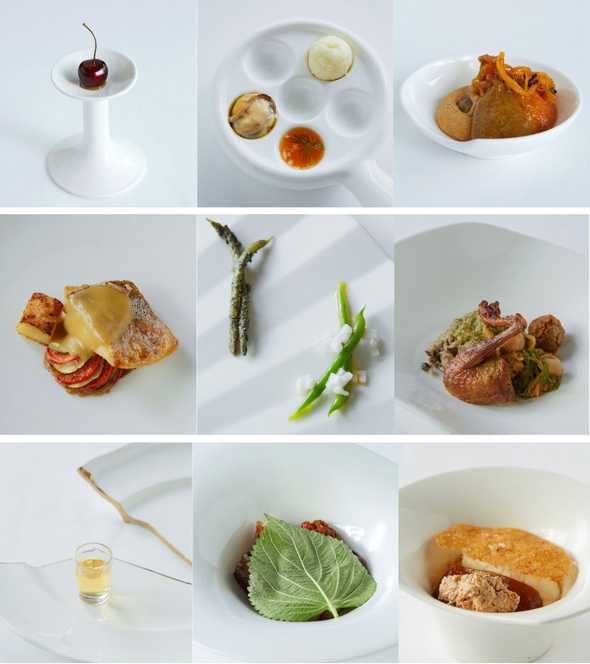 When you sit at Chef Jutamas "Som" Theantae's table, you do so expecting the unusual. Her all-white restaurant in mid-town Bangkok is her blank canvas where she draws from her encounters to paint a layered experience. Her latest work of art, Expedition, is a 10-course tasting menu, the third since Karmakamet Conveyance opened in late 2019.
Som won't allow herself to be bound by anything, not even her own experiences; the artist in her speaks as forcefully as the chef. Hence, no menu, no explanation. The idea is to let the food speak for itself, and for diners to make their own connections. What Som doesn't want is to create expectations that could limit the journey. This is essentially a boundary-defying experience, anchored in robust flavours.
The chef says, by way of explanation, "My expedition takes you to the places I visited and the tastes I remember. I just cook from memory. All I care about is the taste. I go on expeditions searching for something consciously or unconsciously, and I share with you my expedition through these dishes. Now, this moment is all yours. Your time, your space, your thoughts. Enjoy your expedition."
Instead of flowers, the table decorations share her journeys: graffiti from Long Island marks a 2019 trip to New York. A rock with barnacles represents explorations of The Philippines and so on. There's one fashioned from bricks representing a planned future trip, in 2023, to Glastonbury.
The discussion that dish after dish sparks at our table of four is what Som intended, I am convinced. The food has our complete attention; there's no looking away. After all, isn't that how you would treat art? We share our individual interpretations, even getting a bit silly but genuinely enjoying the experience.
As the dishes roll out, cues come from the chef's presentation of travel pictures and videos projected on the white wall, and the music. The start is simple: a red, luscious cherry touched with amaretto. A naughty slang phrase comes to mind. We are still giggling when the server brings out an intense consommé. At the bottom of the flacon, we find boiled peanuts. The nut features again as a peanut butter cookie with chilli paste. There are also oysters, a portion of a ham sandwich with a red wine shot that transports me to a picnic lunch in Jardin des Tuileries in Paris, and a perfectly executed pigeon on a base of sticky rice with cha-om greens and curry (the pigeon will be replaced by quail). Her signature – braised beef tongue – features too but with surprising additions. There's fish as well, on ratatouille.
I will not go into the details of each dish because that would take away from your experience. As a writer, it is hard to hold back, but one must respect the artist. So I can only hint at what you can expect.
The dessert is my childhood in one serving: layers of fondly remembered experiences and textures starting right at the bottom with crème Catalan. Or caramel custard. Or crème brûlée. Whatever works for you. It is your Expedition, after all.
The 10-course menu is priced at THB2,490. Two sittings: 6 pm & 8 pm. Reservations are required. Karmakamet Conveyance is on Soi Sukhumvit 49, Bangkok.

---