X marks the Spot
March 04, 2021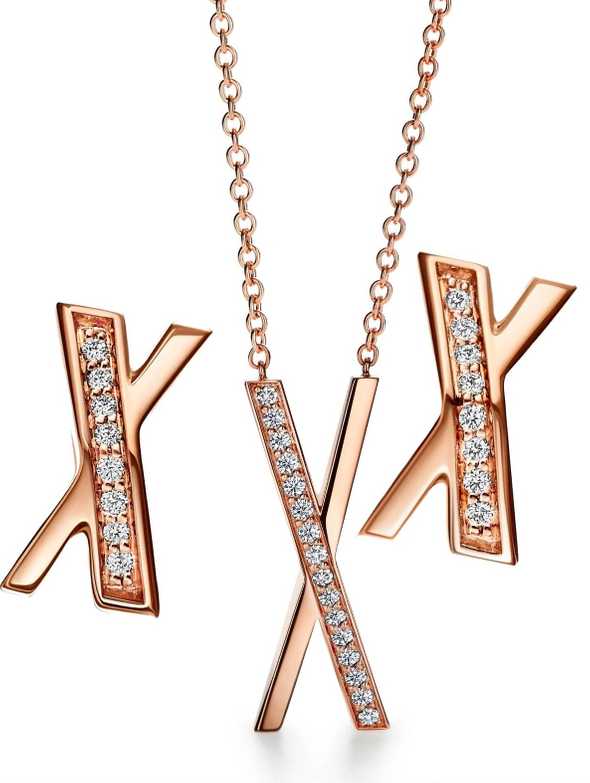 (Main) Tiffany hoop earrings in platinum with diamonds, Atlas X closed circle pendant in rose gold with pavé diamonds, Tiffany Soleste band ring in platinum with diamonds, Atlas X closed wide ring in white gold with diamonds, Atlas X closed wide hinged bangle in white gold with diamonds and Tiffany Metro bangle in 18k rose gold with diamonds. (Above) Atlas X pendant and earrings in 18k rose gold with diamonds
Inspired by the Roman numerals on the clock at the Tiffany Fifth Avenue flagship store, Tiffany's Atlas X Collection takes the narrative of the original Atlas designs launched in 1995, much, much further. Crafted from 18k gold, sterling silver and pavé diamonds, the 2021 collection is about making your mark with graphic simplicity – powerful angles, clean lines and statement silhouettes.
There are three different design statements within Atlas X: Closed, X and Open. In the Closed and Open styles, knife edge profiles (Tiffany's signature since the introduction of the Tiffany Setting engagement ring in 1886) are magnified for a bold, visual impact. Incised Roman numerals create sharp reflections and shadows that emphasise strong silhouettes. The X styles feature crisscrossing elements that reinforce the collection ethos on earrings, pendants and more. All three versions have designs with diamond accents. The Atlas X wide bangle and ring feature pavé diamonds set in a honeycomb. Atlas X offers numerous combinations for stacking, mixing and matching. So go stack them!
Note: Currently only the Atlas Closed is in stores; the entire collection will be available world-wide by April. This month, the new Atlas 34 mm watch will also be launched. (Photos: Tiffany & Co)
(Below) Left: Atlas X Closed wide hinged bangle in 18k rose gold with diamonds, white gold with diamonds and rose gold with pavé diamonds. Centre:Atlas X closed wide hinged bangle, circle pendant and wide ring in18k rose gold with pave diamonds. Right: Atlas X closed wide ring in 18k rose gold with pavé diamonds, in white gold with diamonds and in rose gold with diamonds.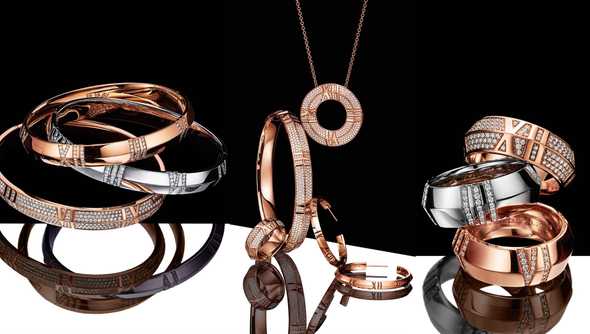 ---