Women In the Kitchen
March 02, 2021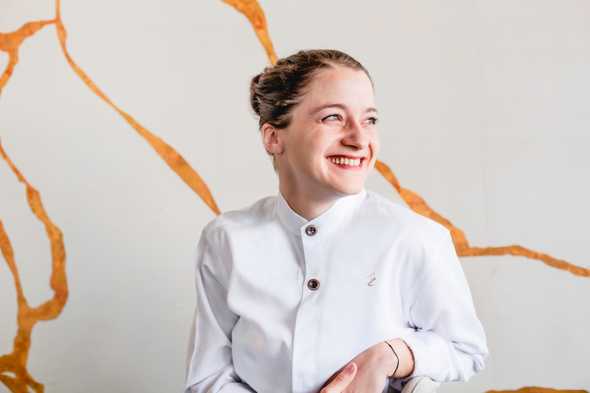 (Above) Chef de Cuisine Heloise Fischbach; (main photo) Écriture's women team
Executive Chef Maxime Gilbert of the acclaimed two Michelin-Star Écriture by Le Comptoir in Hong Kong could think of no better way to celebrate Women's Day than to hand over the kitchen to his Chef de Cuisine, right-hand and protégé Heloise Fischbach on March 8. The menu for March 8 has been conceived, developed, and executed by the women of Écriture from the front-of-house to the kitchen with Heloise firmly in command. The five-course lunch is priced at HK$1,188++ while the seven-course dinner is for HK$1,888++. This collaborative effort comes from, besides Chef Heloise, Alexia Kei (Chef de Partie), Tia Cheung (Chef de Partie), Kristina Delaire (Supervisor), Ng Ka Yan (Guest Relations Officer), Lau Wing Man (receptionist), Rowena Gonzalez (receptionist), and Maya (general maintenance)
Highlights from the menus includeTopinambour (Jerusalem Artichoke) infused with smoked eel and topped with caviar; Butternut Cuttlefish Black Truffle, combining cuttlefish, black truffle and sorrel with homemade Bagna Cauda sauce; Monkfish Pot au Feu; Blanc de Blanc Aveyron Lamb served with sweet potatoes millefeuilles and rooibos red tea; desserts – Citrus & Argan Oil and Rice and Honey(for dinner).
Says executive Chef Maxime Gilbert, "To celebrate this special day, I have full confidence that the incredibly talented women with whom I am lucky to work with every day will deliver an exceptional dining experience to our guests at Écriture. Heloise has been working closely by my side for two years and she is one of the most talented chefs I have worked with."
The Front Row put some questions to the woman on the spot – Chef de Cuisine Heloise Fischbach:
How often are you asked: what is it like being a female chef?I have stopped counting. The funny thing is before asking me, they always think I work in the Front of House, not in the kitchen.

Should we, in the media, stop obsessing about women in the professional kitchen? Yes, you should. Because when a woman becomes a chef, she has a story behind it, just like the male chef. Having said that, it's still important to ask because everyone knows this job was [traditonaly] for men even though now there are more and more female chefs around the world. And very successful ones too.

Has the gender of the chef really stopped mattering? I think the gender still matters but it's more about people [their mindset]. People have to change their mind about women, and this change of mind is still a work in progress. At this moment, there are not enough women [in the professional kitchen] as most of the great chefs are still men. That's why to be a women in this field is still considered to be "unique" even in 2021. But I can tell you when service starts, and in every kitchen, the gender stops mattering, we are all in this together.

What questions should we be asking female chefs? All the question that you ask to a male chef! Questions like: why did you became a chef? What represents this 'work/passion' for you ? What are your expectations of the future? How can you explain your cuisine? What is your most memorable experience? Which emotion would you like to transmit with your cooking? So many other questions to ask….

Clearly the glass ceiling has been broken. But what else needs to be done when you think of female empowerment in general and in your field in particular? As a female, we just need to keep going. It's good to remind people that women were considered weak and inferior, and show the world that today women can do a lot. Women have changed and women have become stronger, maybe sometimes stronger than men. So we just have to keep going, keep doing, keep working and succeed. This will be the most powerful thing we can do. In my field, the only thing to change is to consider women equal to men, and stop thinking that we are weak. We bring sensibility, purity, elegance to the kitchen. Women have a different qualities from men, but are strong enough to succeed like them.

Do you agree with the 'Best Female chef' category in most restaurant awards? Isn't it time female chefs are judged alongside their male counterparts? Yes and no. There is a category "Best Chef", so why not! Like I said before, at this moment there are not many successful women chefs. We are in numerical inferiority, so it's important, for now, to put forward the female chef. But I hope that one day there will not be any distinction between women and men. This all happens step by step.

How does the new generation of female chefs need to be supported? The new generation of women chef knows that this field is not easy, not only for women, but for men as well. This career is difficult but if they want to achieve their dreams they need perseverance. There is nothing they are not able to do, so why should they need specific support? The mentality has to change inside the kitchen. If women want to be equal to men, they need to have a strong mind and men have to stop thinking that women are weak.

How can women chefs be bigger players financially in the field? It's a good time for women to make people talk about them. If women work together, propose big events about women, I think we can all be big players.
To make a reservation click here.

---