Tempered Spirits
January 24, 2021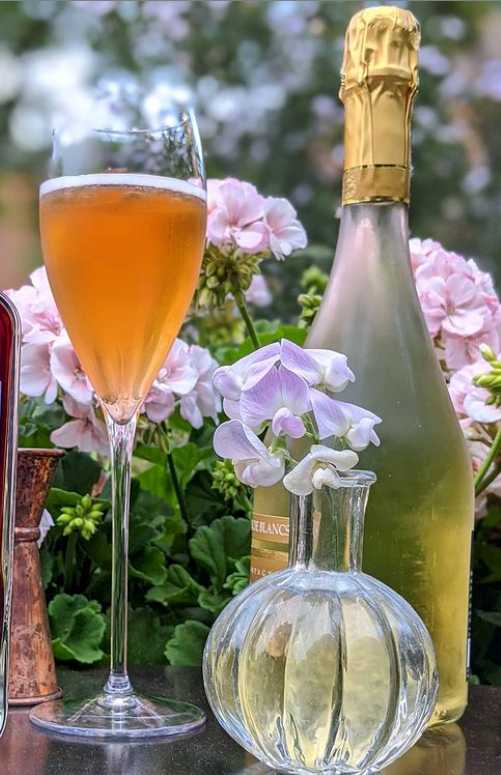 A measure of Dockyard Oak Aged Damson Gin topped off with Champagne. Photo:Copper Rivet Distillery (Main Image: Jez Timms/UNSPLASH)
The pour of the cocktail circuit, the 'craft' in thecraft gin is mostly limited to the 'bouquet garni' in the spirit. Producers generally start with a blank canvas of an industrially produced neutral spirit of unspecified origin which they then style into 'their' gin with a unique botanical recipe. However, two English distillers The Oxford Artisanal Distillery in Oxford and Copper Rivet Distilleryin Chatham, Kent, have gone the extra mile working with local farmers to source premium rye, wheat and barley to make their own base spirit. These are the only two English distillers, located on opposite sides of the country, who can look over farmland knowing from which field their gin originated. Total traceability. We tell you their unique artisanal stories.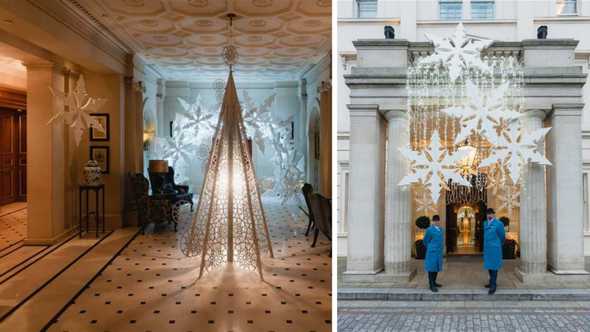 The stills: Copper Rivet Distillery (left), The Oxford Artisanal Distillery
THE OXFORD ARTISANAL DISTILLERY
Oxford-born and bred Tom Nicholson wanted to create the city's first legal distillery run on the principal of grain-to-glass working with local farmers. He teamed up with California-born Cory Mason, former Master Distiller at Silent Pool Distillery in Surrey, to open the distillery in an old threshing mill at South Park Depot off Cheney Lane in Oxford.
Tom, a massive rye fan, connected with John Letts who grows ancient strains of rye, wheat and barley. John had discovered old strains of grain by studying the base layers of thatched cottages. Working with seed banks he cultivated the strains resulting in award-winning flour. Clearly John was growing the grain the distillery needed to produce alcohol.
Thus behind the spirit Tom distils is bio-diverse farming producing certified organic and sustainable grain. John's fields are the most genetically diverse in Europe choosing not to use fertilisers or chemicals rather leaving the grain to grow with plenty of animal and insect life promoting soil health.
Having sourced the grain, the distillery next needed a copper still. Taking their cue from the romance of steam, Victorian engineering, old diving helmets and imagery of Jules Verne's20,000 Leagues Under the Sea, Tom approached South Devon Railway Engineering and their steam engineering craftsmen. The last great industrial coppersmiths in England, their claim to fame is the rebuilding of the boilers of the Flying Scotsman locomotive.
Building the boilers took two years resulting in Nautilus – a 2,400 litre still named in honour of Verne's fictional submarine and its 500-litre counterpart Nemo. Working together with two five-metre tall copper distillation columns (with a total of 42-plates), they produce a sprit with unique taste. The custom still provides the flexibility needed to experiment and refine. The distillation process starts with making a clear spirit with unreal, huge, chocolatey notes that fly up the nose, whilst a rich, nutty wheat taste takes hold of the tongue.
This is the rich textured canvas which they paint with their botanicals. It allows the use of a fairly classical recipe of juniper, coriander, angelica (both roots and seeds), orris, bitter orange peel, sweet orange peel, lemon peel, meadowsweet, liquorice root and nutmeg.
The result is a gin with a nose of dense pine needles, fresh coriander and a touch of aromatic cardamom rising over sprightly juniper and tangerine pulp. In the mouth the taste of toasted peppercorn leads before zesty orange rind develops in the juniper-led gin. Syrupy anise and warm menthol provide a smooth underlay. The finish is sumptuously long and deep, the syrupiness lingers on the edge of the tongue while fragrant cardamom and orange oils fade dutifully.
Visitors can sign up for a 60-minute behind the scene experience that walks visitors through every step of the journey from seed to still and into the bottle. (tours@theoxfordartisanaldistillery.com; +44 1865-767918)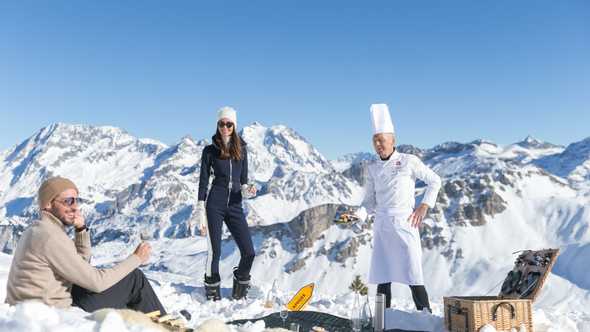 Rhubarb Fizz – Rhubarb liqueur⁠, Oxford Dry Gin⁠, Aperol, lemon and egg white; Oxford Rye Organic Dry Gin and made with grain from the fields of Oxfordshire. Photos: The Oxford Artisanal Distillery
Oxford Artisanal Gins to Get
Oxford Rye Organic Dry Gin: Classic juniper-forward, organic rye gin with bold notes of juniper, pine and citrus, and a hint of aromatic spice.
Ver Viola: Deep violet in colour, it is a floral London Dry gin, infused with organic butterfly pea flower and organic rose. This is not a liqueur but a botanical gin, triple-distilled with 17 botanicals.
Ashmolean Dry Gin: A collaboration between the distillery and the Ashmolean Museum. Inspired by the museum collection it is crafted with 17 botanicals including exotic jara lemon, rose, jasmine, and spices from the Middle East and Asia. Perfect for G&T.
Physic Gin: A complex gin that is a collaboration with University of Oxford's extraordinary Botanic Garden planted during the 1640s by its first keeper, Jacob Bobart the Elder. Twenty-five botanicals, mostly from Bobart's list, and many grown and foraged in the Garden, give Physic Gin its distinct personality and flavour. Sweet notes of juniper and bay are prominent, with botanicals like wormwood, rue and sweet woodruff bringing a deeply complex flavour. Expect rich, earthy notes that are herbaceous, savoury, and complex. This gin represents 400 years of medicinal botanical cultivation.
This Distillery is the realisation of a long-held family dream of Bob Russell and his two sons Mathew and Stephen of crafting a premium product from scratch – owning the entire product from end-to-end. The journey started in 2005 by enlisting top distilling talent. It was at International Centre for Brewing and Distilling at Herriot Watt University in Edinburgh that Stephen met Abidhek Banik from Kolkata in West Bengal, a graduate from the Institute with a Master's of Science and Brewing and Distilling and currently teaching post graduate students. That meeting was the defining moment in the Russell family's journey in creating one of the UK's most innovative and distinctive craft distilleries.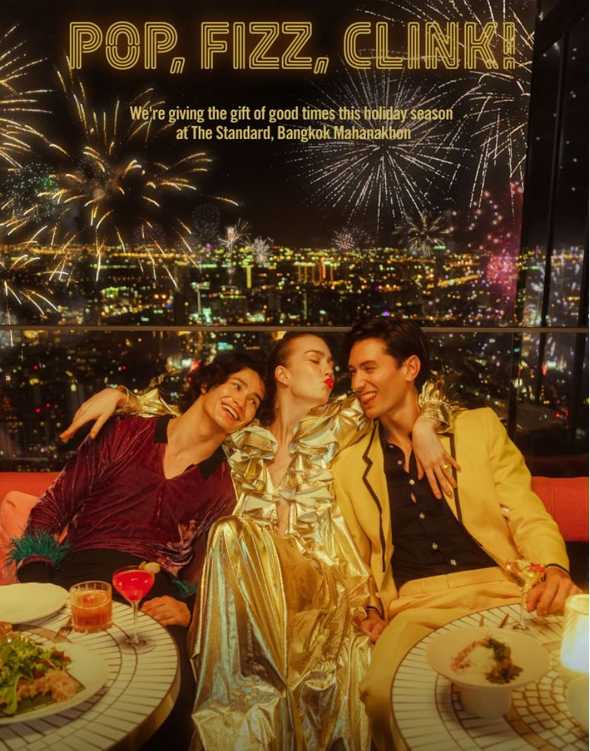 Copper Rivet Dockyard Gin is made in their Banik Still, Janet – the genius invention of master distiller Abhi Banik – combines pot & vapour distillation adding a unique depth of flavour to a Dockyard Martini.
Over the years, they considered several different locations from Scotland to London for the distillery but in their hearts, they knew it would be Kent, particularly in the Medway.Sites at Fort Amherst, Rochester High Street, Chatham and the Isle of Grain were all considered and then one day Mathew and his family visited Upnor Castle. Looking across the River Medway he spotted the Victorian red brick Pumphouse No 5 built in 1879. The following Monday he drove to Chatham Maritime to discover it was for sale. Copper Rivet Distillery had found a home.
Their grain-to-glass spirits are produced working closely with farmers within a 20-mile radius of the distillery. Sourcing locally helps to control the quality and consistency of every drop. Joyce, their 10-metre column still, slowly distils, enriching the alcohol as rising vapours pass through 40 copper plates inside the column to produce neutral alcohol at 96.5% ABV.
Gin can be produced in two ways, either through pot maceration or vapour infusion. Either technique can be used independently to distil gin but, in some cases both processes are used to create separate distillates that are then blended for a more balanced gin.
Abi's handmade, patented copper still, Janet, allows them to do both distillation process simultaneously resulting in a unified and balanced gin with delicate floral and citrus flavours that sit alongside bolder juniper pine and spicy notes.
Their 96.5% ABV neutral spirit is infused with Italian juniper berries, locally sourced elderflower, Bulgarian coriander seeds, Spanish orange peel, Italian lemon peel, Guatemalan green cardamom,melegueta pepperfrom Africa, European angelica and orris root and then diluted to bottle strength of 41.2% with Kentish chalk filtered water. The resulting Dockyard Gin has dry, citrus, floral top notes followed by a sweet, spicy mild note and a refreshing aftertaste. (enquiries@copperrivitdistillery.com)
Strawberry G&T with Copper Rivet's Dockyard Gin; Oxford Artisanal Distillery's Summer Cup of Physic Botanical Gin; Ver Viola G&T with Ver Viola Oxford gin⁠. Photos: Copper Rivet & Oxford Artisanal Distillery
Copper Rivet Gins to Get
Dockyard Gin:A contemporary take on traditional naval gins, it celebrates Chatham Dockyard.
Son of a Gun:Deep and complex, hand crafted in small batch stills, with floral notes and tropical fruits with vanilla honey oats finish.
Strawberry Gin:Not a liqueur. No artificial colourings. No artificial flavourings. No added sugar. Simply Dockyard Gin and local strawberries.
Damson Gin:Damsons (plums) were first introduced to Britain in the Roman times. Early records show they were grown around Medway. Basically, ripe plum fruit, neutral grain spirit, Kentish chalk filtered water and new American oak barrels.
---