New Year, New You
January 24, 2021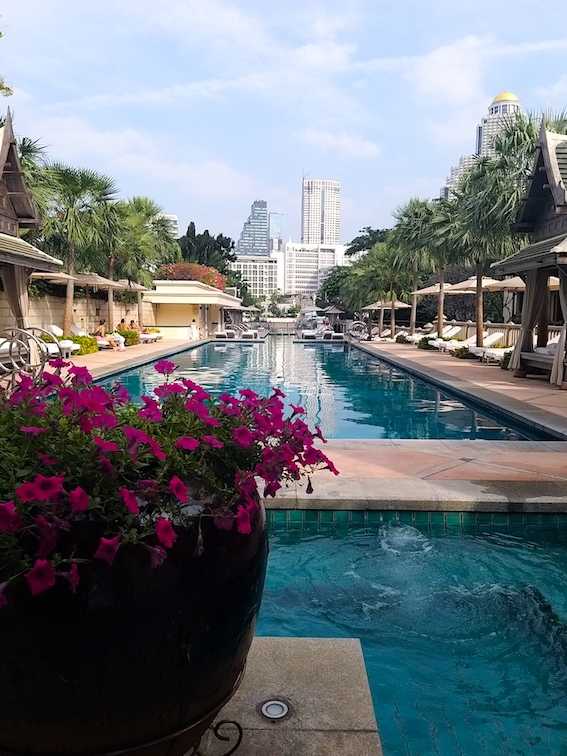 Poolside at The Peninsula Bangkok (Main image: Mindulness at Gong Wu Shrine; photo:The Peninsula)
City-breaks and staycations speak to the hedonist in me. It is that one time you can ignore everyone and everything and focus on what you want to do. No list to tick off, no attractions that you must see, no must-dos… it's all about you and the hotel that is your chosen stomping ground. So, choose wisely: you want to be indulged, you want to be spoilt and you certainly want to have stuff to do beyond lounging in bed watching telly or staking a claim to a sun lounger by the pool all day. Both, entirely desirable options though.
Am I sounding self-indulgent? Staycations do put me in that mood and that's not a bad thing at all considering what we have all endured in the past year. Staycations are also my cure for that goldfish bowl syndrome… you know you haven't left the city, yet you have travelled. Works brilliantly with the family too; mine fortunately, all like-minded individuals.
A recent weekend getaway to The Peninsula Bangkok underlined just how much we needed to escape the goldfish bowl Bangkok has become. That it's a riverside location makes the escape even more special, putting you right away in that 'resort frame of mind'. Additional benefit: It was actually giving my new year resolution of focusing on health, legs to stand on.
The Peninsula Bangkok, you see has just launched its 'Active Body and Healthy Mind Package' pegged as the 'ultimate retreat for mind, body and spirit'. If personal improvement made it to your resolution list as well, this package is that slight push you might be grateful for. Though if you don't quite stick to your resolution during your stay, well, that's a secret between you and The Peninsula.
A personalised package, you pretty much get to choose what you want to do and how much you want to do. But know this, their holistic approach is based on healthy dining and an exercise programme, with added focus on sleep and mindfulness.

Several gluten-free, low-sugar, plant-based, and high protein options
Healthy dining translates into gluten-free, low-sugar, plant-based, and high protein options as well as foods high in antioxidants and anti-inflammatory offered across the board on all restaurant and room service menus. And not just limited to low-fat, low-calorie options. Do you have to eat them? No. But the option exists. It translates into red quinoa salad with mixed greens and avocado, grilled chicken breast with piquillo peppers and barley croquettes, chargrilled cauliflower with harissa, tofu phad khrapao, yum som-o with prawns, riceberry khao pad and more. All delicious and healthy.
BREAKFAST MUSINGS
The sunrise yoga on my list takes me to Gong Wu shrine, a 10-minute boat ride from The Peninsula. The sun just skirting the horizon as my group of five enthusiasts leave the pier, each in a meditative bubble of our own. On yoga mats spread in an outer pavilion edging the Chao Phraya, we go from sun salutations to the downward dog as the shrine gently stirs into life. An hour later we tour the 280-year-old shrine from the late Ayutthaya period. Behind the shrine is the Princess Mother Park and beyond a gate, a local community – the makings ofa fascinating walking tour. Back at the hotel it is breakfast time on the riverside terrace with its a al carte offerings and serving stations. The yogurt station excites with its options:almond milk and quinoa, chocolate coconut and quinoa or plain coconut and soy yogurt. Toppings include fresh fruit including luscious berries, gluten-free granola and powder toppings (matcha, cocoa, spirulina, kale and wheatgrass). The coconut yogurt I try is the best I have ever had. Right opposite is the pastry stand, I am glad I am tempted by the croissants that I pair with the Peninsula Breakfast Stand – three-tiers of assorted cheeses, charcuterie, smoked salmon and swordfish.A selection of healthy juices is on offer but then so is bubbly.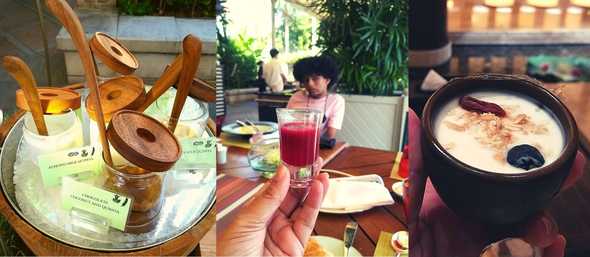 Breakfast time: yogurt selection and beetroot and ginger shot.
With my cappuccino I surrender and ordera kouign-amann, a delicious French butter and sugar pastry from Brittany. The beetroot and ginger health shot and the yogurt should count for something.
By the time I'm done, it's the spa for me, for a massage, one of my five spa treatments – pure bliss. Fitness options build on the hotel's carefully curated weekly activities: yoga, aqua fit, Pilates, aerobics, aquatics, HIIT, stretching and Muay Thai boxing – all led by certified trainers. Mix it up as you wish. Aqua Fit intrigues but I observe from the side-lines as a mixed bunch of fitness enthusiasts haul themselves on to individualfitness boards in the pool and proceed to jump, squat and lunge to pop music. They make an unsteady start with a couple nearly toppling over, but they recover. By the time the session ends they have learntthe art of balance. The carefully compiled session has ensured that.

Aqua Fit, Sound Therapy, Muay Thai and healing massages are all part of the fitness game.
The sleep component of the package combines an indulgent sleep bath,guided meditation, breathing techniques and also 'Essential Mind' treatments for sleeping better. For me that translates into an oil massage and a vibrational sound therapy. I sleep really well that night after a delicious dinner at the hotel's Thai restaurant: Thiptara. Scheduled for the next day is a mindful breathing session, a meditation with Buddhist monks, pilates and more trips to the spa. Every bit designed to enhance well-being.
I certainly focus on health here… and on indulging, after all I am at The Peninsula.
The Peninsula Bangkok's Active Body and Healthy Mind Package includes: two nights' accommodation in a Deluxe Room; 24-hour flexible check-in and check-out benefits; healthy breakfast, lunch and dinner at The Lobby or River Café & Terrace; five spa treatments at The Peninsula Spa; five exercise classes (options: HIIT, yoga, Pilates, stretching, aqua yoga, aqua fit, Muay Thai boxing, boot camp and tennis); one mindfulness breathing class. Prices start at THB 28,000 per person and THB 45,000 for two, for a three-day-two-night stay. Contact +662 020 2888; reservationpbk@peninsula.com)
For a peek at the two-bedroom suite on the 36th floor click on: Manohra Suite
---