What You Should be Wearing Right Now
January 27, 2021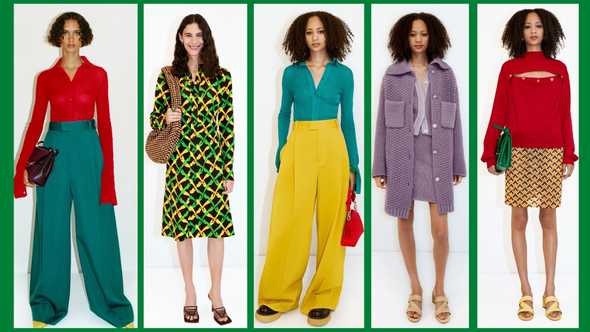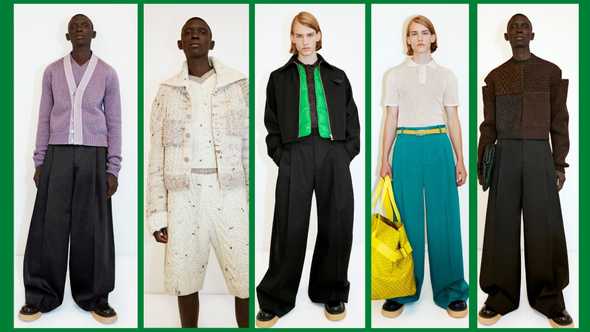 Bottega Veneta's Wardrobe 01 is all about easy-to-wear staples that inspire unexpected pairings. You want these for that perfect balance between ease and formality. Several icons from the archives have been updated and reworked… end result is timeless pieces that are easy to wear and pair. Expect to rotate them through the year. The shapes are quite sculptural, the jackets are tailored, and the pants are full wide-legged (seriously on the fence with wide-legged pants for men). Excitement is added to the neutral palette with lots of colour: bright yellows, reds, greens, aqua). Quite artful the whole image.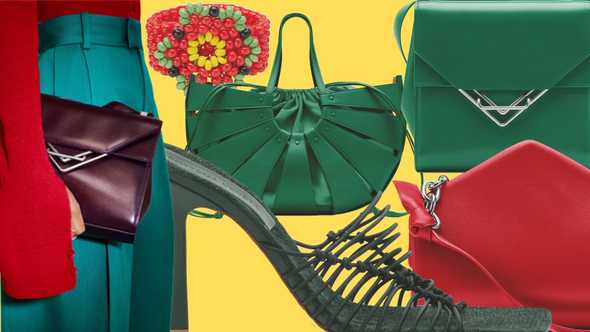 The Clip in grape and racing green; Elasticated raffia mules with elongated squared toe and knotted intrecciato straps; The Shell in racing green – cut out shoulder bag in French calf with drawstring pouch; Angular, top handle red bag in box calf; beaded bracelet.
Adding to the drama are strong, sculptural accessories. New for Wardrobe 01, The Clip, an intricate metal closure marks the classic women's bag. A shoulder strap is harnessed to the classic bag with distinctive hardware adding to the functionality. Also new to the collection is the Men's Tote – the familiar classic tote is softened and subverted for Wardrobe 01 crafted in buoyant unlined rubber intrecciato with an emblematic 'V' on the exterior and a detachable rubber pouch. The sophisticated functionality of The Clasp also moves into Wardrobe 01 with the document case in contrasting hydrology intrecciato leather and Suede in muted tones of Camping and Taupe.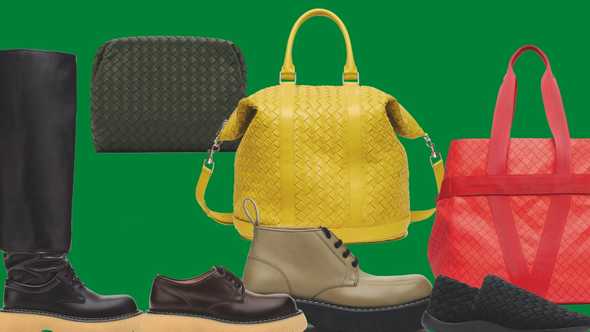 Document case in intrecciato hydrology leather in camping green with magnetic frame closure; Tote inintrecciato hydrology leather in mirabelle yellow; Tote bag in new rubber with a canvas base and a laser-engraved intrecciato pattern. The Bounce Boots: lace-up mid-calf boots with chunky sole in military calf leather with hiking-inspired eyelets – fits loose on the leg; Lace-Ups shoes with chunky soles in brushed calf leather; Lace-up ankle boots with chunky soles in All Spice, Ebony and Black. Slip-on sneakers in elasticated intrecciato in black; also available in dandelion and seaweed.
In other news
Bottega Veneta went dark on social media earlier this month deleting all its accounts: Instagram, Facebook and Twitter. The Italian luxury brand has not released a statement yet, so one can only speculate. Perhaps David Lee, the creative director, is looking to keep it all low key, just like he did the launch of the Spring/Summer 2021 Collection with only the insiders in attendance. A puzzling move as luxury brands rely on social media for marketing and Bottega Veneta getting off it has everyone scratching their heads about the strategy at play here. Though reportedly the brand still retains its Weibo and WeChat accounts.
(Below) Crocodile print calf leather mules with elongated square toe and chunky block heel; The Bounce Boots: lace-up ankle boots, with chunky soles – sensible footwear that will speak to your sole.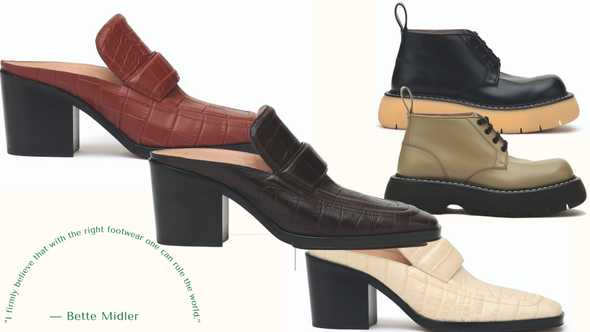 ---