The Beagle has Landed
January 05, 2021
Fifty years ago, the mechanical Omega Speedmaster came to the rescue of the Apollo 13 crew as they aborted the moon mission after a system failure all but crippled the craft. The crew timed a series of impressive manual burns on the Speedmaster for course correctionto get home safe. Nasa awarded Omega the Silver Snoopy Award for its vital support in the rescue of Apollo 13 and its contribution to space exploration.
Omega is celebrating that achievement with a special Snoopy tribute in a 42mm stainless steel case with a blue-accented bezel. The silver dial features three chronograph sub dials; the beagle appears as an embossed silver medallion at 9 o'clock wearing his famous spacesuit, in the exact style of the silver pin that NASA astronauts give to award recipients.
The safety mascot of Nasa, the cartoon beagle from 'Peanuts' beat Neil Armstrong to the moon four months before Armstrong took that 'giant leap for mankind'.
The case back is just as fun: Snoopy is in orbit riding a Nasa command and service module above the earth; the moon is in the foreground.The earth rotates once very minute symbolising the rotation of the earth. Inscribed across the black universe is the iconic quote: "Eyes on the stars". The watch's blue nylon fabric strap features the trajectory of the Apollo 13 mission, embossed on the lining. The watch is driven by the OMEGA Co-Axial Master Chronometer Calibre 3861.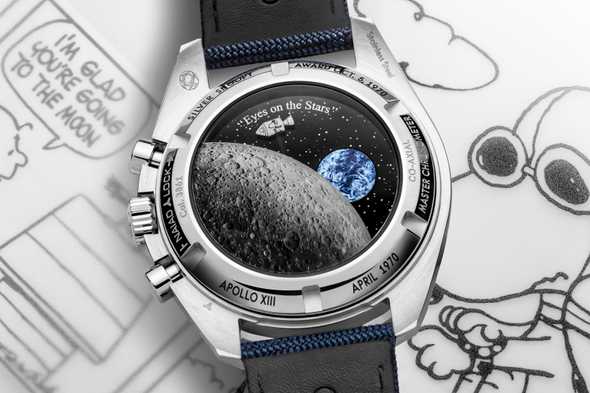 ---