BROOKLYN LIKE A NEW YORKER
February 15, 2023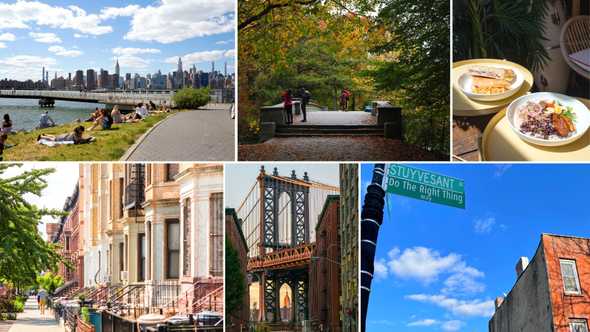 Hero Image: Brooklyn Bridge by Colton Duke/Usplash; Above: Brooklyn in all its moods
As New York City eagerly anticipates the return of visitors, the city has launched a campaign to showcase the diverse communities and unique experiences that each borough has to offer. The initiative, dubbed "Get Local NYC", kicks off with aspecial focus on Brooklyn.
Just a subway, taxi or ferry ride from Manhattan, Brooklyn offers everything from world-famous sites like Coney Island and the Brooklyn Bridge to welcoming neighbourhoods where visitors can learn about Black history, enjoy authentic ethnic food and marvel at beautifully preserved architecture from the late 19th and early 20th centuries. Brooklyn is also the City's most populous borough, home to 2.7 million people, including the City's mayor, Eric Adams, who owns a home in Bedford-Stuyvesant
THE BROOKLYN BRIDGE,DUMBO,BROOKLYN HEIGHTS: Walk the Brooklyn Bridge for stunning views and a historical experience. Take the subway to the Brooklyn side (A or C to High Street) and walk back to Manhattan. In Brooklyn Heights (2 or 3 train to Clark Street), visit the Brooklyn Heights Promenade, Brooklyn Cat Cafe, Plymouth Church, and Montague Street for shopping. Check out the New York Transit Museum for historical artifacts. Walk or take the F train to Dumbo (Down Under the Manhattan Bridge Overpass) for a famous spot for selfies, Jane's Carousel, Brooklyn Flea vintage market, and Grimaldi's Pizzeria. Browse unique shops and see the stone marker describing how George Washington fled across the river during the Revolutionary War. Ferries run to Williamsburg, Lower Manhattan, and 34th Street in Manhattan.
CONEY ISLAND, NEW YORK AQUARIUM, BRIGHTON BEACH: Experience the beach year-round by taking a stroll on the boardwalk from Coney Island to Brighton Beach. Take the D, F, N or Q trains to Stillwell Avenue and visit Coney Island for a hot dog from Nathan's Famous and the legendary Cyclone wooden roller coaster. From April to September, catch a Brooklyn Cyclones minor-league baseball game. Visit the New York Aquarium to see penguins and sea lions (book tickets ahead) and then walk down the boardwalk to Brighton Beach, known as a Russian neighborhood with many immigrants from former Soviet states, including Ukraine, Georgia, and Azerbaijan. Enjoy a bowl of borscht and dumplings at a boardwalk café and take the B or Q train back to Manhattan or stay for dinner and entertainment at Tatiana nightclub.
PARK SLOPE, PROSPECT HEIGHTS, CROWN HEIGHTS: Explore Park Slope, a beautiful neighborhood adjacent to Prospect Park, which is a wonder of nature designed by Olmsted and Vaux, the same landscape architects responsible for Central Park. Enjoy the meadows and woods, the paved 3½-mile loop, birdwatching, the zoo, skating rink, lake, and playgrounds. The park has multiple access points, with the official entrance being Grand Army Plaza, which also hosts a sprawling farmers' market on Saturdays. Walk along Vanderbilt Avenue for a lively selection of bars, shops, and cafes, including Brooklyn High Low, Mitchell's Soul Food, and The Nuaa Table. Visit nearby Crown Heights for its multicultural community, the Brooklyn Children's Museum, Weeksville for a tour of a historic Black community, and shopping at Marche Rue Dix, Anyone Comics, and Calabar Imports. To reach the Brooklyn Museum and the Brooklyn Botanic Garden, take the 2 or 3 train to Eastern Parkway and enjoy the bonsai collection and the Japanese hill-and-pond garden. Don't miss Daffodil Hill, the Cherry Esplanade, and the pink petals that carpet the ground during springtime.
BEDFORD-STUYVESANT: Take a selfie with a mural of the legendary rapper Biggie Smalls, visit Do the Right Thing Way, where Spike Lee filmed his iconic movie, and enjoy the beautiful architecture along streets lined with hundreds of elegant late 19th-century brick-and-brownstone homes. Take the G train to Bedford-Nostrand and check out the thriving small businesses along nearby Tompkins Avenue: Peace and Riot (clothing, gifts, art), Byas & Leon (clothing), Ancient Blends Apothe'Care (teas, plant-based personal care), Brown Butter (heavenly biscuits, chicken and waffles), Bed-Vyn Brew (pub) and The Word Is Change (books). Elsewhere in the neighborhood, try Moshood Creations for African apparel and Grandchamps for Haitian food.
FLATBUSH /LITTLE CARIBBEAN: Visit New York's Little Caribbean in Flatbush, Prospect Lefferts Gardens, and surrounding neighborhoods for an island experience with a wide variety of food, shopping, and cultural attractions. Streets are named after Toussaint L'Ouverture and Bob Marley, while dining options include Trini Breakfast Shed, Culpepper's, Mangoseed + Zurilee, and Footprints Cafe, known for its "rasta pasta." Explore the Flatbush Caton Market for clothes, jewelry, and personal care products, or check out the African Record Centre and Tafari Tribe for music and Afrocentric clothes and accessories. Don't miss Kings Theatre, a restored 1929 movie palace with live performances from big names like Tori Amos and the Avett Brothers. To get there, take the 2 or 5 train to Church Avenue, Beverly Road, or Newkirk Avenue-Little Haiti.
FORT GREENE AND CLINTON HILL: Explore Brooklyn treasures in the area served by many trains at Atlantic Avenue/Barclays Center (2, 3, 4, 5, D, N, R, Q, B) or the C to Lafayette. Visit the Brooklyn Academy of Music for theater, dance, movies, and live music, and The Center for Fiction for workshops and events with a café, bar, bookstore, and library. Catch an NBA game at Barclays if the Brooklyn Nets are in town. Fort Greene Park features a towering monument and Italianate and Beaux-Arts mansions. Check out Greenlight Bookstore and Jill Lindsey boutique. Foodies can enjoy Miss Ada for Middle Eastern, Locanda Vini & Olii for Italian food, and Madiba, a South African restaurant honoring Nelson Mandela.
SUNSET PARK AND GREEN-WOOD CEMETERY: Visit Sunset Park, Brooklyn's Chinatown and Latino community, accessible via D, N or R trains or ferries at Brooklyn Army Terminal pier. Sample Pacificana or East Harbour for dim sum, Lucky Eight for seafood, and Tacos El Bronco, Tacos Matamoros, and Maria's Bistro for Latin food. Check out Green-Wood Cemetery for its 478 acres of ponds, trees, monuments, and art, home to over half a million souls including Civil War veterans and artist Jean-Michel Basquiat. Don't miss Battle Hill and the statue of Minerva, which offers stunning views of the Statue of Liberty.
BAY RIDGE: Here and in neighboring Bensonhurst are where the movie Saturday Night Fever was set. Take in the sweeping views of the Verrazzano Bridge, hang out with the fisherfolk on the 69th Street Pier, and go for a walk in Owl's Head Park or along Shore Parkway, known for stunning sunsets. Enjoy Middle Eastern food at Tanoreen, classic Italian food at Gino's and pastries at Leske's Bakery. Visit by taking the R train to Bay Ridge Avenue.
CARROLL GARDENS, BOERUM HILL, COBBLE HILL: Visit trendy Carroll Gardens, Boerum Hill, and Cobble Hill neighborhoods, known for Italian heritage, cafés, and boutiques. Take the F train to Carroll Street to try pizza at Lucali, egg creams at Brooklyn Farmacy, and fried chicken at Buttermilk Channel. For shopping, head to Foyer Vintage, Article&, Soula Shoes, Written by Forest, and Runnin' Wild Kids. Play games at The Brooklyn Strategist and visit Emma Straub's bookstore, Books Are Magic. Stay at the new Ace Hotel Brooklyn.
RED HOOK: Visit Red Hook, a waterfront neighborhood with old brick warehouses and amazing views of the Statue of Liberty. Enjoy great food at Red Hook Lobster Pound, Hometown Bar-B-Que and Steve's Authentic Key Lime Pie, or have a beer and burger at Jalopy Tavern or live music at Sunny's Bar. The Red Hook IKEA runs a ferry from Manhattan in warmer months or take the B57 or B61 bus from Brooklyn's Smith Street subway station (F or G train).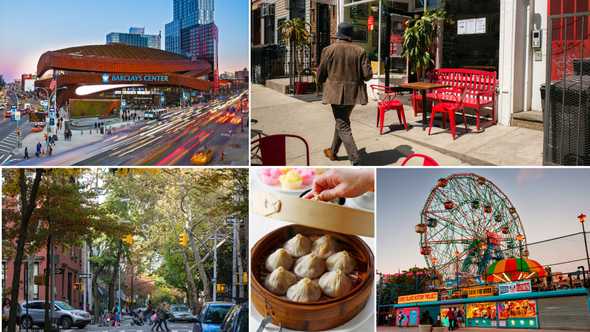 BUSHWICK: Visit Bushwick, the home of street art and Latin food. Take the L train to Jefferson Street and try some of the area's delicious Latin food, including La Isla Cuchifritos, El Encebollado de Rossy, Arepera Guacuco, and Roberta's, known for its wood-fired pizzas. You can also browse the street art along Troutman, Starr, and Wyckoff streets.
WILLIAMSBURG: Discover the birthplace of 21st-century hipster cool in NYC, accessible via the L train to Bedford Avenue. Explore Brooklyn Brewery, Blue Bottle Coffee, Llama Inn, Milk Bar, Van Leeuwen Ice Cream, Brooklyn Bowl, Smorgasburg, Domino Park, and McCarren Park. Shop for jewelry at Catbird and Scosha, and check out the many vintage clothing stores, including Antoinette, L Train, Chickee's, Beacon's Closet, Stella Dallas Living, Buffalo Exchange, and Awoke.
GREENPOINT: In addition to art and trendy restaurants and bars, find an old-fashioned Polish immigrant enclave, complete with Polish bookstores, churches and bakeries in Greenpoint. Try the pierogies and sausage at Polka Dot or white borscht in a bread bowl at Karczma, brave the long line for donuts at Peter Pan, walk along the river at WNYC Transmitter Park and have a beer at the friendly Lake Street Bar. Unique shops include Archestratus, a cookbook store and café; Brother Vellies, handcrafted fashion; and Lockwood for home goods, gifts and clothing. Use the G train to Greenpoint Avenue or other nearby stops.
For more info on what you could do click HERE.
---