Bangkok: Unveiling the Grand in Chatrium
December 14, 2022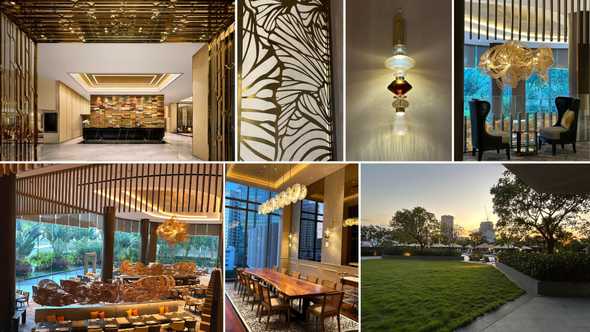 The newly opened 582-room and suite twin-tower hotel Chatrium Grand Bangkok puts the focus on Thai-style luxury hospitality with its world-class facilities.
Standing by the poolside with my glass of champagne at sunset, it's hard to believe I am bang in the middle of Bangkok's high-octane Golden Shopping Square Mile. My view is of an azure pool, a gold-edged sala, swaying palms and tropical foliage. The sky turns ochre as the sun sets to my right, and my glass of bubbly is topped up. It's a magical moment, and Savitri Ramyarupa, Managing Director of Chatrium Hospitality, the power behind the city's newest five-star establishment, Chatrium Grand Bangkok, looks pleased. And rightly so. Ever the gracious host Savitri Ramyarupa is delighted by my reaction to her latest baby, the flagship of Chatrium Hospitality, an independent hotel group. For Savitri, the hotel is a true reflection of 'Thai heritage-inspired five-star hospitality'.
Rising from the sixth-floor pool deck are the hotel's two striking twin towers their façade partly clad in dramatic red. The architectural firm Robert Philip Holmes and DWP design studio delivered what they were tasked with: craft an iconic, one-of-a-kind luxury hotel where visitors could completely immerse themselves in the Chatruim Hospitality motto "Feel the Remarkable". The sleek minimalism, functionalism, and form-follows-function ethos bring in ornamentation with the red façade and its triangular motifs. Motifs that are mirrored as a red backdrop with gold triangles or as metal screens throughout the hotel, including the Executive Lounge on the 35th floor. All very discreet. But when you make the connection, you realise how cleverly it has all tied in.
In the heart of the Siam zip code, with its 582 rooms and suites, Chatrium Grand Bangkok is separated from the Siam Paragon mall by the Saen Saeb canal – the canal itself is a part of Bangkok's history and culture. Its moods are transformed into a huge mixed-media artwork of waves that backs the reception desk.Cultural icons like the Jim Thompson House, Hua Chang Bridge and the Bangkok Art & Culture Centre are close by.
Says Savitri of this new urban landmark, "As the first member of our enhanced luxury collection, this five-star hotel will reflect the highest standards of international hospitality while also showcasing the authentic elegance of Thai culture through our exquisite interior design and service. As Thailand prepares to enter its first full high season in three years, this is the perfect time to embark on this exciting new era."
Owned by City Realty, the real estate arm of the Sophonpanich family, and developed with an investment of THB 5.5 billion (approx. USD 154 million), Chatrium Grand Bangkok is a delightful urban retreat.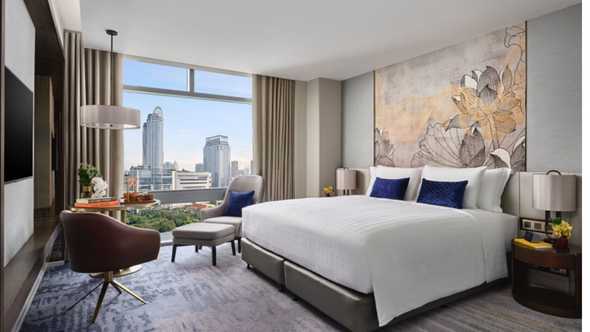 STAY: Space is of paramount importance, I discover. The Deluxe Rooms start at a spacious 46-square metre, steadily moving towards the 170-square metre Three Bedroom Suites, culminating with a breath-taking 321-square metre Penthouse. My club floor room offers stunning views of the city and understated luxury. A bedside assistant puts technology at your command – a nifty gadget, the Aiello Voice Assistant (AVA) is an advanced Voice AI Solution designed for the hospitality industry using 'voice and Machine learning based NLP technology to create new interactions with guests and provide enhanced services'. Besides this cutting-edge technology, the marble bathroom with its oversized, free-standing bath is a complete delight. Panpuri amenities in large dispensers underline the sustainability ethos, as do the refillable glass drinking water bottles. The king-size bed commands you to sleep; the headboard is quietly dramatic, with images of lotus flowers, a symbol of Thai grace and beauty. The lotus also connects the hotel to its location, right next to the famous lotus pond palace (Sra Pathum Palace) commissioned by King Rama IV – currently the residence of Her Royal Highness Princess Maha Chakri Sirindhorn. While tower one is devoted to hotel guests, tower two is a collection of magnificent one-, two- and three-bedroom residences for extended stays. The fitness centre featuring the latest Life Fitness equipment is huge, but the SPA by THANN Wellness Sanctuary is still under wraps.
EAT: As restaurants go, the all-day dining Savio with its contemporary 'East meets West' bent, currently rules the roost. A stunning affair with rattan sculptures, show kitchens, glittering glass and colourful cushions, it is a great place to begin the day with a leisurely breakfast. Not yet open is Casia, a fine-dining restaurant specialising in modern French-Mediterranean cuisine with a contemporary twist. The interior, though, is stunning. The poolside Flow is a laid-back lounge with a traditional wood-fired oven, and the Lobby Lounge, which sort of segues into Savio, has a chic setting.
MEET: An essential element of the hotel is its Grand ballroom – a 500-square metre, 10-metre-high, naturally-lit, pillar-free space that can host up to 700. Think weddings, galas, and corporate affairs. Besides its state-of-the-art audio-visual technology, an impressive LED wall and a dedicated team of experts, the chandelier demands your attention – absolutely stunning.
What I know for sure is that I will be back. Soon. The hotel and the area have so much to offer.To book CLICK HERE.
Below: Lounge by the pool, grab coffee and croissant at the Lobby Lounge and discover the hotel's many delights.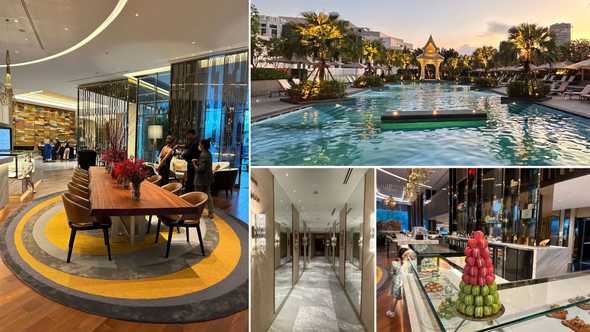 ---