BIFW 2022 – Future Perfect with Vickteerut
September 25, 2022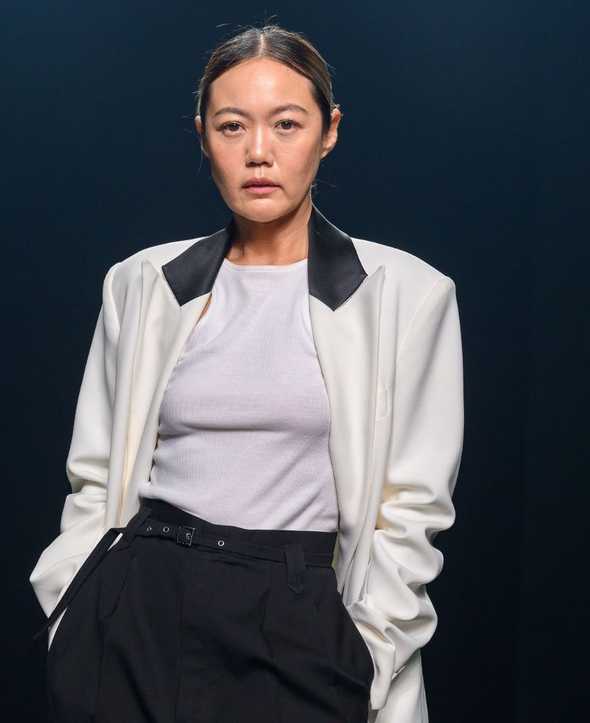 The Vickteerut fashion show at Siam Paragon Bangkok International Fashion Week 2022 was over an hour late. Quite the norm, this emblematic tardiness for fashion shows. Also, the reason why I stopped attending them. Entirely my loss, I do love fashion shows. The reasons for delayed starts are many: from models going AWOL to creative directors changing the order last minute and from tardy guests of honour to wardrobe malfunctions. On a shared catwalk, one delayed start has a domino effect. There are just too many moving parts and frankly, there's precious little that can be done but carry on with the show. But, when everyone is celebrating fashion, being on time is rarely on the agenda, including for the audience – barring a few, that is.
Before my patience ran out, the doors opened, and I could flap my ticket at the patient ushers to take my seat in the front row – front and centre. The best position to be in. The set-up was great – an all-black space with a mirrored black, ground-level catwalk cleaving through it.
My first thoughts were of a stage perfectly set to show off the collections; nothing here would distract from the clothes, not even brand messages from the sponsors and the BIFW itself – thoughtfully limited to television screens that would go blank during the show. My second thought revolved around the almost ground-level catwalk. We would witness at least one slip, I was sure. Many in the audience tripped over it, trying to access their seats.
As I sat down, the collective creative vibe of the audience waiting for the show to start underlined why I love fashion shows (mentally kicking myself for skipping them). The energy was practically swirling around me like a dervish. Besides journalists, the show attracted young designers, stylists, established names, fashionistas and the curious.
There was as much fashion to see off the runways as there was on. Thai designers clad every other body. Bold statements were made, as were minimalist ones. Vibrant hues coloured oversized jackets. Trousers took their inspiration from everything but pants, Bralets, a Vickteerut signature ruled – I spotted five in the front row across from where I sat – white, black and brown, or was it maroon? All appeared to be Vickteerut. Sprinkled across the room were a few 'inspirations' as well.
It's the expression of individuality through fashion that I find particularly enriching. What you wear, how you wear it, reveals a lot – making it easy to sift the narcissists from the expressionists, those dressing for themselves from those dressing for the world. Fashion lays everything bare. The thing is, if done well, it's not about following the herd but expressing your personality using elements of the latest vibe or not.
The colours, styles, and silhouettes on parade were a smorgasbord for the senses, and the Vickteerut show hadn't even started yet.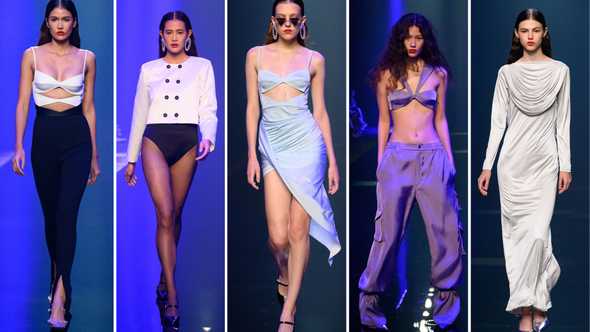 Why Vickteerut
And then it did – forty-five minutes of pumping music with models striding out boldly. Their bold, unhesitant strides claimed the ramp with raw energy – the perfect juxtaposition of power and femininity. To me, the creative director, Aurapraphan Sudhinaraset, was making a very feminist statement, urging women to own their power and sexuality. I, for one, was delighted.
Vickteerut Autumn/Winter 2022 collection titled 'Hazy Ground' speaks for confident women celebrating their femininity with streamlined silhouettes and, yes, lots of skin. The storyboard for the collection is a maze of dark alleys, busy streets, concrete footpaths and lonely dark tunnels with bold women striding across the urbanscape. Their message is clear, own it, own yourself, and embrace your 'softness' for strength lies in celebrating who you are. While the press note speaks of a 'badass gang of women', I saw structured strength, boldness and individualism. There was nothing 'hazy' about the collection. Perhaps the reference was more to the urban landscape that would fade into the background, with the designs becoming the complete focus of your attention.
Bralets and sheers, both tops and trousers, strode past. Metallic zips and big buttons brought in elements of 'toughness' and structure. Military-inspired and cropped biker jackets alluded to the boldness of the Vickteerut woman, while ankle-length dresses with draped or structured cowl-like details referenced soft power. There were soft-jersey and off-the-shoulder or one-shoulder vests, sleeveless biker vests, frilled satin blouses with collared blazers, spaghetti strap draped dresses with bralet cut-out details, and high-waisted skinny trousers contrasting with cargo pants and culottes. Gaberdine shorts sparred with pleated tulle ones, while asymmetrical skirts took on flared ones. Plus, a showstopper of a one-piece orange swimsuit. Lots of contrasts in materials and shapes. Each piece powered by the potential of 'mix and match'. All undeniably futuristic, but yet very today. Each one deserving of precious real estate in your wardrobe.
And as I predicted, a model took a spill but very gracefully collected herself with a smile and strode on.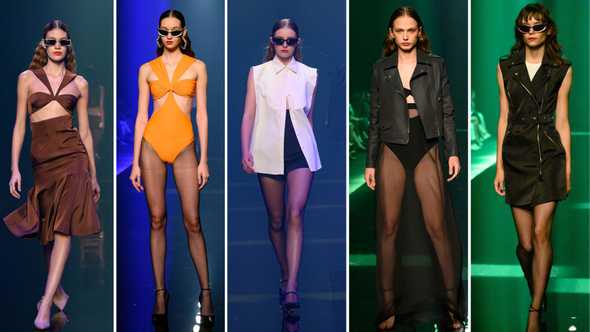 ---