Hypercar Rimac Nevera is ready to roll
July 13, 2022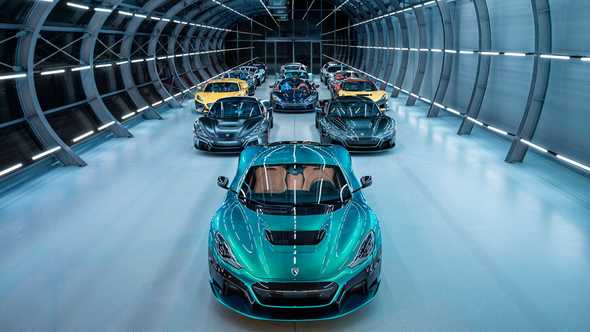 After five years of development and testing, three generations of powertrain technology, 18 prototypes, 45 physical crash tests and more than 1.6 million collective hours of research and development, the very first full production version of the Rimac Nevera has rolled off Rimac's new production line. Now, hand-building of the Nevera will now continue at a rate of up to 50 units each year, delivered to customers all over the world.
Finished in a striking pearlescent shade of Callisto Green with Painted Graphite Vertex wheels and Sand Alcantara interior, this first car was showcased at Goodwood Festival of Speed (June 2022) in a series of full throttle sideways runs up the famous Hillclimb. Known as car '#000', and finished with a numbered plaque, it will remain in the possession of Bugatti Rimac as a demonstrator and marketing car.
The first cars to be delivered are already being assembled, with each Nevera taking five weeks at the final assembly line and will soon be delivered through Rimac Automobili's global network of 25 official dealer partners, across the United States, Europe, the Middle East and Asia.
The Rimac Nevera unlocks the next generation of automotive performance. Its 1,914hp is produced by four electric motors, which propels the hypercar from 0-60 mph in just 1.85 seconds, and to 100mph in 4.3 seconds. Proudly sporting a name in honour of its homeland, a nevera is an unexpected Mediterranean summer storm off the coast of Croatia and as such, the Nevera can transform from a comfortable, adept grand tourer into a pin-sharp performance machine in the blink of an eye.
The first year of Nevera production is already sold out, as eager customers hope to experience the world's first all-electric hypercar.
The Nevera was developed entirely from scratch, with most key systems developed and made in-house by Rimac. An entirely new generation battery system, inverter, gearbox, motor, control systems, infotainment and many more, were developed specifically for the Nevera. Throughout the development process the powertrain was redesigned three times. it has already secured the title of world's fastest accelerating production car.
A variety of customization options are available: 36 different pre-defined paint colours and the option to go bespoke, a selection of in-house-designed liveries, three levels of exposed carbon fibre – including a full bare carbon body – and an enormous selection of colourful leathers, Alcantara, contrasting accents and metal finishes for the interior. The promise is that each of the 150 Neveras completed will be totally unique.
In tandem with the development of the car, digital diagnostic tools have been built from the ground-up to monitor and update the cars throughout their lifetime. Every dealer partner will be given specific training and detailed service and repair information, and a dedicated team has been created: Rimac Service Team to be able to travel worldwide to diagnose potential problems. Mate Rimac, CEO of the Rimac Group, explains, "At the beginning of the Nevera journey, we ran thousands of virtual simulations and experimented with countless designs before eventually, the time came to create the very first working prototypes. At this time, around 300 people were working in the company, and now as we enter full production, our company has grown five-fold to have over 1,500 colleagues and construction is well underway for our new 100.000 m² Rimac Campus."
The Campus will eventually become the site for Nevera production when construction is complete, making it the fourth place where Nevera cars will have been assembled, following earlier production sites for the prototype phases and the current production facility in Zagreb, Croatia.
---