Tiger, Tiger Burning Gucci Bright
January 25, 2022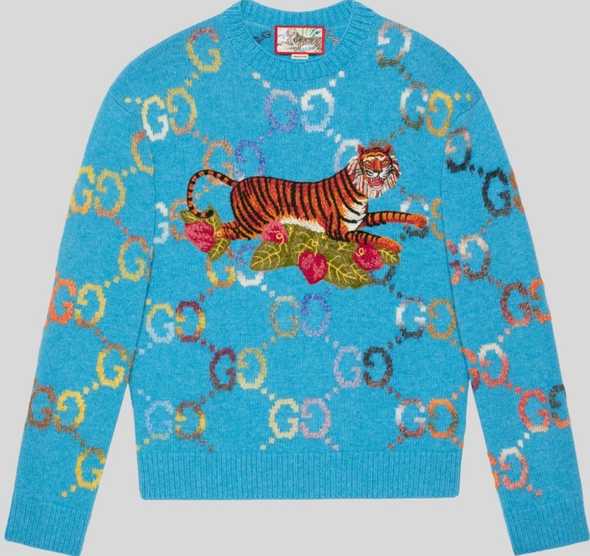 Gucci has reinterpreteda late 1960s archival design of a tiger by artist and illustrator Vittorio Accornero for a wide-ranging selection of accessories and ready-to-wear in celebration of the Year of the Tiger. Accornero is also the creator of the House's signature Flora print. Creative director Alessandro Michele's fascination with nature is unmistakable here. The tiger as a motif is often seen in Alessandro Michele's collections. The ad campaign designed to promote its Year of the Tiger collection, though, has got the House into hot water. The campaign depicts "real, live tigers at afternoon tea as props for the models. More than a bit tone-deaf, one would say.
Even the World Animal Protection U.S. stepped in to notify the brand of its concern over the 'use of tigers and sending the wrong message'. Animal rights groups joined the party, too and rightly so. Gucci issued a statement: "A third-party animal welfare organisation, American Humane, monitored the set on which animals were present and verified that no animals were harmed. The tigers were photographed and filmed in a separate safe environment complying to Gucci's policies and then featured within the campaign".
Gucci, though raises funds for wildlife conservation through The Lion's Share Fund that it supports. The fund, launched in 2020, is led by the United Nations Development Programme (UNDP) and a coalition of businesses and UN partners. The goal is to raise over 100 million USD a year over five years by asking brands to contribute 0.5% of their media spend whenever an animal is featured in their campaigns.
Eye of the Tiger
Sweater/Jumper: Our favourite would have to be the GG jacquard knit sweater in wool-blend yarn in the ready-to-wear collection. Featuring a tiger motif on the chest and finished with ribbed wool trims, it has a relaxed fit.
Bags: The feline in print also prances across a range of women's handbags, including the Gucci Horsebit 1955 mini bag, Gucci Tiger Jackie 1961 small bag and the Horsebit wallet. In addition, there's a wallet, a belt bag, a duffle, and a tote for men.
Watch: The tiger motif defines the G-Timeless watch with its recycled steel and yellow gold PVD case, beige and tiger and flower print beige and ebony GG Supreme dial and bracelet.
Sneakers & Shoes: In tennis shoes, there are Women's Gucci Tennis 1977 sneakers in tiger and flower print on pink leather with the green and red Web, while the men's Ace sneaker is in white with a tiger patch. Men also get Horesbit loafers and slip-ons with the tiger print.
Bracelet: Sterling silver with blue enamel – the textured tiger head detail is a Gucci icon, referencing the Greek god Dionysus, who in myth is said to have crossed the river Tigris on a tiger sent to him by Zeus.
Plus, there are hats and baseball caps, scarves and shawls, cushions and ottomans.
---