Trisara's 'Dine Good, Do Good' Mantra
January 10, 2022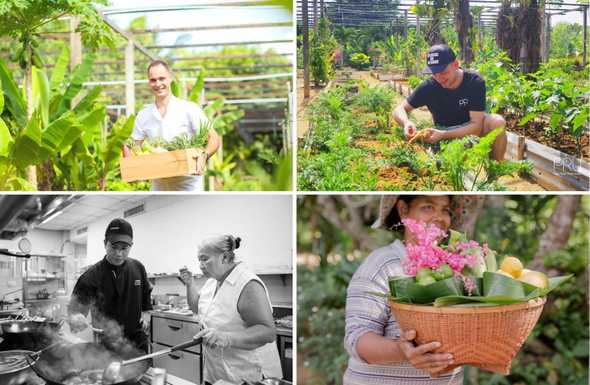 Clockwise from top left: Chef Rick Dingen; Chef Jim Ophorst; Pru Jampa farm; Chef Kla Prakobkit
Glorying in its enviable seclusion in a tiny cove, Montara Hospitality's Trisara is one of Phuket's most luxurious private pool villa resorts. In the northwest of the island, spread across 14 hectares of a private, protected nature preserve, edging a small sheltered bay, the resort lends itself to 'extreme privacy and tranquillity. While the accident of geography ensures a practically private beach, old ficus trees, coconut and fishtail palms anchor the 60 ocean-facing pool villas and residences. Wake up early enough, and the bird song is evidence of a flourishing reserve.
In situ, you understand the meaning of Trisara ­– 'Garden in the Third Heaven'. A periodic visitor since it first opened in 2004, I have witnessed the resort morph, grow and adapt in response to changing times, demographics and needs. But its core of impeccable service and beautifully appointed spacious villas remains a constant.
The resort is not stuck in a time warp. The most evident changes address the concerns of leisure travellers today – well-being, sustainability and eco-consciousness. As the resort 'celebrates spiritual and physical well-being, making room for private moments of reflection, its careful landscaping thrives in an environment where rainwater is harvested and greywater recycled.
Perhaps the most visible manifestation of this desire to minimise its carbon footprint reflects in its cool mix of casual and fine dining options aligning with the resort's 'Dine Good, Do Good' philosophy. This visit, I focus on the dining – that one offering, if done well, keeps the guests voluntarily resort bound. Headlining the experience is the one-star Michelin PRU followed by The Deck and Seafood@Trisara (review here). The latest addition, Jampa (review here), is approximately 10 km inland at the Montara Hospitality's sprawling Tri Vananda Wellness Community, edged by the Pru Jampa farms that supply Trisara. Trisara has long connected with local farmers and fishermen but, along the way, also invested in a farm to keep its chefs in constant supply of ingredients to offer farm-to-table experiences.
Group Director of Food and Beverage at Montara Hospitality, Quentin Fougeroux, is passionate about the route Trisara has chosen in the pursuit of sustainability, "Currently, 80 per cent of our food items are sourced locally. At a resort level, that is quite an achievement. There are items guests request that we, unfortunately, are not able to find in Thailand, such as truffles. Or items that we can source locally, but the quality is not consistent."
The farm-to-table transition for Trisara began with the launch of PRU in 2016, the beginning of the farm-to-table trend. Chef de Cuisine Jim Ophorst became the 'voice of change' powering the movement with PRU's culinary concept 'Plant, Raise, Understand'. The close relationship he had nurtured with local suppliers and farmers helped prepare the ground. However, the concept was not an easy sell and required negotiating a minefield of guest expectations, "They still expected Australian beef in their burger. Before PRU, Jimmy was the chef of our Mediterranean restaurant, and our guests were used to Dover sole, Brittany lobsters, etc. It was very quiet the first year, but we persisted. We believed local ingredients would be in demand at some point. Why would you come from the UK and want to eat Dover sole?"
Hundreds of stories were written to introduce the ingredients to the guests, stories that each team member had to learn. Today, PRU is where international travellers discover something new, "Something truly representative of what is available in this country, but cooked in a European way."
Quentin adds, "As the quality of local ingredients (especially proteins) improved and sourcing local became easier, we extended the ethos to all our outlets." The Michelin star put PRU on the foodie map, and Michelin's 'Green Star' acknowledged its green credentials.
Essential to this effort was Pru Jampa farm – both PRU and now Jampa depend on it. But can the farm handle the demands of both restaurants? Explains Quentin, "It depends on the season, but it is still not possible for both restaurants to source exclusively from the farm." To the question of who gets first dibs, the answer is laced with laughter, "Sometimes it is difficult to manage. When there is a new harvest, chefs 'fight' for who will get the most of it."
While many of PRU's ingredients come from the farm, its menu represents different regions of Thailand, "Jimmy has been exploring ingredients from the South for his current menu. For Jampa, we try to have a menu mostly focused on products from the farm. When we expanded the farm in 2020, it was done in anticipation of Jampa opening."
When it comes to animal proteins, Trisara focuses on free-range and sustainably processed products, "When we started PRU, there wasn't much available, but it is easier to find now. The quality has improved. We found seafood more difficult ­– at local markets, you really didn't know how the fish was caught. But local seafood suppliers have realised that being transparent is important and supply us sustainably caught seafood."
We come back to the tinderbox of guest expectations. Quentin is categoric about keeping imported items to the bare minimum, "We don't 'showcase' imported ingredients on our menu, so no pigeon or Canadian lobster. But at times, as a resort, we need items that cannot be sourced locally, like olive oil. Or oranges for juice at breakfast and avocados; Thai ones are very inconsistent. Our Brunch features locally sourced ingredients, but local oysters do not work with international guests."
Seafood @ Trisara, he adds, was the most effortless transition towards local, "The quality of seafood in Phuket is great. When we launched this concept at the end of 2015, it coincided with an increase in travellers from Asia looking for local experiences. So, we decided to recreate the food experience you would have at local seafood restaurants."
Trisara makes it seem easy, but the road to an eco-friendly, sustainable menu is long. It also thins the profit margins, "People think local ingredients are cheaper, but not if you insist on quality. Quality proteins in Thailand are more expensive than imported ones. Our farm is an additional cost not always justified by the production size. But we can control the quality and what goes into the soil. With the Michelin star, we can have a price range at PRU that makes it viable. When we presented the idea of PRU in 2015 and investing in the farm, the owners believed in the long-term goal and supported us."
Operating a farm to fork supply chain is a significant business risk. What happens when a harvest fails? "We have 'back up' local suppliers for everything that grows at the farm. We've lost the harvest to bad weather in the past, one of the risks of growing ingredients ourselves. Keeping a certain level of flexibility in the menu helps: if something happens, we can switch ingredients. Jampa, for example, is designed to have menu changing daily based on what is available."
Trisara's Dine Good Do Good philosophy is impacting Phuket's larger dining culture too, "We have seen many Phuket restaurants move to local ingredients, working with farmers. It is great for the local economy. Phuket being an island, we all need to play our part to keep it clean and as sustainable as possible."
Below: Group Director of Food and Beverage at Montara Hospitality, Quentin Fougeroux
---