Touched by Fire on Phuket
January 04, 2022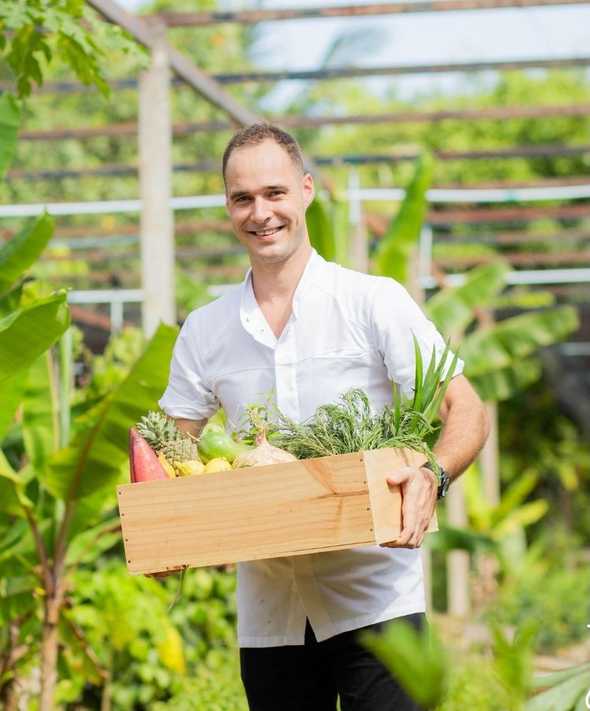 Executive Chef, Rick Dingen's mantra for Jampa is simple: local ingredients, live fire and a zero-waste-to-landfill philosophy. The philosophy reflecting Montara Hospitality's 'Dine Good do Good' maxim – all ingredients are sustainably produced, locally sourced, and the entire operation is eco-friendly. In addition, the concept supports the larger island economy.
Named after the fragrant Magnolia Champaka, Jampa sits in the middle of Montara Hospitality's wellness escape Tri Vandana that its Pru Jampa farm edges. The farm-to-fork route means that the menu changes daily, based on what is available locally from the sea and the land or sourced from artisanal producers. The vegetables and herbs are primarily from their farm, with a network of local farms plugging the holes or playing back-up. It's an ethos that has the chef brainstorming every morning.
The location is Tri Vananda's stunning wood and glass Community House. The glass doors open to reveal the bar – a dramatic U-shaped bar offset by light earth-toned furnishings. Beyond is the dining room echoing a similar colour palette. During the day, natural light floods in through the floor-to-ceiling windows; at night, the lighting takes over, creating intimate spaces — perfect for a casual dinner with friends.
Everything that appears on the table is touched by live fire. The art lies in using the heat to amplify the flavours while manipulating the textures to reveal hidden depths you would not have imagined. A humble cabbage, for example, chargrilled, takes on a whole new character. If it's not live fire, the barbecue or the pizza oven step in. "For us, it is important to showcase locally sourced, seasonal ingredients in the best way possible," says Rick. "Cooking is a craft, and service and setting the scene is amongst the most beautiful arts that exist. We want guests to understand why we have selected the ingredients we have or why we cook them the way we do." Before Jampa, Rick was Chef de cuisine at Madison (Anantara Siam Bangkok) and Savelberg Bangkok.
My experience begins with baby corn, chargrilled in its husk and served smoking hot coated in spicy coriander-onion-garlic-chilli sambal. The combination is reminiscent of grilled corn-on-the-cob, dusted with spices and a dash of lime, sold on street corners in Bombay. The wood-fired, oven-baked sunflower seed flatbread that follows is topped with coconut heart on a Tomme de chèvre (goat's milk cheese) pesto with fresh herbs. Piled on top are fresh herbs (basil & pennyworth). Every element in a symphonic concert. The following crostini is simple in comparison – balancing a generous dollop of smoked fish pâté made from offcuts and garnished with sea grapes (seaweed).
The starters bring in Cured Cobia, smoked with lemongrass, cured in Thai spices with a citrusy lychee-papaya dressing. Dots of cashew nut puree bring in the creaminess while roasted cashew the crunch.
Perfectly kissed by fire, the octopus is served on a bed of sweet potato puree and topped with a hollandaise made from farm-fresh organic eggs. Young herbs bring in colour and bursts of flavour.
The main course takes the shape of spring chicken brined, smoked with pine wood and grilled till the flesh is tender and the skin crisp. Accompanying it is grilled eggplant, chargrilled cos and Jampa's barbecue sauce. Other options are red mullet, or whatever is in season, pork collar and a beetroot creation for vegetarians.
Dessert brings out mulberries served with barbecued longan, yoghurt sorbet, and rosella leaf granita. It's an interesting take, but next time I'll try the barbecued Phuket pineapple and Chumpon chocolate creation – chocolate speaks to me.
Rick's inspirations are international, the products all Thai making for quite a heady combination. An experience I would recommend with no hesitation.
The restaurant also features a grocery offering the day's harvest, freshly baked bread, local cheese, and other products available via refill stations.
Jampa Restaurant, The Community House, Tri Vananda, Phuket; jamparestaurant.com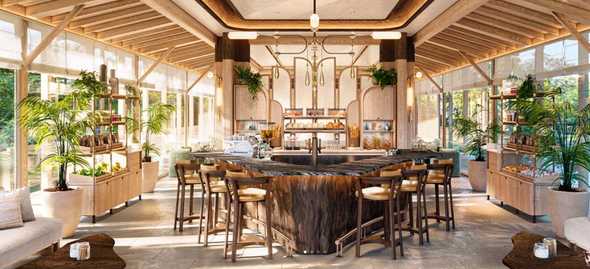 ---