8 Things you need to know about Bottega Veneta's Detroit Show
November 15, 2021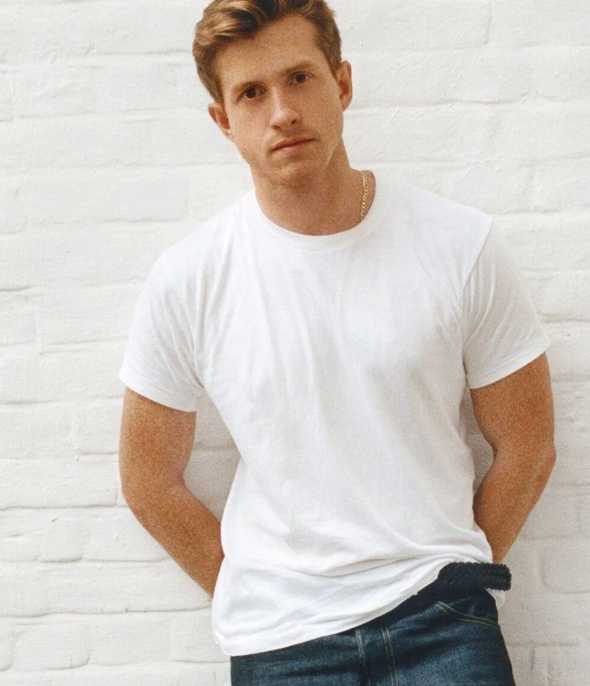 #1 Daniel Lee's Last Hurrah?
British Creative Director Daniel Lee helmed the House's creative team since July 2018 and admittedly brought new energy to it. Says Leo Rongone, CEO of Bottega Veneta, "Daniel provided Bottega Veneta with a fresh perspective and a new sense of modernity while remaining respectful of the brand's fifty-year heritage." Daniel called his time at Bottega Veneta an 'incredible experience'.
#2 Mary J Blige was Front Row
As were Lil' Kim, Zazie Beetz, Lourdes Leon, Kehlani, Slick Woods, Jerami Grant, all resplendent in their Bottega Veneta. Mary J Blige wore a dramatic Bottega red fur coat; Kering, Bottega's parent company, has declared that all of their brands will be fur-free as of 2022. Rapper Lil' Kim was in a violet coat dress paired with thigh-high vinyl stockings, acid yellow feathers on her shoes and clutch. Lourdes Leon (Madonna's daughter) also walked the runway.
#3 Collection
His sportiest collection so far looked at American sportswear and workwear through a contemporary daywear lens. As a result, tailoring is unstructured, and the silhouettes are relaxed. It ranges from the barely-there to baggy with micro dresses, oversized coats, clingy knits and matching denim jackets and jeans. There were tennis whites, dark-rinse jean jackets and skirts, halter-neck dresses paired with sneakers. All very joyful and looking at the future and a celebration of engineering and revolution. The wrinkled jackets and pants got their crinkled inflexibility from the metal woven in.
#4 Fabric and Innovation
Fabric is wired with metal thread to manipulate the shape of the garments, and clothing can be squashed and crushed. Rubbery yarn pieces on parkas and dresses, beads and paillettes on skirts and dresses and shells - all add to the surface interest. The rubber beads and paillettes are bio-based and sustainable. The rubbery yarn is biodegradable. The nylon used in the collection is recycled, while the cottons are certified organic. In addition, polyurethane is water-based.
#5 The Coat
Daniel Lee is known for his fabulous outerwear, practically cult coats. Witness Mary J Blige in the ruby red Shearling coat with padded tails. Then there was Rihanna's yellow tentacle floor-length jacket. But this time, it is a white anorak with an extreme collar. Immensely wearable, expect to see this everywhere by spring. For this collection, parkas have been re-interpreted, woven with metallic yarns to create new volumes.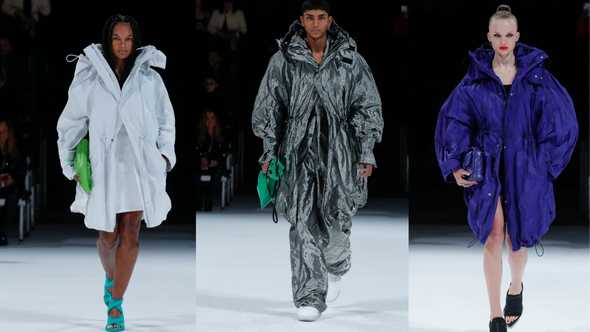 #6 Trainers & Shoes
Iconic shoes litter Bottega history; this year, it's the sandal-trainer hybrid in tangerine with statement lacing – the focus is on comfort. Several options with heels. Notable is the sling-back pumps made out of technical towelling.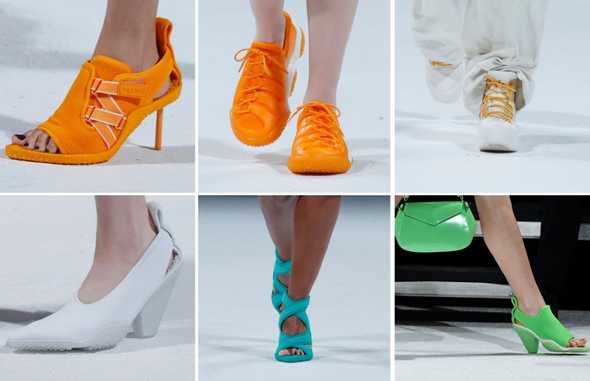 #7 Colours
On a palate of white and black are layered lime green, orange, yellow and purple.
#8 Bags
The collection revisits several classic House codes like the Triangle but with industrialized detailing. The Intrecciato pattern is reproduced on textiles, and puffy pillow bags are pressed into action again. Of course, the Cassette and the Point make appearances too. (All Images: Bottega Veneta)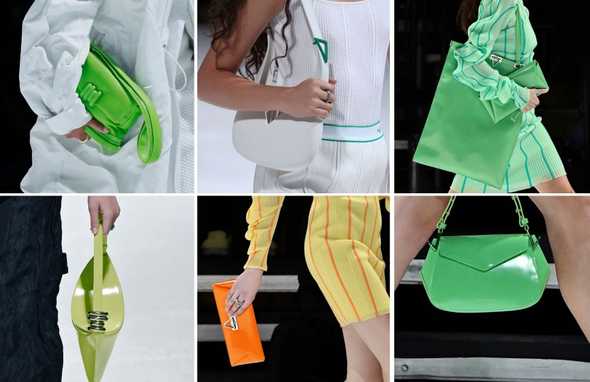 ---