Norse Republics: Ode to Nordic Design
September 16, 2021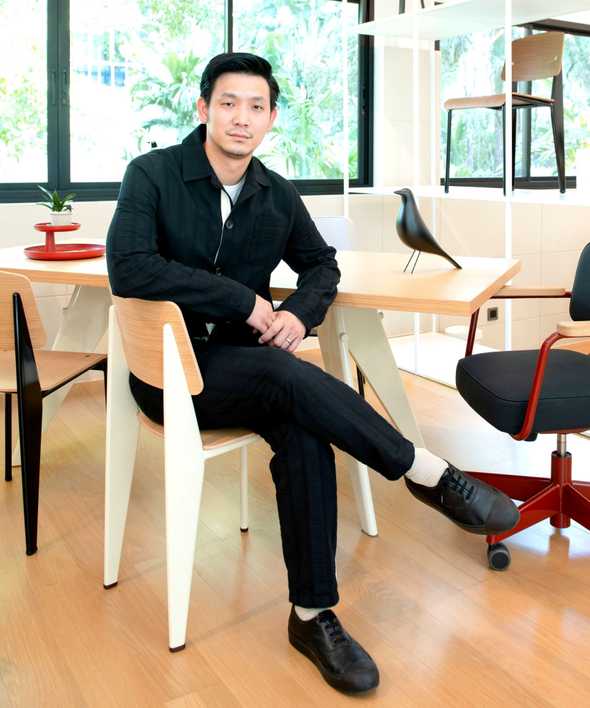 If one man can take the credit for popularising Nordic design in Thailand, it would have to be Veekrit Palarit. Few were familiar with Fritz Hansen, Hay, Gubi, Vitra, Massimo Copenhagen and Artek until Veekrit's obsession with Nordic design's minimalist philosophy led to Norse Republics. Visit the showroom, and you enter a minimalist haven where beauty pairs with functionality. A place where clean, simple lines rule and a style that opens the window to bright, uncluttered spaces. The journey began five years ago with Hay. Explains Veekrit, "Scandinavian design appeals to the younger generation and those who like simplicity and function. Interestingly our market is not expat, but ninety per cent Thai. Earlier, Italian design was popular, but we found Scandinavian designs appealing to many. Especially the younger generation; some even mix and match styles with their existing look. If you like simplicity, sound design and high-quality details, then Scandinavian it has to be. It is brighter, more inviting, colourful and very pared down."
A Changing World
The pandemic has changed us all in many ways; sociologists will record this change minutely for years to come. But even a casual observer would note the subtle differences in the intensely private Thais. So private that they could teach the English a thing or two about their homes as castles. The home is for the family and socialising the preserve of restaurants and clubs, creating a perfect social Venn diagram. But with everyone practically homebound and nowhere to go, I saw that diagram morph. If my Facebook feed showed the mirror to the subtle changes taking place, surely it hasn't gone unnoticed. I ask Veekrit if he senses the difference too?
"The lockdown has changed us all. Socialising has changed; people are meeting at home. Earlier, My wife and I rarely invited friends to our place, but since the pandemic, we do. We cook, we watch movies together, we hang out. Covid restrictions have led us to new things. It has also changed the way people think about their homes. Earlier, the home was your personal space – the place to sleep or eat, but now it is the place that reflects you. Thais now look at their homes as a reflection of their style, personality, and creativity. Just like their clothes."
That change in attitude has positively affected the business, explains Veekrit, "People are spending more on home accessories and furniture. Their perspective on personal space has changed. We are becoming more like Scandinavians who think of their homes as the place to connect with friends, have parties, invite people over." Even as Thailand readies to open up slowly, there is no caging this new social beast; I am willing to bet that we will need a whole new Venn diagram.
Pivoting in the Times of Corona
It was all going well until the pandemic shook things up.What stands out is how Norse Republics pivoted during this very fraught time, even going ahead with introducing a new brand – Vitra – into a market essentially in lockdown. If ever there was an example of turning adversity into opportunity, this is it right here.
Reveals Veekrit, "With the lockdown, our business struggled – no one wanted to spend. We realised we had to change how we interact with people. We never had an online channel before; we had a website but no direct communication with our clients except social media. Frankly, social media is not really about talking to people or inviting them to talk to us; it is more about showing what we want people to see. So, we moved to having a dialogue and developed our voice on LINE. Our customers could now directly chat with us and buy products from our LINE account. We have now developed a whole new team that works on this 24/7."
He adds, "Thais like to talk and interact before buying. They want that interaction to be more than just a few clicks to buy online. LINE helped. Earlierwe would wait for people to come to our store and discuss their homes with us. Now we can talk with them anytime. We chat with them, give advice, share inspiration, share pictures. That sharing has helped the business. Customers feel closer to us without actually coming in." Alongside, Norse Republics has developed an e-commerce website.
The pandemic has changed us all Veekrit observes, "One rarely ever made restaurant reservations, you just showed up. Now you do. People are careful now and check if you have the product they want before coming in. Interacting on LINE has increased the traffic of interested customers to our stores. Small products they purchase straight off, but the bigger ones they come in to see." And that puts a whole new spin on the art of selling. The likelihood of the next walk-in being seriously invested in a product practically guarantees a sale.
Blurring Lines
"This whole thing of working from home has blurred the lines between the work desk and the living room; Vitra office furniture just fits in. What inspires people is that they can work efficiently at home and blend office and home furniture. Vitra is not stereotypical office furniture; that helps. Take the Vitra filing cabinet - 'Follow Me'. People love it," says Veekrit. Designed by Milan based architect and designer Antonio Citterio, this whimsical pull along cabinet comes with a strap. I'm in love too. This filing cabinet you want to show off, not hideaway.
Is #WFH then here to stay? Veekrit expects people to get back to the offices, but the concept of home-office, he asserts, will remain. "A lot of my friends like to work from home. They like how efficient it is. But in Thailand, not many companies will offer their employees the opportunity to WFH. The home office set-up, though, will remain – it's convenient. But offices are turning into homes. We have done several office projects, and the brief was to make them welcoming. Sofas are a feature now. Instead of conventional meeting rooms, they have nooks and hot desks." Vitra fits in perfectly with its 'Collage' concept - blending home and office furniture, blurring the lines.
His favourite piece of furniture? "I need a good chair. At home, I use a Fritz Hansen Series 7 chair. It's a 60-year-old design but still relevant." An icon of modern furniture history, this slender chair designed by Arne Jacobsen in 1955 is unique – both a work chair and a dining/meeting room chair. "It'svery ergonomic and lasts forever – a genius design. A chair you can't live without," he adds emphatically.
"I am not just a furniture retailer. I want to create an experience and lifestyle. So we plan to create 'Norse Experience' by collaborating with lifestyle experts to bring design into people's everyday lives. We want to put design into everyday life and show how design can change that experience. Perhaps decorate a restaurant and let people experience our furniture or a hotel room to offer the guests a Nordic getaway."
Design Philosophy
I ask him about his design philosophy. "It has changed over time. Good design needs to be functional. What I like the most about a design is multiple functions in one beautiful piece of furniture. For example, at the office, I have a stool from Vitra – Stool-Tool. I love it. It is stackable with multiple uses – it's even a stepping stool." Designed by Konstantin Grcic, the Stool-Tool 'unites chair and table in a single object, permitting numerous sitting positions and directional orientations'. Its desk-like backrest can serve as a small worktop or storage surface or as another stool. He adds, "It's amazing how a designer's mind works. Nordic designers think about solutions and look at the whole picture. They call it 'slow design' – taking every step carefully. Each piece of furniture takes over five years to develop – from idea to production, including delivery logistics. This approach has influenced my philosophy."
---