Maldives: Paradise Regained
July 22, 2021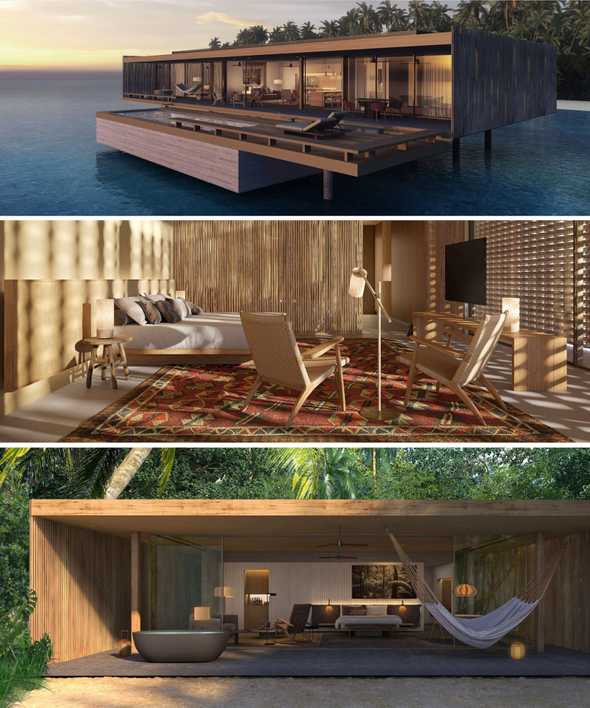 (Main image and above) Patina Maldives, designed by Brazilian architect Marcio Kogan in the North Malé Atoll, south of Helengeli.
Patina Maldives, North Malé Atoll – Design Hotel Patina Maldives is pulling out all the stops in this new generation resort, a debut property of the Capella Hotel Group in the North Malé Atoll. Designed by Brazilian architect Marcio Kogan, this Fari Island resort is aimed at the conscious traveller and is fine-tuned down to the smallest detail. The buildings are low rise, well below the palm line and modern. Very different from the thatched roof aesthetic that is associated with Maldives. There is a deliberate layering of organic wood set in light and verdant gardens shaped by landscape designer Vladimir Djurovic with serene spaces evenly scattered across the island. Accommodation is 20 Fari Studios, and 90 beach and over-water villas across nine categories that range from one-bedroom Beach Pool Villas to the stunning three-bedroom Beach House, complete with its own rooftop terrace and expansive gardens.
Solar panels flow throughout the series of buildings and are a visible commitment to renewable energy. The resort has pledged to be self-sufficient: an on-site cold dome will focus on fruits and vegetables not native to the island, so reducing reliance on imported produce.
Its 12 F&B outlets range from a plant-based concept – Roots – to the Maldives' first and only Greek outlet, Helios. The 'theatrical marriage between Japanese and Nordic cuisine' at Koen will surprise while Wok Society does what woks do best.Bricks and mortar eateries are supplemented by a series of food trucks dotted around the island. Come evening, the Fari Beach Club welcomes with its laidback vibe and drink list.
The experience also includes a well-researched in-house culture focused programme:Patina ambassador-hosted discussions, in-house art exhibitions, international DJ sets and workshops led by world-famous chefs. Topping it off is a light pavilion created by esteemed American artist James Turrell.
Constance Moofushi, South Ari Atoll – A true gem, Constance Moofushi has recently been refurbished by Studio MHNA with a vivid colour palette. Located in the South Ari Atoll, this resort speaks of luxury and simplicity, of barefoot chic with 24 beach villas, 56 water villas and 30 senior water villas.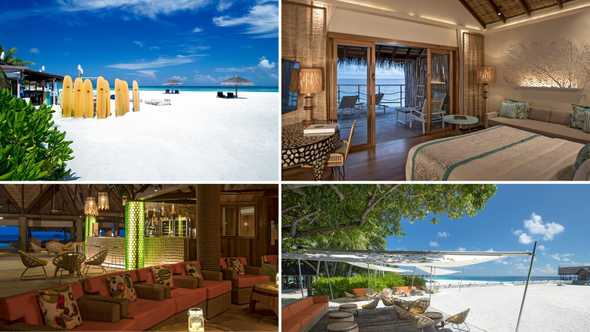 The water villas focus on the ocean with turquoise tones harmonising with fawn and ivory, fish patterns and cut coral. While the beach villas are a nod to the natural foliage in a palette of greens and vivid flower patterns. Contemporary furniture inspired by travel pieces from around the world dot the public areas adding that touch of novelty. Lamps made of rope, a large shell chandelier, back-lit columns made of bottles, vibrant sofas, whitewashed bricks and neon lights are some of the additions. There's even an old Citroen food truck set in the sand by the new Grill Lounge, a focal point for guests chilling under bamboo pergolas. Enjoy a barefoot buffet at Manta while the laid back Alizée puts the beach grill into focus.Stop by at the beachside bars: Totem and Manta
Henri Arnulphy, Managing Director of Constance Moofushi underlines the vibe with, "White sand, coconut palms, turquoise sea… all the ingredients that make a perfect Maldivian holiday are here."
Kuda Villingili Resort Maldives,North Malé Atoll – A 30-minute speedboat ride away from the airport, Kuda Villingili Resort Maldives, is an experience-driven concept, home to an impressive line-up of gourmet dining options, an idyllic beachfront spa, and a 150m pool, encircled by sunbeds, cabanas and bars. The resort provides prime access to one of the world's top ten surfing spots - 'Chickens'.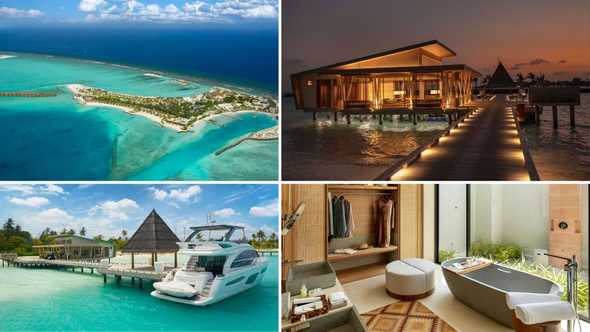 Its 95 luxury villas – 36 overwater and 59 beachside are inspired by nature and offer panoramic views of the ocean. The interiors bring together traditional Maldivian art pieces and eco-friendly furniture and fittings (including carpets from recycled plastic bottles).
The resort's signature dining establishment – The Restaurant – offers three menus at dinner: Fire, Earth and Ocean.Fire focuses on a traditional American Steak House experience, Earth is an Asian-inspired concept, and Ocean is a fine-dining experience built around seafood.The Hawkers is an upscale three-stall street food market that serves up sharing style options: Indian-Arabic inspired flame-grilled kebabs, charcoal tandoor delicacies, and shawarma, along with Thai-Japanese treats and Italian-Mediterranean favourites like wood-fired pizza. The Beach Club offers a South American take on the classic lunch beach together with daily live DJ sets and an extended list of frozen cocktails and rosé wines. The resort's two bars, the Main Bar and the Poolside Bar, both offer classic cocktails, mocktails and hand-crafted beers. The Cigar Lounge offers a wide selection of whiskies and cognacs.
Photo credit: Patina Maldives, Constance Moofushi and Kuda Villingili
---