The Piaget Rose
June 04, 2021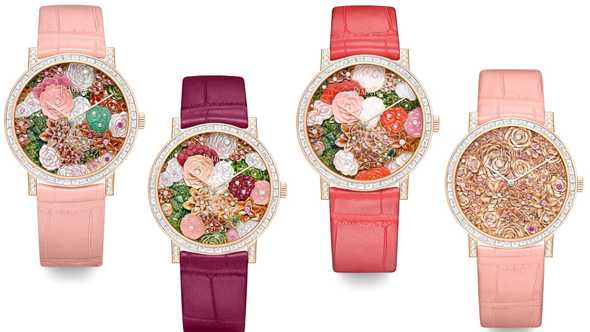 Shakespeare had not accountedfor the Piaget Rose. For this rose cannot be called by another name except Piaget. In the early 1980s, renowned horticulturist Alain Meilland dedicated a new creation with its eighty serrated petals, pale colouring and smooth fragrance to Yves Piaget; the flower won Geneva's International New Rose Competition in 1982. Yves Piaget. in return, dedicated a whole line to it: Piaget Rose jewellery. A rose that will never wither.
The Piaget Rose was born in 2002 in the Maison's High Jewellery collections and has continued to bloom ever since. It has now added two new rings and four new timepieces to its bouquet.
Piaget Rose Rings
Two delicately crafted Piaget Rose rings join the collection in pink and green. Pink for the vibrant colour of the Piaget Rose petals and green for the deep hue of the flower's foliage. At the centre of each ring is a stunning tourmaline surrounded by gold and diamond buds and Piaget Rose flowers. Each layer of rose petals is meticulously finished and set before being mounted on the ring in an asymmetrical design.
The rose gold green tourmaline ring has 154 brilliant-cut diamonds, one oval green tourmaline and eight pear-shaped green tourmalines. The pink tourmaline is set in white gold with 154 brilliant-cut diamonds, one oval pink tourmaline and eight pear-shaped pink tourmalines.
Spectacular Timepieces
These four new timepieces combine a mesmerizing mix of gold engraving, ornamental stones, glyptic, and enamel. Each of the four dials depicts a bouquet of Piaget Roses, the creation of two artisans: Dick Steenman, a watchmaker, jeweller, gem-setter, and engraver, and Anita Porchet, the watch industry's most renowned enamel artist.
Together, Anita Porchet and Dick Steenman have created four unique dials using gold, imperial jasper, coral, chrysoprase, mokaïte, enamel, and mother-of-pearl of various colours. Piaget's ultra-thin 430P movement powers all four limited editions of eight pieces. Each dial takes at least a month to complete.
All four limited editions come in ultra-thin 36mm, 18-karat gold cases set with baguette-cut diamonds. Three are set with pink sapphires, green tsavorites and diamonds. The fourth one features an engraved solid gold dial with pink sapphires, amethysts, and diamonds. Each timepiece is limited to eight pieces.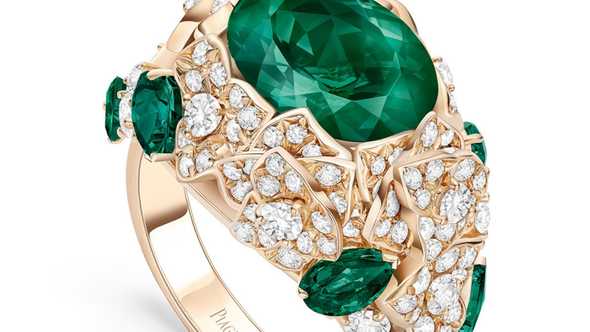 ---