Bespoke Wheels - New Rolls-Royce Boat Tail
June 07, 2021
If you have the millions, Rolls-Royce will make the car. Provided they like your ideas. As Rolls-Royce builds on its glorious legacy of offering patrons motor cars hand-built to their precise individual requirements, they have rolled out the most expensive new car ever; estimated at US $25 million each – the boat-inspired Boat Tail. Of which only three have been created. These three nautical-inspired vehicles are part of Rolls-Royce's inaugural Coachbuild project at Goodwood, Sussex. The three Boat Tails share a common body shape but are highly personalised.
Explains Torsten Müller-Ötvös, Chief Executive Officer, Rolls-Royce Motor Cars, "This is one of our most ambitious projects yet. It is where we ignore all preconceived notions of possibility. Every Rolls Royce client is extraordinary but within this group exists a class of clients so significant that they demand an object that is truly transformative. They seek to commission a work of art that makes a permanent statement. And we have created Rolls Royce Coachbuild to fulfil these desires."
The Boat Tail has a unique form: a tapering rear that converges on a centre line. Says Alex Innes, Head of Coachbuild Design, "There has never been a contemporary interpretation of this particular body style, and that's what we set out to achieve. These clients were prepared to pledge so much of their time and so much of themselves in developing this shared ambition and vision. The styling and the tapered rear is designed to mirror a motor launch rising out of the water."
While the chassis, engine and underpinnings are based on the Phantom, the details are all-new and created from scratch – from the largest ever hand-made panels for a Rolls-Royce to the most intricate mechanism and clock. The new grand cruiser is inspired by the elegant J-Class yachts of the early 20th Century and the original 'Boat Tail' Rolls-Royces of the 1920s and '30s. Under the bonnet is a 6.7-litre V12 twin turbo-charged petrol engine with 570 horsepower linked to eight-speed automatic gears.
RR patrons have always been able to personalise their motor car's appearance in a myriad ways – beginning with a choice of 44,000 paint colours. But their options for altering its overall outline have historically been limited by the underlying structure. For this reason, fully Coachbuilt Rolls-Royce motor cars have been rare in the modern era until the 2017 Sweptail and now the three Boat Tails. RR clients seeking to 'reach beyond bespoke and determine the motor car's physical form can do so now'.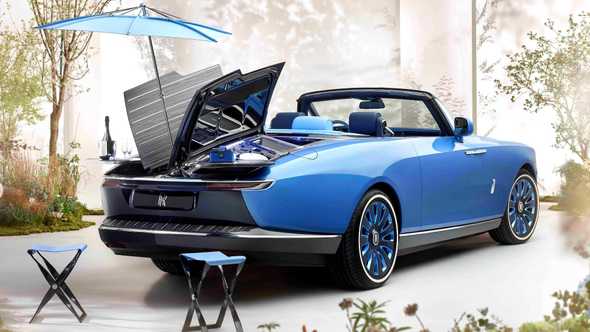 Boat Tail – On the Outside
At just under 5.8 metres long, the four-seater, the two-door convertible has a nautical-style wraparound windscreen. The tapered rear mirrors a motor launch, and the colour blue is embedded with metallic and crystal flakes to catch the light. The colour also alluding to its nautical inspiration. The removable canopy is single piece carbon-fibre and canvas and comes off completely. So what happens if it starts raining? RR has thought of that too. Reach for the stowed temporary tonneau that can be used as a 'static transitory shelter.
The grand tourer's rear deck transforms into a luxurious 'Hosting Suite'. It is RR's interpretation of a yacht's wooden rear deck. In grey and black Caleidolegno wood veneer, it is 'visually elongated' with brushed stainless steel pinstripe inlays.
At the press of a button, the rear deck opens like a butterfly's wings to reveal the picnic set, the parasol emerging from the middle. Perfect for al fresco indulgences, the set-up comes with cocktail tables and matching Promemoria stools, a champagne fridge, crystal champagne flutes, Christofle tableware, bespoke porcelain dinner set and food warmers. The two pop out cocktail tables swivel too.
And On the Inside
It's baby blue inside with the grey and black Caleidolegno wood veneer used on the rear deck across the dashboard. The wooden trim in the lower cabin and floor area echo a ship's hull. The blemish-free leather is sourced from hides Alpine cows in Bavaria. Instrument dials have Guilloche patterning mirroring the work of fine jewellers and watchmakers. The steering wheel is elegant, thin-rimmed and two-tone. To keep time, two reversible 'His & Hers' two-sided timepieces by Swiss-based 'BOVET 1822' that can be taken off the owner's wrist and mounted on the dashboard as a clock, while the other is stored in a special tray compartment. The hollow section of the floor sills provides bass sound for the 15-speaker surround-sound audio system.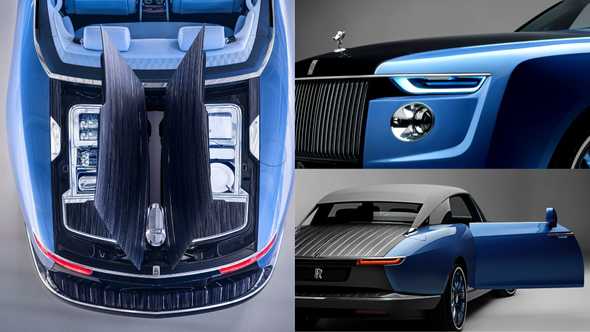 ---