LOTUS - You've Got a Fast Car
March 19, 2021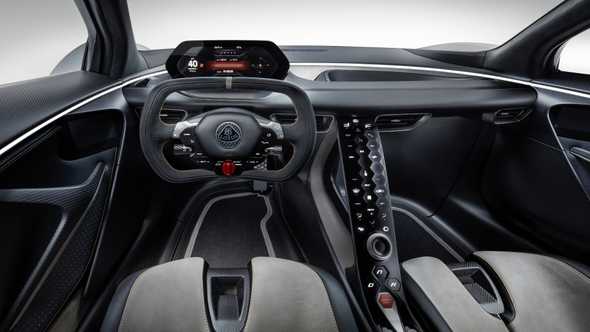 Lotus Evija, the first all-electric British hypercar is to get a Greatest Hits album of sorts. With a combined power output of 2,000 PS and 1,700 Nm of torque from four electric motors it can rocket from 0–300km/h in under nine seconds, with a rated top speed of 320km/h. That makes it the world's most powerful series production road car. But electric motors don't deliver the same audio-gasm as an internal combustion engine. To compensate for that, the hypercar maker hired renowned British music producer Patrick Patrikios to develop a range of sounds for the Evija (pronounced 'E-vi-ya', meaning 'the first in existence' or 'the living one').
His name might not ring an instant bell, but he has written and produced for Olly Murs, Sia, Britney Spears, Pixie Lott, Hollywood movie soundtracks and other internationally renowned recording artists. In 2018, he was also Brit Award-nominated for his collaboration with Little Mix, and the tracks he's worked on have been streamed more than a billion times.
"We wanted to create a soundscape for the Evija that was recognisably and distinctively Lotus," says Patrick. "I sat with the development team at Hethel and discussed what that should be. We wanted something intrinsically connected to Lotus so we could set an audio blueprint for its future electric cars."
Patrick decided to use the iconic Lotus Type 49 race car with its Cosworth-Ford DFV 3.0-litre naturally-aspirated V8as the jump-off for his musical inspiration. The Type 49 is a true motorsports legend. With Jim Clark at the wheel it won its first Formula 1 outing at the 1967 Dutch Grand Prix. For the rest of that seasona Type 49 took pole at every race. The following year Graham Hill won the F1 Drivers' Championship in a Type 49.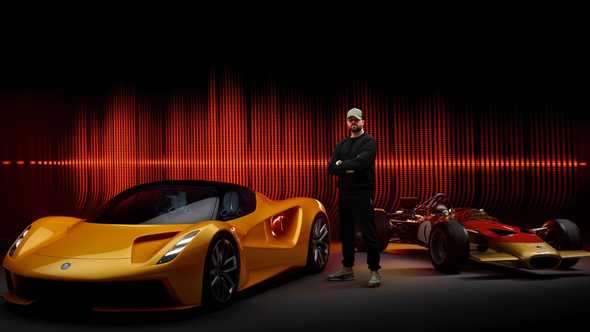 British music producer Patrick Patrikios gives the Evija (on his left) an audio-gasm using the iconic Lotus Type 49 race car (on his right) as his musical inspiration.
There's a purity to that V8, a raw edge and an emotion that stirs something in your soul, just like the best songs," says Patrick, a Lotus fanboy and Evora driver himself.
Patrick began the composition process by recording the Type 49 and feeding into his computer. He realised that slowing the engine note down created a similar frequency to the natural driving sound produced by the Evija's advanced all-electric drivetrain.
"I adjusted the replay speeds and digital filtering of the Type 49 to generate a soundscape for the Evija – it was a very organic process," explains Patrick. "We all wanted something to spark an emotional connection between car and driver. Sound is hugely influential when it comes to creating and forming emotions, to enrich that bond that's such a critical part of the Lotus experience."
While Patrick's primary task was to craft the Evija's external noise as it begins to deliver its immense 0-300km in under nine seconds' acceleration, he used the Evija soundscape he developed to create chimes and tones for everything from the activation of the indicators to the seatbelt warning.
"I love that the sound from one of the most iconic Lotus race cars of all time has been the inspiration for its newest. There's a symmetry to it which is beautiful," says Patrick.
Illustrative of the innovative thinking and ingenuity which has always been part of the marque's DNA, the Evija is a technical tour de force. A stunning piece of contemporary automotive design, it is the first Lotus road car with a one-piece carbon fibre monocoque chassis. It also features a dramatic Venturi tunnel through each rear quarter, giving it a truly breath-taking presence. The cabin, from the fully adjustable race-style seats to the multi-function steering wheel, is the very pinnacle of motorsport-inspired road car design and technology.
At the heart of the Evija is an ultra-advanced all-electric powertrain. It has been developed by technical partner Williams Advanced Engineering, famed for success in motorsport, from Formula One to electrifying the first four seasons of Formula E. The battery pack is mid-mounted immediately behind the two seats and supplies energy directly to four powerful e-motors. This highly efficient system is the lightest, most energy dense, electric power package ever fitted to a road car. With a target weight of just 1,680 kg, it will be the lightest pure electric hypercar ever to go into series production.
Production of the Evija is limited to 130, a figure set in tribute to the car's project code, Type 130, making it among the most exclusive cars ever launched. Watch Patrick talk about the process here.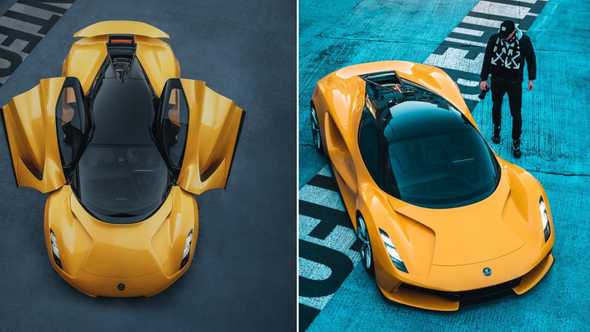 ---