Planes, Trains, Automobiles… and Boats
February 23, 2021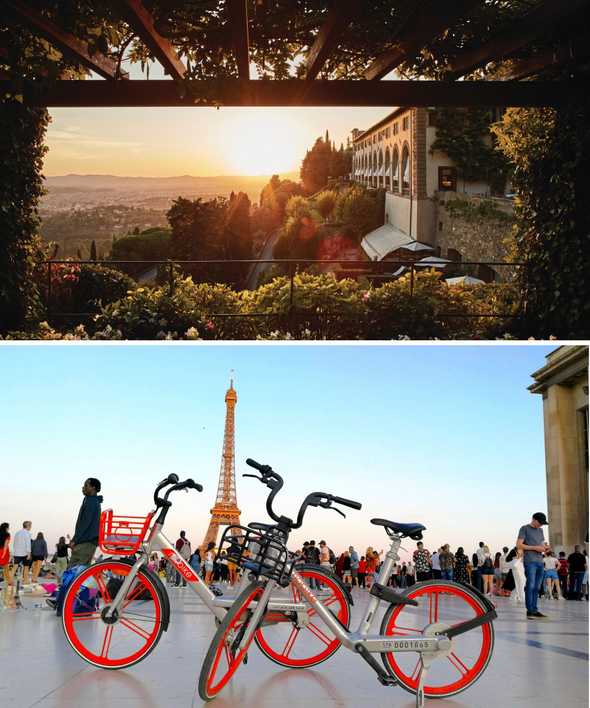 (Main photo) Belmond's legendary Venice Simplon-Orient Express cutting through the European countryside. (Above) Start with the Tuscan countryside and end with Paris (Photos: Belmond; Eiffel Tower, Paris, by Gavin Nazareth)
After a year of being grounded, all we want to do is travel. There's so much we want to do but these curated journeys are how we would like to begin. Just the thought of getting off the beaten track brings to mind an old favourite – The Road Not Taken by Robert Frost:
"Two roads diverged in a wood, and I —
I took the one less travelled by,
And that has made all the difference."
Romancing the Train in Europe
It's hard to duplicate the romance of the fabled The Orient Express. But Belmond promises exactly that with its new Grand Tour routes across Europe onboard thelegendary Venice Simplon-Orient-Express. Crisscrossing Italy, Switzerland, Belgium and The Netherlands, the train recreates legendary journeys of the golden age of travel aboard its elegant art-deco1920s carriages. The new boarding points include Rome, Florence, Geneva, Brussels, and Amsterdam. Several journeys to choose from but the Florence to Paris route speaks to us as it also includes the option to stay overnight in Tuscany. What's not to love about our favourite part of Italy and our favourite European cities! Labelled 'A Tuscan Departure' this journey begins with an overnight stay at Villa San Michele, set in the hills above Florence before boarding the train in Florence on 26 May or 14 July for an onward journey to Paris. You could also begin the tour with a night deep in the Tuscan countryside surrounded by rolling hills and sprawling vineyards at Castello di Casole (30 miuntes from Siena), before heading to the 15th century former Renaissance monastery Villa San Michele, with its breath-taking views over Florence. Prices for a one-night journey from Florence to Paris including a one-night stay at Villa San Michele or Castello di Casole starts from £2,000 per person.
Frankly we are torn between the Tuscan start and 'Return to Rome'. This leg marks a return to the routes of the past as the storied train returns to Rome for a journey to Paris. Departing Rome, the train makes its way towards Florence and onwards past the Italian lakes and Swiss mountains and into France on an overnight journey complete with an elegant dinner as they travel to Paris on 26 May and 14t July; one-night journey from Rome to Paris starts from £1,880 per person.
The one-night 'A Swiss Sojourn' departing Geneva on 27 May and 15 July, has the train negotiating the famous Brenner pass as it wends its way through The Alps, passing through the romantic city of Verona before reaching Venice. Prices for the one-night journey from Geneva to Venice start from £2,380 per person. The new route 'Dutch Arrivals' from Venice to Amsterdam connects three European capitals: Paris, Brussels and Amsterdam. On 21 June, the train sets off from Venice passing through Paris and Brussels before arriving in Amsterdam the following day. On 24 June, it returns to Venice. Prices for a one-night journey from Venice to Amsterdam start from £2,650 per person.
On the Road in Japan
In a country famed for its natural beauty and the sheer variety of its geology, Aman Kyoto and Amanemu are ideally placed for exploring the countryside between and around them. From the shores of Ago Bay where the sacred forests of Ise Shima embrace Amanemu and its healing hot springs, to Aman Kyoto's secret garden in the country's ancient capital, the roads between these two private sanctuaries are some of the most stunning on Earth. Starting and finishing at Aman Kyoto, two distinct driving routes to and from Amanemu take in the Japanese Alps, cross the Kanto Plain, and include the famous Hakone Turnpike, Venus and Izu skylines with their twisting turns, huge elevation changes and panoramic views. Journey along Japan's highest road, Norikura, which rises to 2,700m and offers extraordinary views of the Yatigatake and Hodaka Mountain Ranges. While at Amanemu, indulge in a private onsen and forest treks to Shinto temples. Aman Kyoto is for picnics in the private gardens and visits to the area's many Unesco World Heritage Sites. (details here)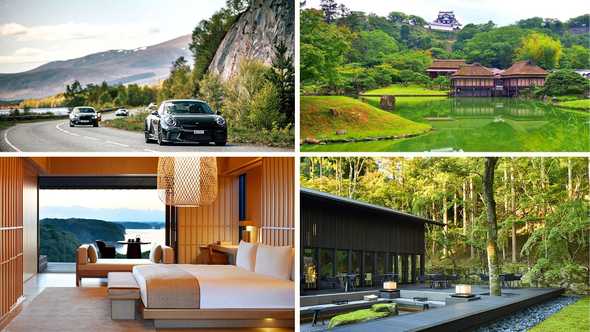 On the road in Japan from Aman Kyoto to Amanemu; enroute Hikoni Castle; Aman Kyoto - The Living Pavilion; Amanemu Nagi Suite (Photos: Aman)
Take the Boat in Thailand
Cruise up the River of Kings, the Chao Phraya River, from Bangkok to Ayutthaya in Anantara's Loy River Song, an ultra-private luxury river cruise; itineraries range from two days-one night to four days-three nights. The four-stateroom Loy River Song is luxuriously appointed with antiques and Thai silks worked into the décor along with traditional craftsmanship. Outside the spacious staterooms are communal areas designed to host sunrise yoga, Muay Thai demonstrations, traditional dance performances and more. The airy main salon opens into the elegant dining room, presided over by a private chef, and seats up to eight people. The deluxe cruise promises to deliver impeccable five-star service. Plenty to do beyond just relaxing on board we are told from cycling excursions on Bang Kachao island to exploring temples as the cruise makes its way to the Unesco-listed Ayutthaya. Several guided excursions included: some on foot, others by car or a traditional long-tail boat. Prices start at THB 208,250 ++ per cabin for a three day-two-night trip.

Anantara's Loy Pela Voyages offer an ultra-private luxury river cruise on board Loy River Song from Bangkok to Ayutthaya (Photos: Anantara)
Four Seasons Private Jet Journeys
The Four Seasons Private Jet is all set to take off and has just unveiled its itineraries for 2021. Reveals Christian Clerc, President, Global Operations for Four Seasons Hotels and Resorts, "The Four Seasons Private Jet Experience was created for travellers who want to see the world, immerse themselves in new cultures and share in unique adventures, all while [being] part of an end-to-end Four Seasons experience. With Four Seasons, they can explore the world with the peace of mind that travelling and staying with us provides." The Front Row pick of all the journeys offered is the all new, family-friendly 13-day 'African Wonders' from 28 December, 2021 to 9 January, 2022. The journey starts in Athens with a two-day sojourn, followed by day trip to The Pyramids in Egypt, then three days in the Serengeti (experiences include bird's-eye view of the vast grasslands aboard a hot air balloon and a torchlit dinner party in the bush to ring in the New Year), a tropical island experience in Mauritius, then on to Rwanda for its lush forests and a gorilla trek. Plus a meet with local scientists and veterinarians caring for the endangered primates. Next is a day trip to Zambia for the Victoria Falls – one of the Seven Natural Wonders of the World and finally, Johannesburg in South Africa where the journey concludes. From here you either head home or continue your exploration of Africa. Perfect for travellers of all ages.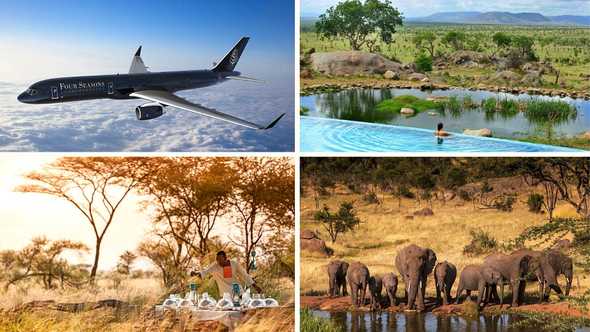 Explore the Serengeti with Four Seasons on the 'African Wonders' journey (Photos: Richard Waite/ Four Seasons)
---