The Godfather of British Gastronomy
January 11, 2021
(Main picture: Albert Roux and the team outside Le Gavroche; The brothers Roux: Albert and Michel)
"I am afraid I was always exposed to good food and I can't resist it," Chef Albert Henri Roux, once quipped when asked where he got his passion for fine dining. He, in partnership with his late brother Michel Roux, another brilliant chef, started a culinary revolution in London when they opened Le Gavroche in 1967. Think how audacious the two were: Frenchmen crossing the Channel to open a French restaurant in heart of the English capital. And a fine dining restaurant to top it all.
Albert Roux was born on 8 October 1935 at Semur-en-Brionas, in the region of Saone et Loire in France. He started his culinary career, aged 14, as an apprentice patissisier. Albert's godfather, a chef who worked for the Duchess of Windsor arranged for the callow 18-year-old to come to the UK for two-year stint as a commis de cuisine at Nancy Astor's country home at Cliveden. The one notable incident during his employment was that somehow he managed to jam oeufs en cocotte that were to be served as breakfast to the Countess's house guest, British Prime Minister Harold MacMillan, in the dumbwaiter.
The Journey
After that initial mishap, Albert quickly moved up the culinary ladder, even spending a year at the kitchen of the French Embassy in London. His first tenure as a chef was at the home of British industrialist and philanthropist Sir Charles Clore in Belgravia. He was eventually called up for military service in Algeria.
After he left the military, Albert became sous chef at the British Embassy in France for two years, before returning to the UK as chef for Major Peter Cazlet who trained racehorses for Queen Elizabeth the Queen Mother. He stayed with the Cazalet family for eight happy years.
In April 1967, the Roux brothers each investing £3,000 together with backers who included Edward Cazalet, the son of his former employer, opened Le Gavroche on Lower Sloane Street in London's Chelsea. Named after the street urchin in Victor Hugo's novel Les Miserables, the restaurant soon became popular attracting the likes of Charlie Chaplin, Ava Garner and Robert Redford. Whether Albert saw himself as the street urchin who made good will never be known, but the name became synonymous with excellent cuisine and superb service.
In 1981, Le Gavroche moved to 47 Park Street. The service apartment above it was converted into a boutique five-star hotel with the help of Albert's first wife Monique, the mother of his two children Michel Roux Jr and Danielle. She had a keen eye for design, decoration and packaging.
Albert's childhood ambition was to become a priest. Reflecting on it in 2014 he told the Daily Mail, "I would have made a bad priest, because I am was a philanderer. The thought of me visiting a nunnery would have been very bad."
His second wife was Cheryl Smith, a Zimbabwean businesswoman; they divorced after 10 years of marriage in 2016. He married his third wife Maria Rodrigues in 2018 who survives him along with his two children.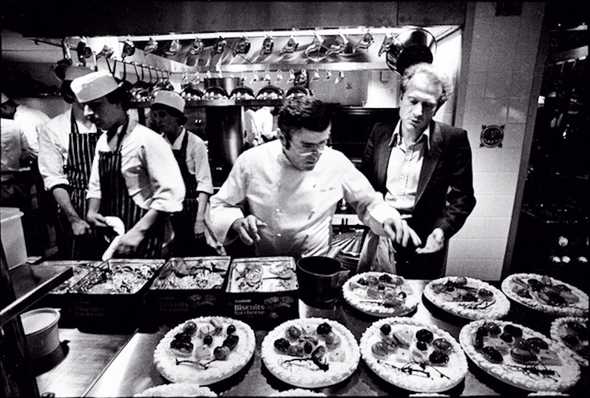 Albert and Michel Roux in the restaurant kitchen.
The Roux Impact
For the last five decades the brothers Roux have had a massive impact on the British food industry, significantly changing fine dining habits, and even persuading British diners to eat their fish a little pink and their meat red rather than black.
Initially Le Gavroche had a small and selective menu made with the freshest and best ingredients. At first the brothers would go to the market daily until they had built up a circle of reliable and like-minded suppliers. They pioneered cross-Channel shopping trips which lead to setting up their own food transport company. Eventually their efforts were rewarded with three Michelin stars, the first restaurant in Britain to receive such an accolade.
The restaurant was a favourite of Queen Elizabeth the Queen Mother. She usually plumped for the Soufflé Suissesse (cheese soufflé cooked on double cream) – the cheesy mound surrounded by a river of cream. The Queen Mother would follow this with the braised beef. The soufflé is still on the menu.
Other signature dishes included the coquilles St Jacques Le Caneton Gavroche (which was a meltingly rare duck poached in consommé), and the Tarte au Citron.
In 2010,The Guardian newspaper carried this tribute to the Roux's culinary skills: "At Le Gavroche, the Roux brothers had in effect established the unofficial Oxbridge of English haute cuisine, an academy of gastronomy. It's where all the young British talent went to learn its craft, to bone up on its veal stock and to sharpen its chef's knives. If cooking is an art form, Le Gavroche was the Royal College of Music, Central Saint Martins College of Art & Design, RADA [Royal Academy of Dramatic Arts] and the Courtauld and Warburg institutes all rolled up into one, poached, wrapped in a puff pastry shell with foie gras and served with truffle sauce."
Following on from the success of Le Gavroche, the brothers opened a second restaurant, The Poulbert in 1969 in an old pub in Cheapside. The pub style was retained on the ground floor but the basement was converted into an innovative elegant city restaurant serving breakfast and lunch to the busy business community. It was awarded one Michelin star.
Seeing their city location working so well, they opened Bistro Benoit (later named Le Gamin, a street urchin who is the smaller brother of Le Gavroche) strategically located between the Law Courts and Fleet Street, the home of Britain's newspaper industry.
In 1972, a traditional English pub was transformed into an elegant restaurant and cocktail bar: The Waterside Inn. Each brother would alternate their time at Le Gavroche and Waterside Inn. It was hailed as Restaurant of the Year in 1981. And when it was awarded three Michelin Stars in 1985, the brothers made Michelin history being the first chefs to hold two three-Michelin starred restaurants.
In 1986, the brothers separated: Le Gavroche was taken over by Albert and Waterside Inn by Michel Roux Senior, now run by his son Alain.
In 1988, Albert's son Michel Roux Jr joined the team at Le Gavroche, but his training began while he was still in school. In the holidays, Albert would wake Michel Jr at one or two in the morning to go to Billingsgate fish market, then Smithfield for meat, and Covent Garden for fruit and vegetables. Albert's wife, Monique, would drive to Paris for ingredients not available in England. Albert eventually relinquished his day-to-day involvement in a transfer of power to his son.
Despite suffering from back and hip pain, Albert remained deeply involved in all of his businesses. "He will never retire," one of his assistants had remarked. In 1999, he evolved the menus for a chain of Albert Roux cafes. He signed a contract with the House of Fraser and the flagship café opened in Dickins and Jones soon to be followed by others around the UK with dishes such as Caesar Salad, blackened chicken and double chocolate truffle cake. His personal favourite though was bread dipped in virgin olive oil with garlic or spring onion.
Albert was the youngest chef to be elected Maitre Cuisiner de France in 1968. He was awarded the Order of the British Empire in 2002, and made a Chevalier de Le Legion d'Honneur in 2005. A founder member of Academie Culinaire of Britain, he took British citizenship in 2015.
Though he liked gardening, collecting antique books and going to the races, cooking remained his abiding passion. A friend staying at his Sussex home recalls waking at 5am to delicious smells and finding Albert in the kitchen baking the perfect brioche. He also had a love of fishing and travelled around the world in pursuit of his hobby, but was particularly fond of Scotland saying, "For me, the Highlands and isles of Scotland are paradise. I can have a whole day where I catch nothing, but I still enjoy every second. I am a lover of nature and fishing allows me access to some of the most beautiful and secluded spots in the world."
The Roux Legacy
Celebrity chef Marcus Wareing, currently chef patron of the one-Michelin-starred restaurant Marcus, calls the Roux brothers "the godfathers of British haute cuisine".
But the Roux legacy extends beyond the kitchens of La Gavroche. In 1984, the brothers Roux created The Roux Scholarship, designed to enable a new generation of outstanding British chefs to train in the greatest restaurants around the globe. To this day the winner receives a three-month stage at any three-star restaurant in the world, all expenses paid, and a lifetime of support from the Roux family and the network of previous Roux scholars. The Roux scholarship changed the gastronomic landscape in the UK, their training was so successful that by the turn of the millennium there were Roux-trained chefs in almost every global city. Among them Gordon Ramsay, Marco Pierre White and Sat Bains.
Albert spoke highly of Gordon Ramsay: "I recognised straightaway that Gordon would go a long way." On hearing of Albert's death Gordon posted on his Instagram account, "So, so, sad [to] hear about the passing of this legend, the man who installed gastronomy in Britain…thank you Albert for everything you gave me. God Bless you Chef."In a follow up post, Gordon added: "He was hard, fair, passionate and incredibly understanding of what you could achieve if you listen! He told me straight, and trust me I listened ! Thank you Chef."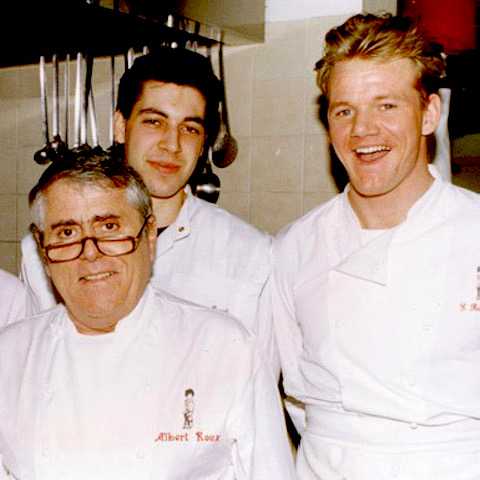 Chef Albert Roux with Thierry Busset and Gordon Ramsay in France
Of all of his proteges, Albert did not get along with Marco Pierre White. In an interview toThe Guardian in 2010, he said, "We don't talk. No, he is a truly talented man – and a man who used to call me his godfather – but he has a chip on his shoulder."
In his book White Heat (1990), Marco Pierre White acknowledged Albert Roux as a mentor and father figure, although the two men were no longer on speaking terms. Marco posted a black and white picture of his mentor as tribute on Instagram.
After retiring from the daily slog in the kitchen Albert spent much of his time lecturing students. In recognition of his pioneering work in the field of sous-vide and his dedicated programmes for training chefs within his own kitchen, he was awarded an Honorary Doctorate by the Council for the National Academic Awards at the University of Bournemouth in 1987. He was a Professor at Bournemouth University and lectured in the hospitality departments of universities and colleges around the UK and in France.
Son Michel Roux Jr underlines that his father's sheer love of life and passion for making people happy through his food will be greatly missed, "He was the mentor for so many people in the hospitality industry, and a real inspiration to budding chefs, including me."
Albert Roux, OBE, chef and restaurateur, died after a long illness on 4 January 2021, aged 85.
All photos: Le Gavroche
---