C'est délicieux, n'est-ce pas?
December 09, 2020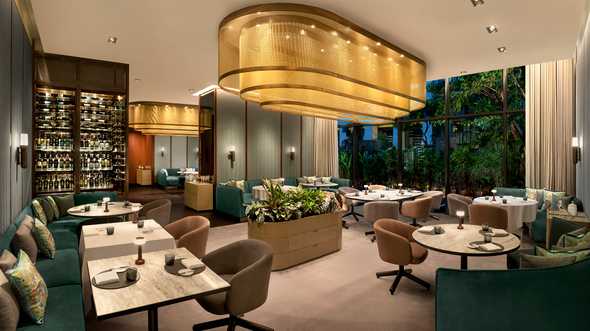 Switzerland's celebrated chef Andreas Caminada has added another nest to his collection with a luxurious outpost in Thailand: IGNIV Bangkok at The St. Regis Bangkok. The acclaimed chef-owner of three-Michelin-starred Schloss Schauenstein in Switzerland is known for his visionary take on European gastronomy showcased at his three "nests" in Bad Ragaz, St Moritz (both two Michelin stars), and in Zurich.
Bangkok was more than ready to pull up a chair at his table going by the buzz in the foodie circles. The kitchens in Bangkok are manned by Head Chef David Hartwig along with German Pastry Chef Arne Riehn. Hartwig has worked closely with Caminada at Schloss Schauenstein as well as in some of the finest Michelin-starred restaurants in Switzerland, Norway, Germany, and New York City.
The setting is as important as the food – the Igniv dining room is one of the most beautiful ones in city: understated, luxurious and comfortable. Elegant in shades of jade with marble-topped tables edged by sofas stacked with cushions and rounded-back swivel chairs. The bird motif, it's a nest after all, is everywhere. Less a restaurant and more a drawing room of yore yanked into the 21stcentury, it's the perfect stage for connecting with friends to partake of the sharing meal. Yes, it is sharing and, yes, it is European cuisine. Who would have thought that a fine dining European restaurant would take the Asian sharing route!
The food comes out in courses and every course has multiple elements – you pass the plates around the table. Nothing stuffy about this place, not even the dishes that are clearly crafted with an eye on perfection. Hartwig begins with a jade green macron filled with local pickled mackerel, wasabi cream and kalamansi gel. That one morsel reveals a lot: the chef is determined to take you on a ride, so buckle up. There's a tartlette with banana shrimp and yoghurt foam; a one-bite papaya roll that is obvious nod to somtam but your eyes just widen when you bite into the toasted almonds covered in foie gras and rolled in beet powder. (Are doggie bags a possibility?)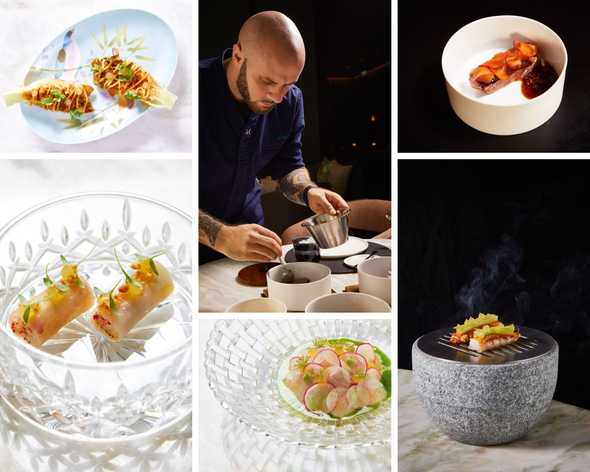 We are primed for the starters. It's hard to beat a good duck liver terrine but this one with a foie gras middle, a top of a mandarin gel and yoghurt foam is pretty much the best I have ever had. We eat it with the warm brioche that accompanies it.
Terrine, brioche, wine… we are settling in but then comes the ceviche of seabass and finely sliced radish to liven the palate. Seasoned with dill oil, kalamansi gel and avocado cream it segues into the next morsel – a crisp quarter of lettuce layered with kimchi sauce, shrimp powder, smoked mayonnaise and kalamansi gel. A classic beef tartare is served with sunchoke slices, house-made mayo and potato chips that take 24 hours to prepare – a process that requires a juicer, a steamer, a dehydrator, and I think a degree in science.
A personal favourite is a 'special' – grilled Hamachi with a black pepper crust that is smoked tableside. Mains have several more revelations: succulent beef short rib served with a celeriac mash garnished and a side of salsa verde; cauliflower florets covered in truffle glaze, served in a warm brown butter sauce, and topped with black truffle shavings. Barbecue pork shoulder with fresh plum and prune sauce leads us into the last of the mains: butternut squash that is pureed, finely diced and roasted and topped with an Hollandaise espuma. All along the wine pairings by sommelier Yonguth are on point.
Chef Arne then takes over with his desserts. There is oats and buckwheat in a light, airy cream: the simplicity of which just bowls you over. But it is the decadence of the chocolate tart and mango cream that all but sends you to heaven. It is accompanied by a basil & lime sorbet, a white chocolate crumble, and pickled melon with crushed almonds.
The showstopper though is decadent, dark and intense, yet light chocolate soufflé – rising an inch above the bowl.A hallmark of haute cuisine, this warm soufflé that ticks every single box.But Arnie is not done yet, the Igniv Sundae follows: milk custard, shaved milky ice, caramelised cashew nuts and milk foam meringue. Stop at the Candy Store on the way out to pick a bag from a selection of chocolates, fruit jellies, canelés, panforte, madeleines, and macarons.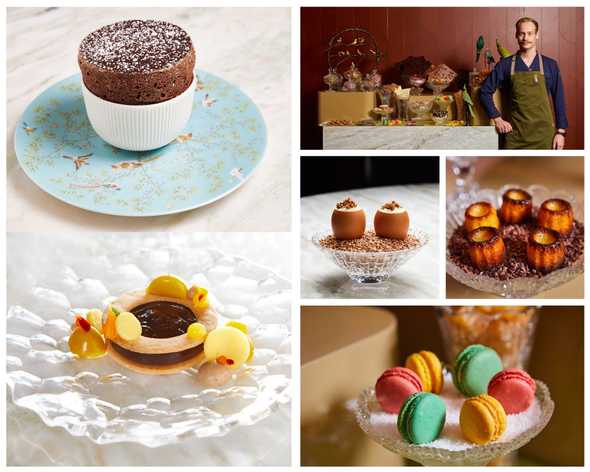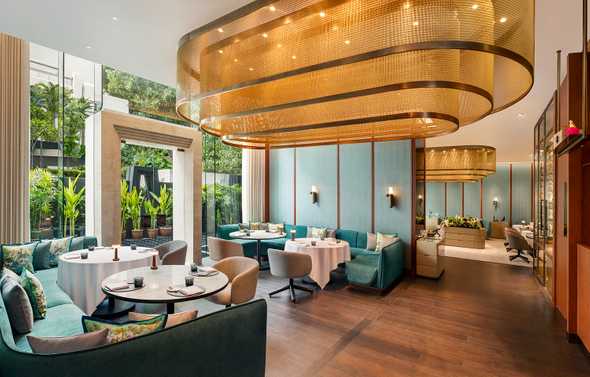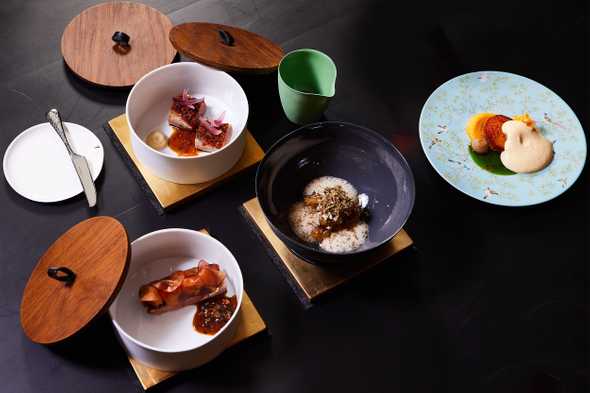 ---