Artful Indulgence in Bangkok: Rossini's Four-Course Masterpiece
April 05, 2023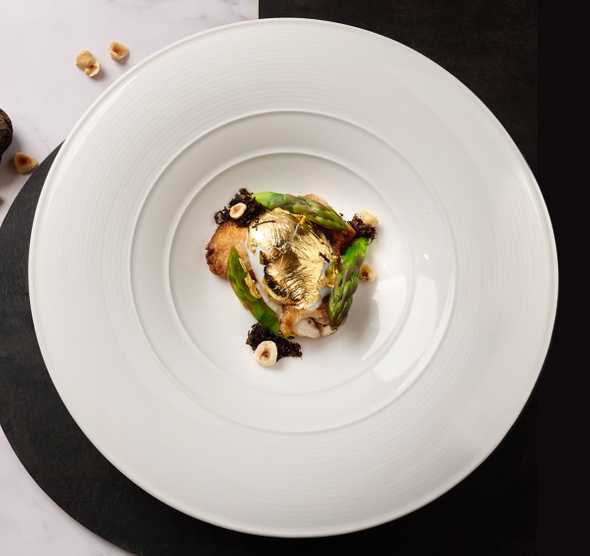 Join Neetinder Dhillon as she explores Sicilian-born Executive Chef Gaetano Palumbo's new four-course couple's menu celbrating the seasonal white asparagus at Sheraton Grande Sukhumvit's award-winning restaurant.
In the bustling heart of Bangkok, Sheraton Grande Sukhumvit's Rossini's has withstood the test of time and the relentless wave of new openings purely because of the exceptional dining experience it consistently provides its patrons. The romantic atmosphere, reminiscent of a Tuscan villa, now sets the stage for an exquisite four-course couple's menu by Sicilian-born Executive Chef Gaetano Palumbo.
Chef Gaetano is playful when he presents his first dish with the question: which came first, the chicken or the egg? The dish is Asparagi Verdi, Fontina con Alette di Pollo (golden leaf on a poached egg, black truffle, chicken wing, green asparagus and fontina cheese). The opening act of Gaetano's modern four-course Italian menu aimed at couples - romantic or otherwise - is simple but the execution is stunning. It is in fact a metaphor for Rossini's itself, highlighting the restaurant's ability to adapt and innovate while staying true to its roots - maintaining its identity reflected in the quality and creativity of its menu.
Back to the dish: a perfectly poached egg takes centre stage, the delicate gold leaf adding a touch of sophistication. The richness of the black truffle provides a bold, earthy edge, while the green asparagus brings vibrancy and freshness cutting through the richness. The mild but creamy and nutty Fontina cheese connects the various elements. And then there's the chicken wing, its distinct smokiness giving it an edge so it holds its own against the powerful combination of creamy egg, black truffle and cheese. It's in a separate universe from the rest but connected. Each element is carefully crafted and expertly balanced, the dish both simple yet complex, and harmonious. It is as thought-provoking, as it is satisfying. So, I ask the chef: 'Which came first, the recipe or the creativity?
Next for me is Risotto al Burro di Alghe (carnaroli rice with rock lobster, seaweed butter and porcini mushrooms). The plating is simple: levelled risotto dusted with what appears to be powdered seaweed leaving me wondering 'Did they forget the lobster?' No fancy flourishes, nothing to hide behind. One spoonful is all it will take to judge this dish, I think to myself. The first notes as I raise a spoonful to my mouth are briny, next is the earthy umami of the porcini and then the taste takes over: creamy and velvety carnaroli rice, redolent in cheese and seaweed butter with sweet chunks of lobster. It's a risotto loud and clear – it is not pretending to be anything else. You don't often come across dishes that are so unambiguous in their presentation and flavour profile. This is a true testament to the simplicity and beauty of Italian cuisine, a dish that you need to share, talk about and exclaim over. Food memories are made of this.
My main is a surf and turf of sorts - Medaglione d'Agnello e Scampi (lamb loin, langoustine tail, white asparagus purée, orange and coffee). A small medallion of perfectly seared lamb is paired with sweet, succulent langoustine. The unexpected addition of coffee adds deep, rich complexity to the orange sauce. Personally speaking I would have loved a lamb chop that Rossini's does so well to pair with the delicious asparagus purée.
The dessert is Parmigiano con Gelato di Asparagi Bianchi (white asparagus ice cream with parmesan cheese and rhubarb). The white asparagus ice cream is a discovery. Cheese ice cream goes back to 18th century France (first recorded recipe is in Monsieur Emy's L'Art de bien faire les glaces d'office; ou Les vrais principes pour congeler tous les rafraichissemens published in Paris in 1768), but asparagus ice cream is very current. Though some swear Escoffier first made it (I couldn't find a credible source, if you find it, please share it with me). Now to Chef Gaetano's dessert: an unconventional coupling of white asparagus ice cream and parmesan cheese that strangely offers delightful, unanticipated harmony. The ice cream is marked by nuttiness, the earthy undertones of the white asparagus taking centre stage – the crystalline tang of the parmesan that sits under a layer of rhubarb is controlled. The tender tangy rhubarb layer cuts through the richness, adding a note of bright acidity. Topping it is a fanciful butterfly tuile in flight. The dish teases the palate, daring you to take the next spoonful. I needed no encouragement. Over all, it's a delightful balance of savoury and sweet. Added bonus: you will always have a talking point.
For a different experience, opt for this menu: Polipo alla Griglia( grilled octopus, potato sauce and green sauce), Orecchiette al Ragout Pugliese (orecchiette pasta with Apulian ragout, broccoli and pecorino cheese) Merluzzo Nero e Crema di Broccoletti (toothfish with broccoletti sauce, beer essence, corn and popcorn) and L'Arancio Sorbetto (orange sorbet and mousse with salty peanut sauce).
The Degustation Menu at Rossini's is available for dinner (daily) from 17:30 – 22:30 hrs. For more information or to book, visit www.rossinisbangkok.com. Crafted for two people to share, the Chef's Degustation Menu is specially priced on LINE Shop at THB 4,200 net per couple. In addition, the Grande Club members are entitled to a 20% discount.
---