Siam Kempinski Hotel Bangkok: Stories of Türkiye at ALATi
February 20, 2023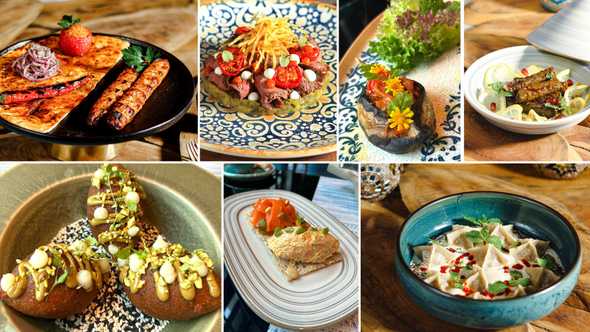 Clockwise from left: Chicken Kebab;Bodrum Kebab; Stuffed Eggplant;Dolma; Manti; Carrot Tarator; Turkish Meatballs.
ALATi, the Mediterranean restaurant at Siam Kempinski Hotel Bangkok, has unveiled a new culinary chapter that takes diners to the different regions of Türkiye – Stories of Türkiye. Featuring a selection of dishes inspired by Chef Oğuz Yilmaz's exciting journey across the beautiful country, this menu will be served until April 30, 2023.
Chef Oğuz's inspiration comes from his mother's recipes and his experiences working with many local chefs and culinary experts as he travelled around the country. My journey begins with the most Mediterranean of things: Turkish olive oil, Turkish sesame-dusted pretzel and sea salt. I also order the Cheese Pide (peynirli pide) – a flatbread quite close to the pizza. Oval in shape, this one comes topped with cheese and truffles and is quite addictive. Yes, I started on the bread before I had even thought of what to drink. Focused on Turkish options, I skip the regular Alati beverage menu and try two – Ottoman Sherbet (a refreshing berry-based drink infused with spices) and Ayran – a cold yoghurt-based drink with a salty twist and mint, quite like a spiced Indian lassi.
The next step is appetisers, and I settle for two – Stuffed Eggplant and 'Carrot Tarator. The eggplant is a new spin on the traditional, hearty version with its centre of roasted tomato, bell pepper relish, and aromatic herbs. The Carrot Tarator is a traditional meze dish of carrots, yoghurt, garlic, and spices. Carrots are first grated, cooked and mixed with yoghurt, minced garlic, and a blend of cumin, paprika, and red pepper flakes, to create a creamy and flavourful dip. Here, it is served not in a bowl but on a cracker with a side of marinated carrot ribbons topped with pine nuts. Both dishes are visually appealing and score high on the taste meter. The Grape Leaf Dolma, one of Chef Oğuz's childhood favourite dishes, is also recommended. I will keep it for my next visit but try the traditional Turkish Meatballs. The 'icli kofte' of spiced beef and cracked wheat-covered meatballs, with their pops of flavour from pistachio and lemon, are served with a yoghurt sauce and a Turkish chilli paste or "Biber Salçası", a condiment made from red bell peppers or hot chilli peppers, tomato, garlic, cumin, and paprika.
For the main course, the chef offers three: Bodrum Kebab, Manti dumplings and Chicken Kebab. I opt for the Bodrum Kebab, and no, it does not come wrapped in a pita. Instead, the chef keeps this one traditional: charred and sliced Wagyu beef served with smoked eggplant, yoghurt, sauce and semi-dried tomatoes. The meat, as is tradition, is marinated in a mixture of yoghurt, olive oil, garlic, oregano, thyme, and red pepper flakes. It is then charcoal grilled until tender and juicy. The server also recommends I try Chicken Kebab – spicy chargrilled ground chicken kebab with lavash flatbread, tomato bulgur, sumac onion and grilled chilli. I am glad I succumbed to temptation. The 'Manti' are small, bite-sized dumplings
filled with braised lamb. Topped with garlic yoghurt sauce and dusted with sumac, each is a flavour explosion.
My gastronomic journey concludes with a selection of delicious desserts, including Chef Oğuz's mother's signature homemade Baked Rice Pudding with its brueleed top, Semolina Helva served with vanilla ice cream and Pumpkin Tahini – my favourite: roast pumpkin served with a sesame ice-cream. I end the meal with the best mint tea I have ever had.
The 'Stories of Türkiye' à la carte menu is priced upwards from THB 250++; the three-course set menu is priced from THB 1,250++ per person and is served until April 30, 2023.
Click HERE to make a reservation.
Clockwise from left: Turkish Pretzel; Cheese Pide;Semolina Helva with vanilla ice cream; Baked Rice Pudding; Pumpkin Tahini; Ayran; Ottoman Sherbet; Mint Tea; Turkish Coffee.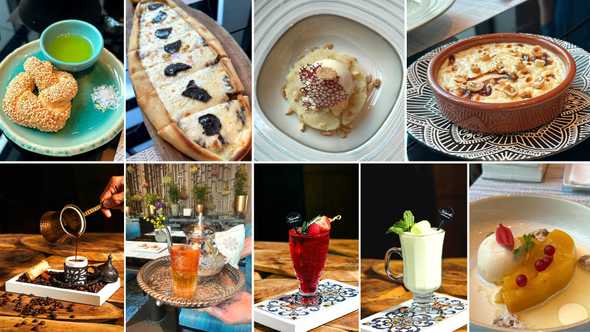 ---