Why you should dine at Celadon 2.0
August 11, 2022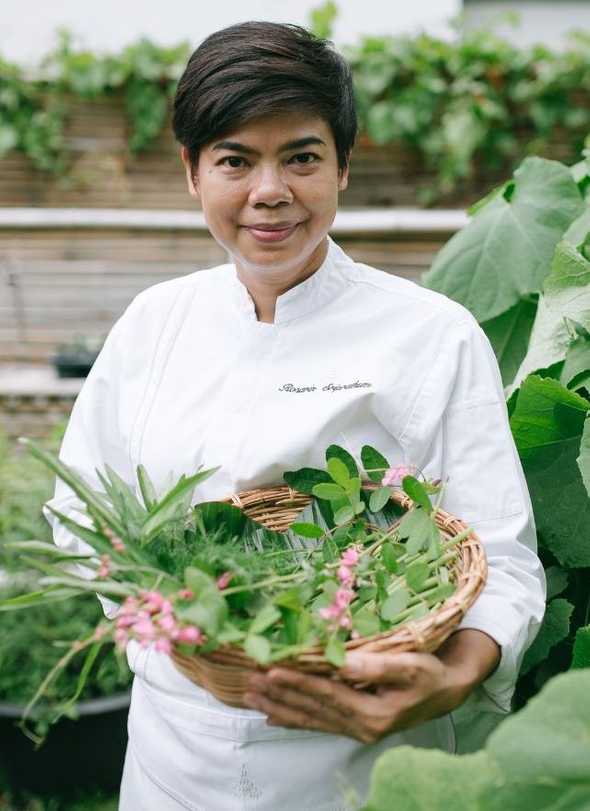 The Sukhothai Bangkok's signature Thai restaurant Celadon is back in action after a two-year hiatus. Taking its name from the 14th-century classic Thai ceramicware, the restaurant is a sophisticated take on Thailand's culinary traditions. The glass-walled pavilion has a magical setting in the hotel's lush tropical gardens with views of the lotus ponds. Hard to imagine that this oasis exists in the middle of Bangkok's busy CBD. But it does, and Chef Rosarin' Rin' Sriprathum is using it to create a fabulous fine dining experience.
Chef Rin's latest a la carte menu gives traditional Thai recipes a contemporary, sophisticated polish, like the celadon ceramics. Inspired by the desire to provide diners with an opportunity to discover the complexity and subtleness of Thai cooking, the chef spent the past two years developing and studying flavours. She says, "The more diners see and taste, the more they discover true Thai flavours. I want to introduce guests to the flavours of authentic Thai home cooking using locally sourced products." As the chef is from Samut Songkhram, the flavours of her homeland come clearly to the fore. Growing up, Rin learnt from her grandmothers, one a Thai chef and the other a Thai pâtissier, and is determined to preserve traditional recipes.
We try the menu as an eight-course degustation. The meal opened with a steamed Rice Dumpling stuffed with crab meat and shimeji mushrooms, flavoured with garlic, coriander root and pepper. The dumpling is served in a delicious coconut vinegar-brown sugar sauce. The surprisingly simple dish is deceptive: this is a dish very easy to get wrong as there is nothing to hide behind. But from the moist (Petchaburi) crab stuffing to the thin rice wrapper, it is perfection. The addition of shimeji mushrooms is key to bringing in the umami factor with its mildly nutty sweet profile.
Next is a solitary deep-fried Prawn Cake served with pickled root vegetables. The Tod Man Kung, with its crispy, crumbed exterior, is on point. The shrimp from Krabi is chosen for its tenderness, and the vegetables are pickled in pineapple vinegar.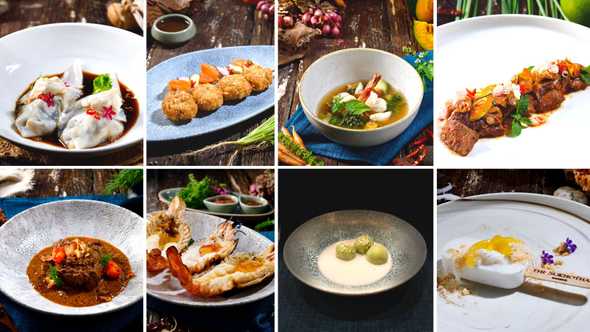 Perfectly grilled Charolais Beef Tenderloin follows. It is topped with a salad of chilli, lemongrass, round eggplants, shallots and a sweet chilli sauce. The dressing uses the fragrant Thai lime – somsaa. The inspiration is clear – it's naam tok nuea perfectly reimagined. The dry-aged Charolais beef from Surin is spectacular – buttery, nutty, meltingly tender, and smoothly textured.
The soup course is a vegetable broth with crab meat, prawns and aromatic herbs. Flavouring the broth is fingerroot, white pepper and shrimp paste from the chef's home town. The broth is the point of this course, and it's delicious – getting its savoury richness and body from the shrimp paste. On a rainy day I'd want a larger bowl.
A 200g grilled river prawn has my attention next served with two sauces. The first is the ubiquitous tamarind sauce with shallots, but it's the yellow one from curry paste that's cooked in prawn fat which genuinely delights the taste buds. Despite its size and firmness, the prawn itself is juicy and buttery.
The main is a richly spiced 'Singhol' Slow Cooked Beef Cheek Curry served with steamed rice. Essentially it is beef massaman flavoured with pandan, and dill cooked in Penang curry paste with chilli and somsaa lime. Accompanying it is wok-fried bitter-sweet melon with egg and garlic – a very homely dish that finds itself on dinner tables across Thailand often. Dessert is Warm Glutinous Perilla Seed Rice Balls dusted with sesame seeds in a young coconut sauce. It doesn't look like much, but it leaves you craving for more. I'd have asked for more but the creamy Cassava Sorbet served as a popsicle has my undivided attention.
Right through the meal Chef Rin threw flavour curve balls that delighted the senses. Go check it out. Currently, Celadon is open from Thursday-Saturday for dinner only, with a short classical Thai performance at 7.30pm and 8.30pm. Find out more:The Sukhothai Bangkok; 02 344 8888; email promotions@sukhothai.com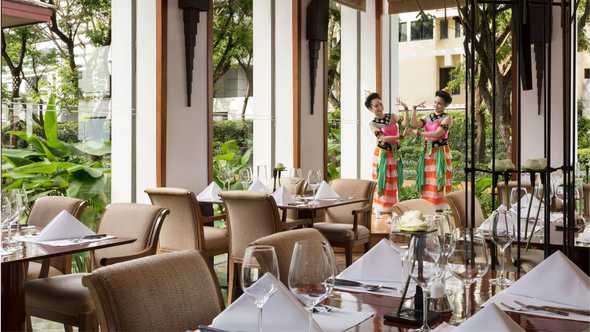 ---