Italian X'mas: Adventures with Belmond
December 04, 2021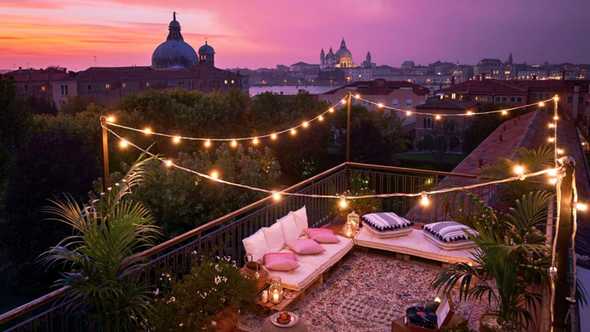 The gem that is Belmond's Cipriani Venice at sunset
Cipriani, A Belmond Hotel, Venice. A classic historical site in Venice's very heart: Giudecca Island. At Bar Gabbiano, try the truffle martini, created by barman Walter Bolzonella, the aperitifs served accompanied by the most classic of Venetian traditions – Cicchetti (snacks or tapas Venetian style). Chef Bisetto proposes the original – the rice arancino with fontina d'alpeggio cheese and white truffle or the scottona tartare and fried quail egg. On the Cip's Club terrace, facing San Marco, a dedicated tasting menu by chef Roberto Gatto expresses eclecticism with classics such as the Cipriani Carpaccio with hazelnut and white truffle sauce and a curious, sweet conclusion of "truffle in truffle".
Grand Hotel Timeo, A Belmond Hotel, Taormina. Gazing out across the coast of Mount Etna, it is the perfect spot to put the focus on Sicily. Indulge in a three-day stay at Grand Hotel Timeo with a private breakfast and exclusive lunch inside Noto's exquisite Baroque noble palaces, followed by a visit to the atelier of the artist Sergio Fiorentinom. Meet the owner and master pastry chef Corrado Assenza, a true pioneer of the art, whose cannoli and ice-creams are pure magic made of local ingredients. Learn the secrets in his masterclass, followed by dinner prepared by Corrado Assenza and Roberto Toro, chef of Michelin-starred Otto Geleng Restaurant. The weekends are dedicated to typical Sicilian pastries in December – your chance to try Sicily's iconic traditional desserts. Christmas brunch comes with a killer view, and the sparkling New Year celebration overlooks Mount Etna.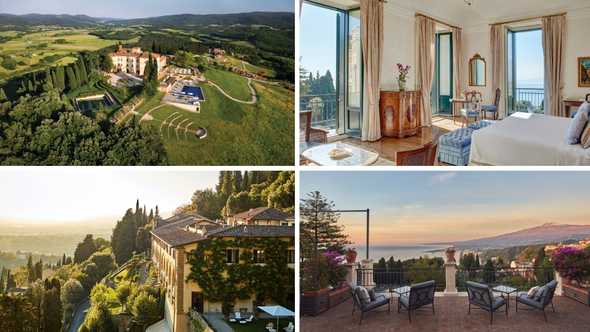 Clockwise from top left: Castello Di Casole in Tuscany; In Sicily, the suite at Grand Hotel Timeo; Views of Mt. Etna from the terrace at Grand Hotel Timeo; Villa San Michele in Florence
Splendido Mare, A Belmond Hotel, Portofino. Fabulous views of the picturesque harbour are yours here. Sign up for Cinque Terre tours to uncover the best UNESCO World Heritage Site, one of Italy's treasures – explore five quaint villages linked by a coastal path that winds through vineyards, sandy beaches, and rocky beaches seascapes. The end of year party at Portofino will be perfect in every way. Enjoy gourmet lunches in Piazzetta at Splendido Mare, discover local wines, celebrate Christmas.
Villa San Michele, A Belmond Hotel, Florence blends 14th-century artistry with the region'sbeauty and craftsmanship. It promises to be a magical Christmas. Until December 12, visit the 'Art of Making' Christmas market with local craftspeople. On December, 25 indulge in Christmas Lunch at Ristorante Villa San Michele; and finally, ring in the new year with a fabulous celebration.
Castello di Casole, a Belmond Hotel, Tuscany. Located in the heart of Italy is this perfect setting to experience aristocratic rural life surrounded by rolling hills and sprawling vineyards. Castello Di Casole is a 10th century estate, lovingly restored and offering a world of comfort, elegance and world-class dining. Stargaze to your heart's content – the Tuscan night sky is something else; go truffle hunting, hit the Essere Spa, and dine on a four-course truffle-inspired dinner created by Chef Daniele Sera.
Below: Magical Portofino - Splendido Mare hotel in Portofino is the perfect place to celebrate Christmas and the New Year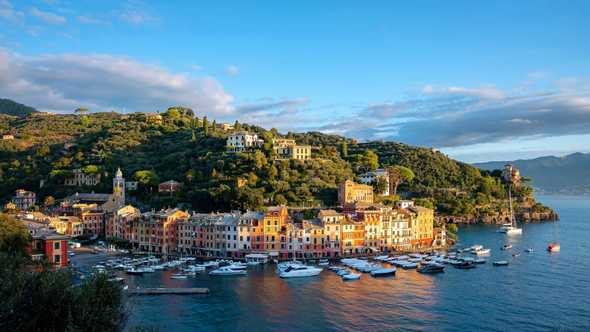 ---