The Outlierman: Driven by Passion
October 22, 2021
Yes, driving gloves are having their moment in the sun. Again. Not to keep the hands warm as they were originally meant to but for style. Riding this trend is The Outlierman, an Italian leatherwear company founded by Andrea Mazzuca, He says "I was looking for gloves that would enable me to enjoy driving my cars (Aston Martin Vantage N420, Jaguar F type and 1995 Porsche 993 cabriolet) even more – but there was just nothing suitable on the market. That's when I decided to create The Outlierman and fashion the gloves and other items I wanted."
His search for that perfect pair of gloves evolved into a mission to hand-craft a range of accessories that match the beauty, quality and timeless appeal of the world's most iconic cars. Everything celebrates the romance of the open road. A line in Malcolm Gladwell's book 'Outliers: The Story of Success inspired the name. The line is: 'Who we are cannot be separated from where we are from.' Likewise, Mazzuca underlines that the brand cannot be separated from its Italian roots and heritage.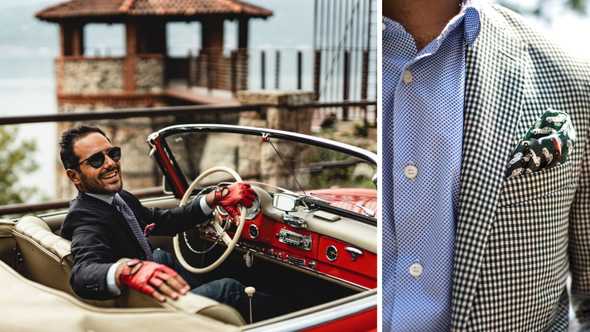 The Outlierman is doing such an excellent job of crafting driving accoutrements covering everything from gloves to weekend bags that this could well be your one-stop for the Christmas list. Plus, it can all be bespoke and personalised.
The gloves are made in Naples and come in various colours, including two-tone cobalt, red, ivory and racing green (from US$ 256). Pair them with silk-lined, hand-crafted bags customised to match your car. Choose from a duffle bag, trolley bag, weekender garment bag, backpack, helmet bag and document case.
Also, pocket squares and ties created in Como, the epicentre of Italian silk making. The scarves (from US$245), the ties (from US$ 175) and the squares (from US$ 75) also celebrate the world of cars. Expect montages of speedometers, radiators, wheels and cars.
A standout is the vibrant yellow 375 MM Coupè Speciale Pininfarina Design silk tie designed for Pebble Beach Concours d'Elegance or even the World Beater (celebrating the Jaguar E-Type). Aston Martin, Ferrari and Porsche battle it out on the Vintage Race pocket square and tie.
If Europe is on the cards, rent a classic car from The Outlierman to explore the continent. Check out the options here.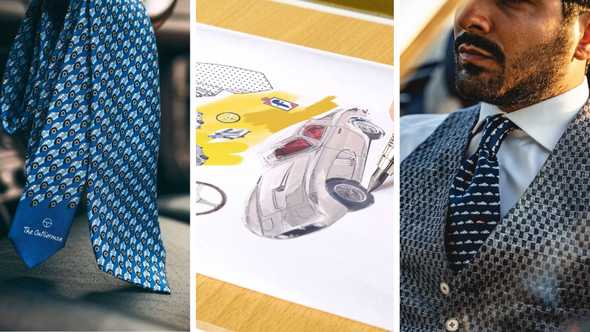 ---