Date Night: Beyoncé, JAY-Z and Tiffany & Co.
October 20, 2021
Tiffany & Co. added to its 'About Love' Campaign with a witty and whimsical short film, Date Night, starring powerhouse couple The Carters - Beyoncé and JAY-Z, with a special guest appearance by their daughter Blue Ivy and their family dog.
Directed by Dikayl Rimmasch and Derek Milton, the film's intention is to underscore the beauty and joy of everyday romance. Okay, so not really 'everyday romance'; they are, after all, riding in a Rolls Royce, wearing Tiffany & Co. jewellery and drinking Armand de Brignac champagne. But Beyoncé and Jay-Z do share a pizza.
Set in New York City, the film inspired by an iconic scene from Breakfast at Tiffany's,begins with Beyoncé riding through Manhattan in the backseat.JAY-Z soon joins her. With Paul Anka's Put Your Head on My Shoulder and Bert Kaempfert's Three O'Clock In The Morning as the soundtracks to the car ride, Beyoncé plays a game of "he loves me, he loves me not" with a yellow daisy. The short is a partial recreation of the iconic scene in which Audrey Hepburn discusses her 'loves' as she puts on her lipstick.
(Below) Tiffany & Co. Schlumberger Ribbon Fan earrings in platinum and 18k gold with over 6 carats of pear-shaped and round brilliant diamonds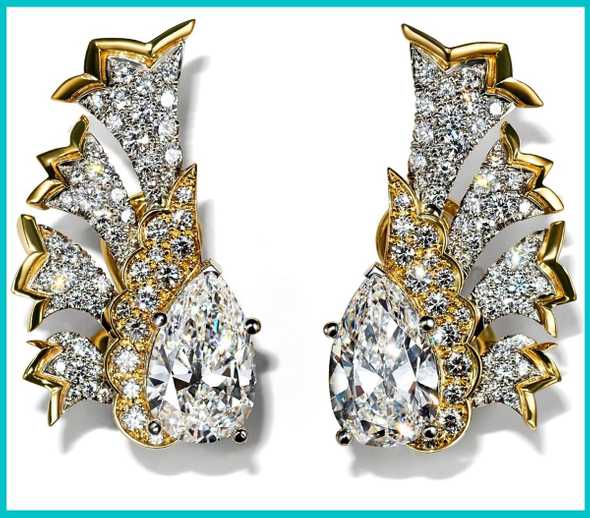 The Carters wear an assortment of jewellery designer Jean Schlumberger pieces; he was best known for dressing high society in the 1960s and '70s. Most notably, JAY-Z wears the legendary Bird on a Rock brooch. One of the 21st century's most iconic designs, the piece features a platinum and 18k gold bird perched on a morganite gemstone of over 44 carats. Beyoncé also wears a Schlumberger design, including an Ailsa diamond ring of over 10 carats, as well as a pair of diamond-studded Ribbon Fan earrings.
(Below)Tiffany & Co. Schlumberger Bird on a Rock brooch in 18k gold and platinum with a morganite of over 44 carats, round brilliant diamonds and pink sapphire.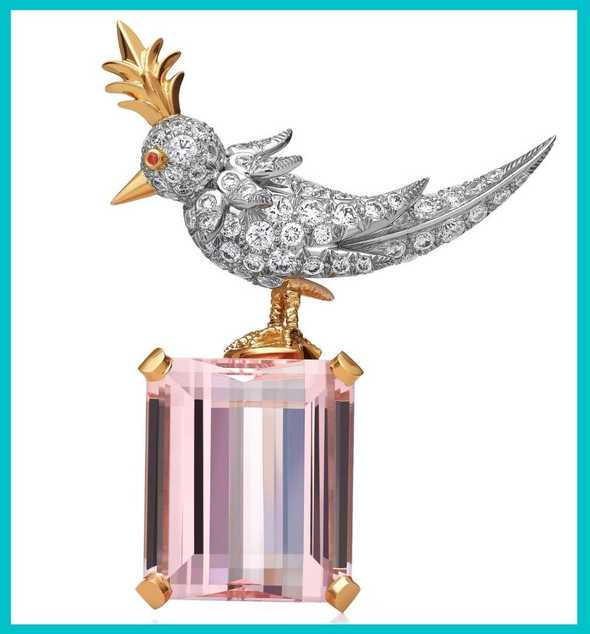 As a part of the House's collaboration with the Carters, Tiffany & Co. has partnered with BeyGOOD and the Shawn Carter Foundation to create the Tiffany & Co. About Love Scholarship Program. Earlier this year, Tiffany & Co. pledged USD 2M in scholarship funding for students in the arts and creative fields at Historically Black Colleges and Universities (HBCUs); so far, the scholarship has been awarded to over 50 students.

(Above) Tiffany 1837 Makers signet ring in 18k yellow gold, 12 mm wide; Tiffany & Co. Schlumberger Ailsa ring in 18k yellow gold and platinum with an emerald-cut diamond of over 10 carats and marquise and round brilliant diamonds; The Charles Tiffany Setting engagement ring in platinum with a 2.86-carat emerald-cut centre diamond.
---