Hermès: Reinventing Fashion
March 25, 2021
A three-act showcase connecting cities, connecting cultures. A presentation underlining the times we live in. From Park Avenue Armory in New York to La Garde Républicaine in Paris and Maison Hermès in Shanghai. A live, virtual presentation of Hermès' Fall-Winter 2021 Collection for women bridging daytime in New York and night time in Shanghai with a showing in Paris. For Hermès, it was essential to keep the experience live; for those of us watching, it was an important lesson in resilience, story-telling, marketing, and in conducting the business of fashion. And above all, a study in handling the 'new normal' with absolute panache.
In New York, the prologue choreographed by Madeline Hollander was a free interpretation of movements inspired by creative director Nadège Vanhée-Cybulski's collection. Paris then uplinked with a fashion show complete with models walking to a backdrop of the iconic Hermès packaging stacked high, and finally, Shanghai came in with another dance piece, directed by Gu Jiani, once again underlining 'movement'. This one in front of a live audience. But this wasn't the end of it. Hermès highlighted the experience with a film by Sébastien Lifshitz, a genre-crossing filmmaker steeped in modern dance and fashion. As Sébastien filmed the last stages of the triptych's conception, his brief was clear from Nadège Vanhée-Cybulski, also the Artistic Director of Women's ready-to-wear, "I wanted this three-act performance to be our way of keeping a record of these extraordinary times where the situation demands more of us than a simple runway show. I wanted a film directed by an artist with a feel for the crossover of genres and disciplines. Not a film about fashion, nor about dance, but a film about us all and all the ways we can and must continue to reinvent ourselves." (Watch the film here)
The triptych celebrated women, underlining the magic of movement, of motion, of 'clothing that adapts without rules or restrictions.' The entire collection and the performance focused on 'femininity in motion with the dancers embodying the new woman — the three-act performance showing three different ways of breathing life into clothes through movement.
In New York, Madeline Hollander used different mediums – film, performance, choreography- to explore the body's ability to communicate. Explaining her choreography, Madeline says, "It is a commentary on the movement of New York pedestrians rather than on fashion. I love watching people walk the streets of Manhattan in the morning; their movements are very rhythmic and sometimes synchronised. They say that New Yorkers walk 3.2 mph on average, and for me, that speed is an inextinguishable source of inspiration. Nadège and I discussed The Red Shoes, a 1948 film by Michael Powell and Emeric Pressburger, in which choreography is generated by the shoes, not the body, as well as the spell they cast on the dancer. And that is what came to mind when I was asked for a choreography with clothes: how clothing influences our way of being, dancing, and moving. How clothing inspires the movements as if by magic… they become the choreographer."
Adds Nadège Vanhée-Cybulski: For Shanghai, there was an attraction to tradition, but for New York, I didn't have a precise idea. I knew I didn't want the performance to resemble the show too closely; that was all. I was interested in Madeline's obsession with gesture. It is interesting to see what Madeline does with an article of clothing: for her, it is not a piece of clothing on a body, but movement renewed. I am interested in the relationship between clothes, bodies, and attitudes; these are the things I think of when I begin designing a new collection."
The endnote by Gu Jiani is very precise; each measured gesture and movement intrinsically linked to its spatial and acoustic place. Gu Jiani is part of a new generation of artists shaking up modern dance in China with "pure" and minimalistic choreographies. Her choreography for Hermès underlines the artistic director's vision: despite the restrictions, there's space for movement. Even in a confined space. There's no 'boxing in' this creativity as Gu turns the iconic Hermès box into a stepping stool for harnessing the creative consciousness.
Hermès Ready-to-Wear Women's Fall-Winter 2021
This collection is an ode to socialising behind closed doors – a gathering of friends in a safe space. The clothes as suitable for nightlife as for everyday life; opposites no longer opposed: the 'New Normal' that Nadège underlines. Checkered patterns work like a painting; fabrics and pleats interact. A suit is cut parka-style, ignoring the rules of tailoring; long-sleeve, high-neck day-to-evening dresses in scarf prints make an appearance; pleated, wrap skirts with matching sweaters are offset by pants, including cycling pants. The padded anorak makes an appearance, as do long jackets, coats and ponchos with integrated scarves. Something to wear while taking the present in stride.
Below: The runway show in Paris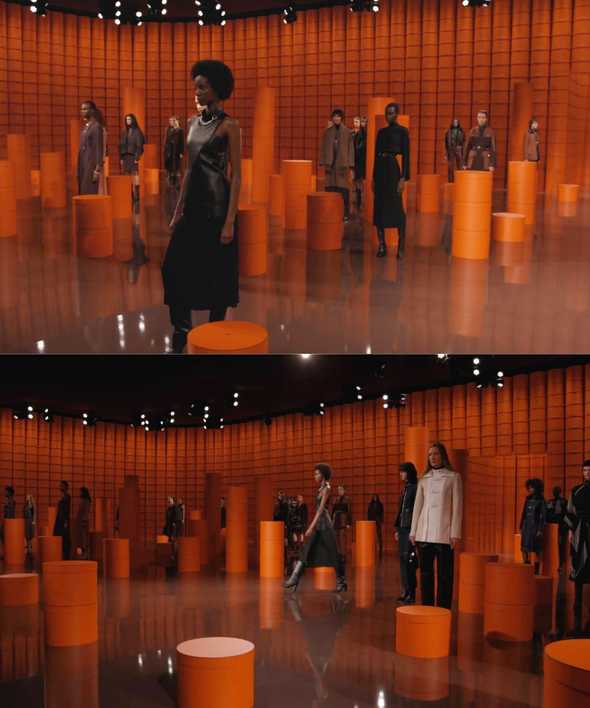 ---