Embrace the Blue
February 03, 2021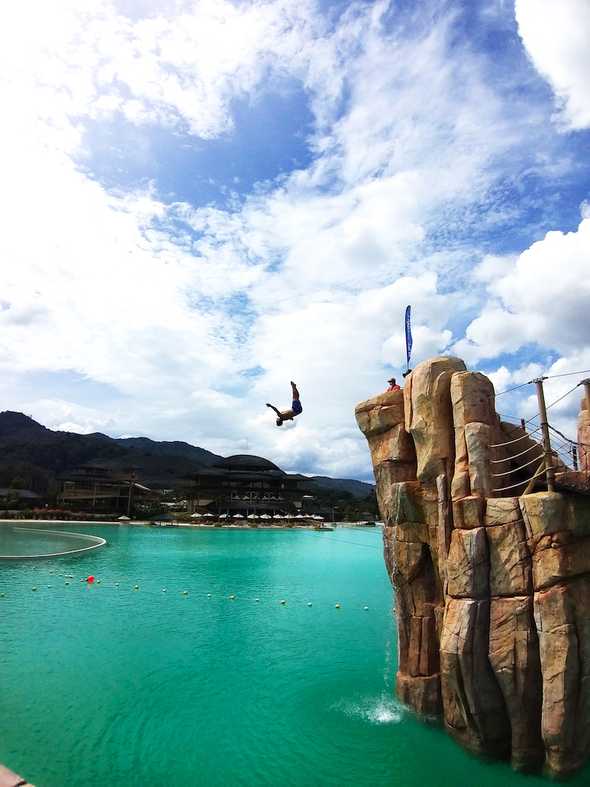 Cliff diving at Blue Tree Phuket; (Main Picture) SuperFly right across from the Tree House and the Shopping Village beyond, Blue Tree Phuket.
The tropical island of Phuket has over the past two decades seen transformational change: infrastructure was developed and tourism products created working in tandem with all stakeholders, both private and public. Phuket was labelled, and sold, as the playground of the rich and famous - a tropical paradise with five-star hotels and a vibrant local culture.The island's outstanding natural landscape became its selling point, its beaches the magnet for sun worshippers. Travellers came for the gorgeous beaches and stayed for the impeccable service of its five-star hotels. As layer upon layer of new attractions was added the seedier side of Phuket began to recede from the view finder, as did the backpacker. New attractions were developed, old ones repurposed, shopping malls added, golf courses created, amusement and waterparks developed, even old Phuket Town came in for a polishing celebrating the Sino-Portuguese heritage of the island.
The trick, however, remains in staying ahead of the demand, giving travellers more reasons to extend their stay on the island. The trick also lies in 'spreading the product' with options that take visitors away from the beach, widening the reach of the tourist dollar.
This is where Blue Tree Phuket steps in. Approximately four odd kilometres inland from Surin and Bang Tao beaches this is a spectacular leisure and entertainment destination with family-friendly facilities – think of it as a combination waterpark and an entertainment venue. With a price tag of one and a half-billion-baht and counting, Blue Tree Phuket has positioned itself as a premier family attraction. Set over 56 acres in the west of the island, this integrated destination features a four-storey Tree House Restaurant & Beach Club (a multi-faceted day and night dining experience), kid's club, ice rink, walking and jogging trails, ziplining and cliff diving adventures, outdoor sports, retail and lifestyle outlets and several restaurants. Its martial arts dojo offers judo, wrestling, muay Thai, self-defence, jujitsu, Zumba, salsa, yoga and gymnastic for kids. The Aquatic Centre provides swimming classes, first aid training and diving training.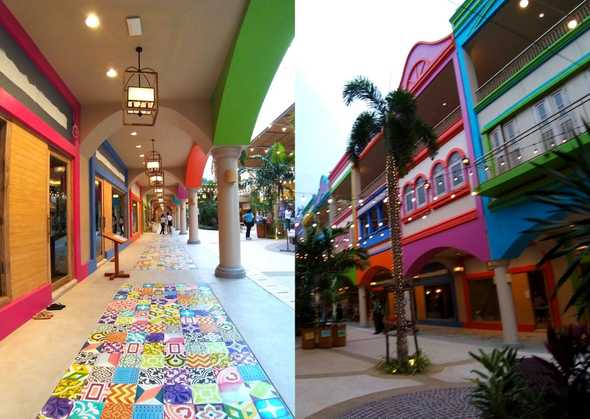 The colourful Shopping Village makes for perfect instagramable moments
All this focused around a huge 17,000-square metre lagoon with its own beach. The Tree House separates the waterpark area from the Shopping Village, a colourful collection of low-rise buildings fashioned as shophouses. All very Instagramable. The shopping village is also home to really cool retail outlets, cafes, food trucks and art studios. Within it, is the Arena, Phuket's only outdoor amphitheatre.
This is just the first phase, the second-phase will feature a hotel and facilities for meetings, incentives, conventions and exhibitions. What Blue Tree also does is give the islanders, both Thai and expats, a year-round option: high-quality, family-focused entertainment away from the beach. After all, if you live on an island, the beach is not where you want to be 24X7.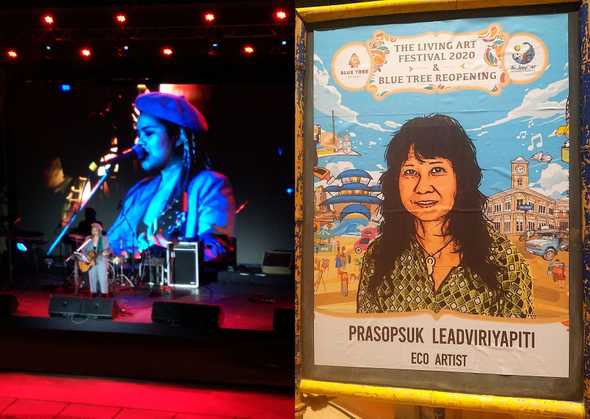 Synth-X Factor at the Arena and poster for eco artist Prasopsuk Leadviriyapiti's installations
The Living Art Festival
Blue Tree recently celebrated its reopening with 'The Living Art Festival 2020', curated by The Living Art Gallery (in the Shopping Village), with a combination of music, fashion, arts and crafts, food and more. The response from Phuket locals underlined how they as residents and consumers had long been ignored in favour of international travellers. If the idea was to attract local residents, it certainly succeeded.
Blue Tree has grander plans though, and wants to use similar arts festivals (and its facilities) not only to 'drive domestic tourism to Phuket and highlight the arts and culture' but also 'to introduce Phuket to the world of contemporary art lovers'. Towards that goal, the art festival featured works of leading Thai artists like Prateep Kochabua, Mueangthai Busamaro, Jarupong Juntarapech and Paretas Hutanggura as well as various local arts and crafts, ceramics, home decorations, jewellery and more. Adding to the celebration were street art, street performances, workshops, art films, panel talks, fashion shows from Jeab Eaggamon Attagamon and Kai Buncha Chooduang and nightly musical concerts at the amphitheatre. In short, a community festival, for all ages.
The Living Art Gallery, when it is not organising the festival, brings in art works from across different regions in Thailand to showcase in its 500 sq.m of gallery space. Behind it is Sornchat (Aom) Krainara, and her mission is to promote traditional Thai-heritage, its craftsmanship as well as contemporary art and design, "Phuket has its own charms and by bringing art into Phuket, I'm hoping it will enhance the art and cultural reputation of the destination."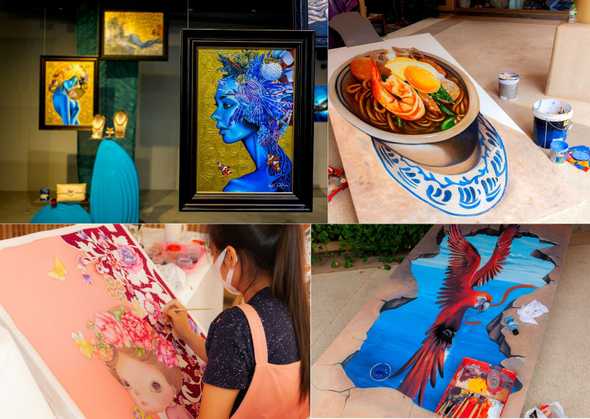 Blue Tree Shopping Village with its art galleries and artist studios has plenty to offer.
As far as food experiences go, a visit to The Tree House is a must. Overlooking the lake, it serves up an amazing variety of food with a special focus on Phuket cuisine. From casual dining experiences on the lower floors, it morphs into a tapas bar as you climb higher with the top floor reserved for 360 degree view over the park.
Yes, Blue Tree will attract the tourists but it's the islanders that will give it true local colour, character and authenticity. Without them this would be just another water park. The man in charge of all this as general manager is hospitality veteran Michael Ayling, former managing director of Laguna Resorts & Hotels, "Phuket will always be known for its beaches, but there's a clear demand for inland entertainment alternatives and we offer an immersive lifestyle experience. We want it to be the number one family destination in Phuket – a family-focused entertainment away from the beach."
Altogether, Blue Tree is a compelling mix of a retail village, art gallery, destination dining, water park, beach club, and fitness opportunities. The name, Blue Tree, puzzles me. I have my theories though.
(Below) Indulge in retail therapy at the Shopping Village

---