A Tryst with Art
December 08, 2020
A luxury escape is all about the setting, its aesthetics a clue to the experience a guest might have. Art works that make a visitor pause and look, and come back to see again are a subtle introduction to the lifestyle the hotel wants to provide. Art thus not only enhances guest experience, becoming a talking point, but also differentiates a hotel.
Some like the St Regis Singapore are famous for their enormous art collection. In fact, this Orchard Road hotel is home to one of the finest private art collections in Asia. From contemporary Singaporean artists to Pablo Picasso andPost-Impressionistic Georgette Chen all find wall space. I myself have spent hours on every visit just looking at the art. And even if I am not staying at the St Regis, every visit to the Lion City has me dropping by at the Astor Bar to look at Pablo Picasso's Toro series and of course have a drink. And the art is not just in the public spaces. Several suites boast French Expressionist Marc Chagall, American Abstract expressionists Mark Tobey and Sam Francis. But it's always Picasso that draws me back.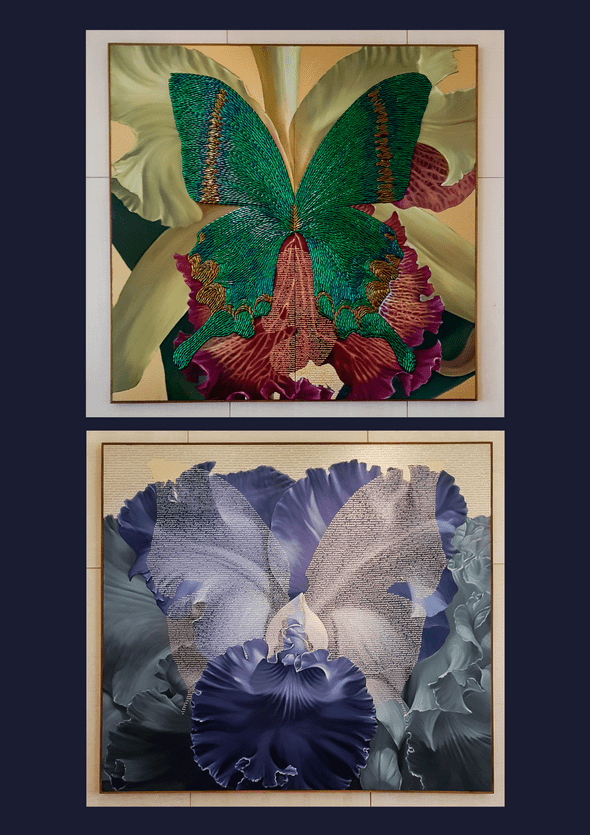 Park Hyatt Bangkok has a similar draw for me with the giant works of contemporary Thai artist Chatchai Puipia. Best known for his brightly coloured self-portraits with butterflies flying around his head, Chatchai, beyond the self-portraits, focuses on still-life and allegorical setups. At the Park Hyatt you see him reflecting on Thai culture, its traditions, and its motifs intersecting with the 21st century and pop culture.
Located on level 10 at The Bar, is Rainy Night. A vibrant mixed-media creation of Thai silk and green beetle shells, this image of a tuk-tuk captures the essence and dynamic energy of Bangkok. Also in The Bar, behind the counter are three large works focusing on Thai motifs and culture, inspired by the butterflies that surrounded him as he was creating these pieces in his studio. There's nothing allegorical about these mixed media works but they are a striking reflection of Thailand and what it holds dear. On the same level, behind the reception desk is a giant orchid that morphs into a butterfly of beetle shells. Across from it is a purple orchid with Thai writing running across, forming the illusive butterfly.
Walk from Level 10 to Level 9 for the Embassy Room to encounter Lover and Family Potluck. Both feature elephants and traditional Thai kitchenware. Lover has the elephants etched in Thai writing almost as if screen printed on a background of enamelware pots. The focus of Family Potluck is two enamelware food pails with the silhouette of purple elephants forming the backdrop, almost like a shadow; the entire work covered in line after line of Thai script.
While walking through the Living Room to get to the Embassy Room, look up. Suspended from the ceiling is an enormous work by Japanese artist Hirotoshi Sawada. This 'Naga' or the mythical water dragon installation suspended from the ceiling morphs from bronze acrylic to dark-brown timber, ending in clear and frosted acrylic.The hotel is also home to several other outstanding pieces, but more on that another time. Oh! And the rooms in the hotel are spacious, comfy and well-appointed too.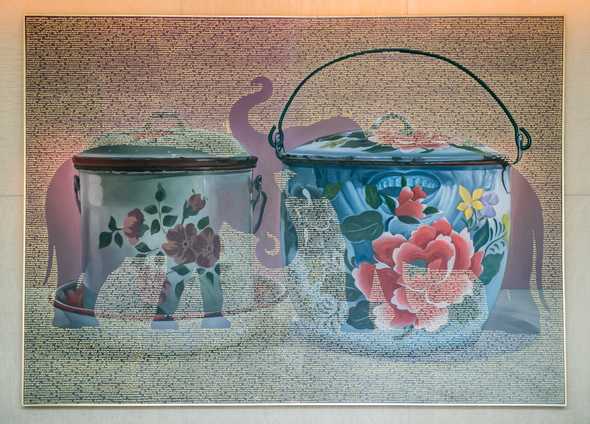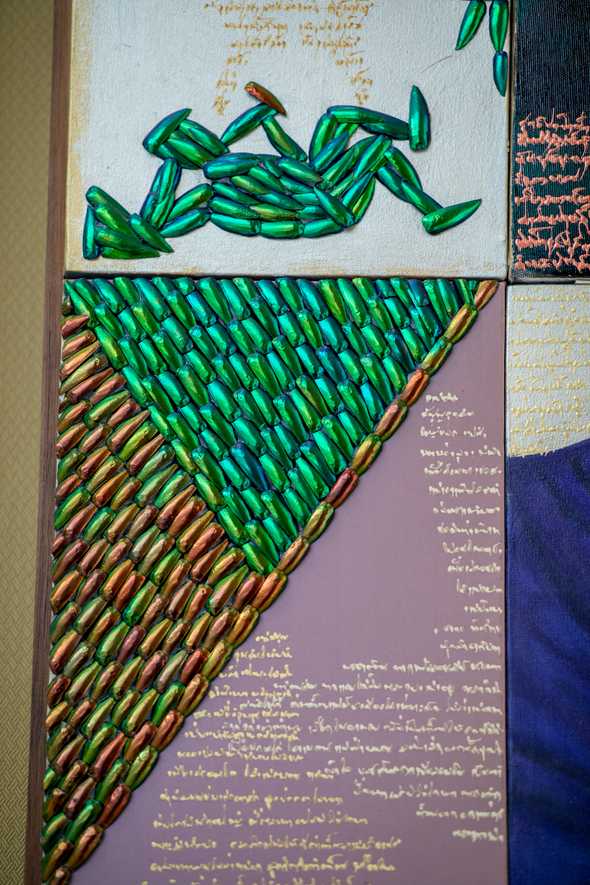 ---